LEGACY CONTENT
.
If you are looking for Voteview.com, PLEASE CLICK HERE
This site is an archived version of Voteview.com archived from University of Georgia on
May 23, 2017
. This point-in-time capture includes all files publicly linked on Voteview.com at that time. We provide access to this content as a service to ensure that past users of Voteview.com have access to historical files. This content will remain online until at least
January 1st, 2018
. UCLA provides no warranty or guarantee of access to these files.
Is John Kerry A Liberal?
13 October 2004

---

Is Senator John Kerry a Liberal? Technically, Yes. Is he the most liberal member of the current or any Senate since the end of World War II? No. Is he an extreme Liberal. No. In fact he is a bit to the left of the mean of the Senate Democrats serving since 1937. I show this fact using Common Space Scores. These scores are computed from all the roll calls cast in the House and Senate for the 1937 - 2002 period. The technical details can be found in my article "Estimating a Basic Space From A Set of Issue Scales," American Journal of Political Science, 42 (July 1998), pp. 954-993.

Below is a plot of the first (Liberal-Conservative) dimension of the Common Space Scores. (Below the plot I show, in order, from left to right all 3,320 unique individuals that served in the House and Senate from 1937 - 2002.) The histograms are for Democrats and Republicans in the two Chambers. Senator Kerry (D-MA) is located at -.366 which is to the left of the mean of the Senate Democrats, -.243 (standard deviation, .187). Senator Edwards (D-NC) is located at -.239 which is almost exactly on the mean. Senator Kennedy (D-MA) is located at -.476. President Bush is located at .408 which is to the right of the means of both the Senate Republicans, .271 (standard deviation, .187), and the House Republicans, .300 (standard deviation, .158). Vice President Cheney is located at .517 and former Senate Helms (R-NC) is located at .658.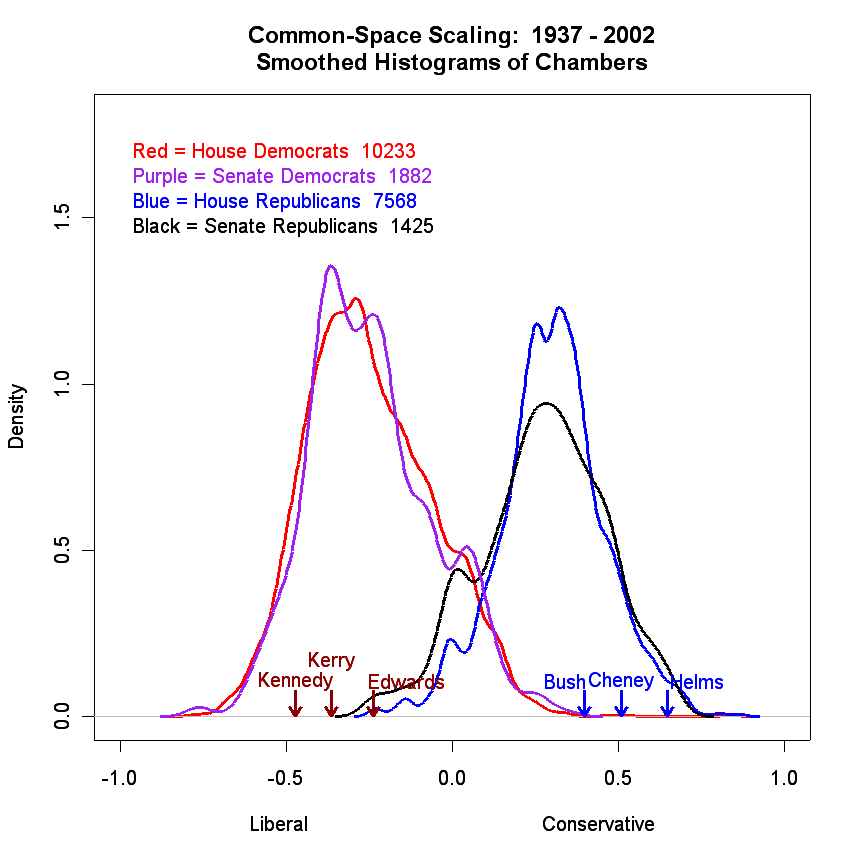 ---

Below is a listing from left to right of all 3,320 individuals who served in either or both the House and the Senate from 1937 to 2002. Senator Kerry is number 478 and President Bush is number 2,971. The Common Space Score is the number in the furthest right column. (These scores are very highly correlated with the corresponding DW-NOMINATE Scores by Chamber.) Note that the Presidents are also shown in the coordinates below. Their coordinates are based upon Presidential Support Roll Calls compiled by Congressional Quarterly. These are typically a fraction of the total roll calls cast so the Presidential scores are very noisy compared to the members of Congress.


---

    1  VERMONT  D  MEYER, WILLIAM HENRY      -0.784
    2  NEW YOR  L  ISACSON, LEO              -0.775
    3  OREGON   I  MORSE, WAYNE LYMAN        -0.766
    4  IDAHO    D  TAYLOR, GLEN HEARST       -0.743
    5  TEXAS    D  WASHINGTON, CRAIG         -0.714
    6  MICHIGA  D  CONYERS, JOHN, JR.        -0.686
    7  MINNESO  D  WIER, ROY WILLIAM         -0.681
    8  NEW YOR  D  POWELL, ADAM CLAYTON JR.  -0.678
    9  NEW YOR  D  RYAN, WILLIAM F.          -0.671
   10  MARYLAN  D  MITCHELL, PARREN          -0.663
   11  NEW YOR  D  LOWENSTEIN, ALLARD        -0.654
   12  NEW YOR  D  ABZUG, BELLA              -0.654
   13  MINNESO  D  WELLSTONE, PAUL           -0.649
   14  ILLINOI  D  SAVAGE, GUS               -0.643
   15  NEW YOR  D  CHISHOLM, SHIRLEY         -0.639
   16  CALIFOR  D  BURTON, PHILIP            -0.632
   17  CALIFOR  D  LEE, BARBARA              -0.630
   18  CALIFOR  D  WATERS, MAXINE            -0.629
   19  CALIFOR  D  DELLUMS, RONALD V.        -0.628
   20  CALIFOR  D  DYMALLY, MERVYN M.        -0.626
   21  ILLINOI  D  COLLINS, GEORGE           -0.613
   22  WASHING  D  DE LACY, EMERSON HUGH     -0.612
   23  MICHIGA  D  CROCKETT, GEORGE W., JR.  -0.609
   24  HAWAII   D  GILL, THOMAS P.           -0.606
   25  ILLINOI  D  HAYES, CHARLES            -0.604
   26  WISCONS  D  FEINGOLD, RUSSELL D.      -0.604
   27  SOUTH D  D  ABOUREZK, JAMES           -0.602
   28  CALIFOR  D  EDWARDS, DON              -0.599
   29  WISCONS  D  FLYNN, GERALD THOMAS      -0.598
   30  PENNSYL  D  GUFFEY, JOSEPH F.         -0.598
   31  NEW JER  D  TUMULTY, THOMAS JAMES     -0.597
   32  NEW YOR  D  ROSENTHAL, BENJAMIN S.    -0.597
   33  MICHIGA  D  STAEBLER, NEIL            -0.595
   34  CALIFOR  D  FILNER, BOB               -0.592
   35  PENNSYL  D  COFFEY, ROBERT LEWIS, JR. -0.591
   36  NEW YOR  D  BADILLO, HERMAN           -0.591
   37  CALIFOR  D  ROYBAL, EDWARD R.         -0.589
   38  MISSOUR  D  CLAY, WILLIAM             -0.587
   39  PENNSYL  D  CLARK, JOSEPH SILL        -0.584
   40  ILLINOI  D  DOUGLAS, PAUL HOWARD      -0.584
   41  NEW YOR  D  KLEIN, ARTHUR GEORGE      -0.582
   42  CALIFOR  D  PATTERSON, ELLIS ELLWOOD  -0.581
   43  TEXAS    D  LELAND, GEORGE THOMAS     -0.580
   44  WASHING  D  MCDERMOTT, JIM            -0.580
   45  OHIO     D  STOKES, LOUIS             -0.577
   46  OREGON   D  NEUBERGER, MAURINE BROWN  -0.575
   47  CALIFOR  D  STARK, FORTNEY (PETE)     -0.575
   48  MICHIGA  D  COLLINS, BARBARA-ROSE     -0.574
   49  CALIFOR  D  HAWKINS, AUGUSTUS F.      -0.570
   50  NEW YOR  D  RICHMOND, FREDERICK       -0.567
   51  NEW YOR  D  WEISS, THEODORE           -0.565
   52  NEW YOR  D  LEHMAN, HERBERT HENRY     -0.563
   53  ALASKA   D  GRUENING, ERNEST          -0.560
   54  GEORGIA  D  YOUNG, ANDREW             -0.560
   55  WISCONS  D  MCMURRAY, HOWARD JOHNSTON -0.558
   56  NEW YOR  D  HOLTZMAN, ELIZABETH       -0.558
   57  MASSACH  D  HARRINGTON, MICHAEL       -0.556
   58  CALIFOR  D  ROOSEVELT, JAMES          -0.553
   59  ILLINOI  D  SABATH, ADOLPH JOACHIM    -0.553
   60  CALIFOR  D  BURKE, YVONNE B.          -0.551
   61  ILLINOI  D  WASHINGTON, HAROLD        -0.551
   62  NEW JER  D  PAYNE, DONALD M.          -0.551
   63  CALIFOR  D  KASEM, GEORGE ALBERT      -0.550
   64  NEW YOR  L  MARCANTONIO, VITO         -0.550
   65  WISCONS  D  NELSON, GAYLORD           -0.547
   66  COLORAD  D  JOHNSON, BYRON LINDBERG   -0.546
   67  NEW YOR  D  FARBSTEIN, LEONARD        -0.544
   68  NEW YOR  D  OWENS, MAJOR ROBERT ODELL -0.544
   69  NEW YOR  D  BINGHAM, JONATHAN B.      -0.540
   70  CALIFOR  D  BURTON, JOHN              -0.540
   71  NEW YOR  D  SIROVICH, WILLIAM IRVING  -0.539
   72  NEW YOR  D  DOW, JOHN G.              -0.539
   73  MASSACH  D  CAPUANO, MICHAEL E.       -0.539
   74  MICHIGA  D  MCNAMARA, PATRICK VINCENT -0.537
   75  NEW YOR  L  ROOSEVELT, FRANKLIN DELAN -0.537
   76  NEW YOR  D  RANGEL, CHARLES           -0.537
   77  NEW YOR  D  MULTER, ABRAHAM JACOB     -0.534
   78  IOWA     D  CLARK, DICK               -0.534
   79  NEW YOR  D  GARCIA, ROBERT            -0.534
   80  TEXAS    D  ECKHARDT, BOB             -0.533
   81  GEORGIA  D  LEWIS, JOHN               -0.532
   82  NEW YOR  D  FINE, SIDNEY ASHER        -0.530
   83  ILLINOI  D  METCALF, RALPH            -0.530
   84  CALIFOR  D  BURTON, SALA              -0.530
   85  MINNESO  D  FRASER, DONALD M.         -0.529
   86  MONTANA  D  MURRAY, JAMES EDWARD      -0.527
   87  CALIFOR  D  REES, THOMAS              -0.527
   88  FLORIDA  D  HASTINGS, ALCEE L.        -0.527
   89  NEW JER  D  CORZINE, JON              -0.527
   90  MICHIGA  D  DIGGS, CHARLES COLES JR.  -0.525
   91  USA      D  KENNEDY, JOHN F.          -0.525
   92  ILLINOI  D  COLLINS, CARDISS          -0.522
   93  OHIO     D  METZENBAUM, HOWARD M.     -0.520
   94  CALIFOR  D  FORD, THOMAS FRANCIS      -0.519
   95  NEW YOR  D  DOLLINGER, ISIDORE        -0.517
   96  CALIFOR  D  DOUGLAS, HELEN GAHAGAN    -0.517
   97  WISCONS  D  KASTENMEIER, ROBERT WILLI -0.517
   98  SOUTH D  D  MCGOVERN, GEORGE STANLEY  -0.516
   99  NEW YOR  D  KOCH, EDWARD I.           -0.516
  100  COLORAD  D  CARROLL, JOHN ALBERT      -0.515
  101  NORTH C  D  WATT, MELVIN              -0.515
  102  ILLINOI  D  DAWSON, WILLIAM LEVEI     -0.512
  103  NEW YOR  D  RESNICK, JOSEPH Y.        -0.512
  104  IOWA     D  HUGHES, HAROLD E.         -0.512
  105  USA      D  CARTER, JAMES E.          -0.512
  106  MICHIGA  D  HART, PHILIP A.           -0.510
  107  ILLINOI  D  MURRAY, JAMES CUNNINGHAM  -0.510
  108  NORTH C  D  GRAHAM, FRANK PORTER      -0.509
  109  NEW YOR  D  VELAZQUEZ, NYDIA, M.      -0.509
  110  MONTANA  D  ANDERSON, LEROY HAGEN     -0.508
  111  NEW YOR  D  HELLER, LOUIS BENJAMIN    -0.508
  112  NEW JER  D  HELSTOSKI, HENRY          -0.508
  113  OHIO     D  SEIBERLING, JOHN          -0.508
  114  OREGON   D  NEUBERGER, RICHARD LEWIS  -0.506
  115  TEXAS    D  GONZALEZ, HENRY B.        -0.506
  116  NEW YOR  D  TOWNS, EDOLPHUS           -0.506
  117  CALIFOR  D  HAMBURG, DAN              -0.506
  118  NEW YOR  D  HINCHEY, MAURICE D.       -0.506
  119  MINNESO  D  NOLAN, RICHARD            -0.505
  120  ILLINOI  D  SCHAKOWSKY, JANICE D.     -0.505
  121  NEW JER  D  THOMPSON, FRANK, JR.      -0.503
  122  NEW YOR  D  CELLER, EMANUEL           -0.502
  123  WEST VI  D  KILGORE, HARLEY MARTIN    -0.502
  124  OREGON   D  PORTER, CHARLES ORLANDO   -0.500
  125  ILLINOI  D  MIKVA, ABNER J.           -0.500
  126  MINNESO  D  SABO, MARTIN OLAV         -0.500
  127  ILLINOI  D  JACKSON, JESSE L. JR.     -0.500
  128  RHODE I  D  LEAHY, EDWARD LAURENCE    -0.499
  129  WISCONS  D  BALDWIN, TAMMY            -0.499
  130  PENNSYL  D  CHUDOFF, EARL             -0.498
  131  CALIFOR  D  WALDIE, JEROME            -0.498
  132  ALASKA   D  BEGICH, NICHOLAS          -0.498
  133  MASSACH  D  OLVER, JOHN               -0.498
  134  CALIFOR  D  BECERRA, XAVIER           -0.498
  135  NEW YOR  D  TELLER, LUDWIG            -0.496
  136  CALIFOR  D  COHELAN, JEFFERY          -0.493
  137  NEW YOR  D  RABIN, BENJAMIN J.        -0.493
  138  NEW YOR  D  SCHEUER, JAMES H.         -0.493
  139  CALIFOR  D  MILLER, GEORGE            -0.493
  140  NEW YOR  D  NADLER, JERROLD           -0.493
  141  WASHING  D  SAVAGE, CHARLES RAYMON    -0.489
  142  CALIFOR  D  BROWN, GEORGE E., JR.     -0.489
  143  ILLINOI  D  STEWART, BENNETT MCVEY    -0.489
  144  OREGON   D  KOPETSKI, MIKE            -0.489
  145  PENNSYL  D  BLACKWELL, LUCIEN E.      -0.489
  146  NEW YOR  D  DAVIDSON, IRWIN DELMORE   -0.486
  147  NEW YOR  D  KENNEDY, ROBERT F.        -0.486
  148  MICHIGA  D  BONIOR, DAVID             -0.486
  149  ALABAMA  D  HILLIARD, EARL F.         -0.486
  150  NEW YOR  D  DELANEY, JOHN JOSEPH      -0.485
  151  CALIFOR  D  CORMAN, JAMES C.          -0.485
  152  HAWAII   D  MINK, PATSY T.            -0.485
  153  CALIFOR  D  PELOSI, NANCY             -0.485
  154  NEW YOR  D  DICKSTEIN, SAMUEL         -0.484
  155  CALIFOR  D  HONDA, MICHAEL M.         -0.484
  156  OHIO     D  JONES, STEPHANIE TUBBS    -0.484
  157  NEW YOR  D  CURLEY, EDWARD WALTER     -0.482
  158  NEW YOR  D  GILBERT, JACOB H.         -0.482
  159  MASSACH  D  DRINAN, ROBERT            -0.482
  160  MINNESO  D  OBERSTAR, JAMES           -0.482
  161  PENNSYL  D  GRAY, WILLIAM H., III     -0.482
  162  MICHIGA  D  HAYWORTH, DONALD          -0.481
  163  CALIFOR  D  MOSS, JOHN EMERSON JR.    -0.481
  164  PENNSYL  D  NIX, ROBERT NELSON C. SR. -0.479
  165  PENNSYL  D  PROKOP, STANLEY A.        -0.479
  166  PENNSYL  D  MCGRANERY, JAMES PATRICK  -0.478
  167  OHIO     D  KUCINICH, DENNIS J.       -0.478
  168  NEW YOR  D  HOLTZMAN, LESTER          -0.476
  169  MASSACH  D  KENNEDY, EDWARD M.        -0.476
  170  MINNESO  D  DAYTON, MARK              -0.476
  171  CALIFOR  D  HEALY, NED R.             -0.475
  172  ILLINOI  D  YATES, SIDNEY RICHARD     -0.475
  173  GEORGIA  D  MCKINNEY, CYNTHIA         -0.475
  174  ARKANSA  D  ROBINSON, JOSEPH TAYLOR   -0.474
  175  MICHIGA  D  FORD, WILLIAM D.          -0.474
  176  MISSOUR  D  WHEAT, ALAN D.            -0.472
  177  VERMONT  I  SANDERS, BERNARD          -0.472
  178  MASSACH  D  TIERNEY, JOHN F.          -0.472
  179  MINNESO  D  MONDALE, WALTER F.        -0.471
  180  MICHIGA  D  BRODHEAD, WILLIAM         -0.471
  181  MINNESO  D  HUMPHREY, HUBERT HORATIO  -0.469
  182  NEW YOR  D  SANTANGELO, ALFRED EDWARD -0.469
  183  CALIFOR  D  WOOLSEY, LYNN             -0.469
  184  MASSACH  D  MCGOVERN, JAMES P.        -0.468
  185  WISCONS  D  REUSS, HENRY SCHOELLKOPF  -0.467
  186  NEW YOR  D  PODELL, BERTRAM           -0.467
  187  ILLINOI  D  RUSH, BOBBY L.            -0.467
  188  CONNECT  D  BENTON, WILLIAM           -0.465
  189  NEW YOR  D  BUCKLEY, CHARLES ANTHONY  -0.465
  190  NEW YOR  D  O'DAY, CAROLINE           -0.465
  191  MAINE    D  HATHAWAY, WILLIAM D.      -0.465
  192  CALIFOR  D  BOXER, BARBARA            -0.465
  193  ILLINOI  D  LINK, WILLIAM WALTER      -0.464
  194  NEW YOR  D  RAYFIEL, LEO FREDERICK    -0.464
  195  PENNSYL  D  COYNE, WILLIAM J.         -0.464
  196  MISSISS  D  THOMPSON, BENNIE          -0.462
  197  ILLINOI  D  O'HARA, BARRATT           -0.461
  198  NEW YOR  D  OTTINGER, RICHARD L.      -0.461
  199  PENNSYL  D  FATTAH, CHAKA             -0.461
  200  PENNSYL  D  KELLEY, AUGUSTINE BERNARD -0.460
  201  FLORIDA  D  LEHMAN, WILLIAM           -0.460
  202  WASHING  D  LOWRY, MICHAEL E.         -0.460
  203  MASSACH  D  SHANNON, JAMES MICHAEL    -0.458
  204  MASSACH  D  FRANK, BARNEY             -0.458
  205  MASSACH  D  MARKEY, EDWARD            -0.455
  206  NEW YOR  D  CAPOZZOLI, LOUIS JOSEPH   -0.454
  207  NEW JER  D  SMATHERS, WILLIAM HOWELL  -0.454
  208  CALIFOR  D  SOLIS, HILDA L.           -0.454
  209  NEW YOR  D  ANFUSO, VICTOR L@EPISCOPO -0.452
  210  MINNESO  D  BLATNIK, JOHN ANTON       -0.452
  211  PENNSYL  D  MYERS, FRANCIS JOHN       -0.452
  212  CALIFOR  D  OUTLAND, GEORGE ELMER     -0.452
  213  CALIFOR  D  WAXMAN, HENRY             -0.452
  214  NEW YOR  D  SULLIVAN, CHRISTOPHER DAN -0.451
  215  CALIFOR  D  BEILENSON, ANTHONY        -0.451
  216  INDIANA  D  MINTON, SHERMAN           -0.450
  217  NEW YOR  D  ZELENKO, HERBERT          -0.450
  218  ILLINOI  D  DAVIS, DANNY K.           -0.450
  219  MISSOUR  D  BOLLING, RICHARD WALKER   -0.448
  220  PENNSYL  D  GREEN, WILLIAM JOSEPH JR. -0.448
  221  NEW JER  D  NORTON, MARY TERESA       -0.448
  222  PENNSYL  D  O'NEILL, HARRY            -0.448
  223  MINNESO  D  HUMPHREY, MURIEL          -0.448
  224  PENNSYL  I  FOGLIETTA, THOMAS M.      -0.448
  225  MICHIGA  D  SADOWSKI, GEORGE GREGORY  -0.447
  226  WASHING  D  UNSOELD, JOLENE           -0.447
  227  CALIFOR  D  ROYBAL-ALLARD, LUCILLE    -0.447
  228  PENNSYL  D  BRADY, ROBERT A.          -0.447
  229  MICHIGA  D  DINGELL, JOHN DAVID JR.   -0.445
  230  MISSOUR  D  KARSTEN, FRANK MELVIN     -0.445
  231  MONTANA  D  METCALF, LEE              -0.445
  232  TEXAS    D  JORDAN, BARBARA           -0.445
  233  CALIFOR  D  MINETA, NORMAN            -0.445
  234  CALIFOR  D  DIXON, JULIAN CAREY       -0.445
  235  NEW YOR  D  MEEKS, GREGORY W.         -0.445
  236  NEW YOR  D  BURCHILL, THOMAS FRANCIS  -0.444
  237  PENNSYL  D  GREEN, WILLIAM J., III    -0.444
  238  NEW YOR  D  SERRANO, JOSE E.          -0.444
  239  PENNSYL  D  BARRETT, WILLIAM A.       -0.443
  240  NEW YOR  D  WALDON, ALTON R JR        -0.443
  241  MASSACH  D  DELAHUNT, WILLIAM D.      -0.443
  242  PENNSYL  D  BOLAND, PATRICK JOSEPH    -0.441
  243  NEW YOR  D  CULLEN, THOMAS HENRY      -0.441
  244  PENNSYL  D  SACKS, LEON               -0.441
  245  MASSACH  D  STUDDS, GERRY             -0.441
  246  MINNESO  D  VENTO, BRUCE              -0.441
  247  CALIFOR  D  WATSON, DIANE             -0.441
  248  ILLINOI  D  REYNOLDS, MEL             -0.441
  249  OHIO     D  BURKE, THOMAS HENRY       -0.440
  250  PENNSYL  D  EBERHARTER, HERMAN PETER  -0.440
  251  CALIFOR  D  HOLIFIELD, CHET           -0.440
  252  FLORIDA  D  MEEK, CARRIE              -0.440
  253  USA      D  CLINTON, WILLIAM J.       -0.440
  254  MICHIGA  D  DINGELL, JOHN DAVID       -0.438
  255  MARYLAN  D  SICKLES, CARLETON R.      -0.438
  256  MINNESO  D  ANDERSON, WENDELL         -0.438
  257  CALIFOR  D  TORRES, ESTEBAN E.        -0.438
  258  NEW YOR  D  WAGNER, ROBERT FERDINAND  -0.437
  259  CALIFOR  D  LEGGETT, ROBERT L.        -0.437
  260  MICHIGA  D  CLEVENGER, RAYMOND F.     -0.437
  261  ILLINOI  D  SIMON, PAUL               -0.437
  262  KENTUCK  D  PERKINS, CARL C.          -0.437
  263  ALABAMA  D  BLACK, HUGO LAFAYETTE     -0.436
  264  MARYLAN  D  SARBANES, PAUL            -0.436
  265  MASSACH  D  TSONGAS, PAUL             -0.434
  266  INDIANA  D  HALL, KATIE BEATRICE      -0.433
  267  WASHING  D  COFFEE, JOHN MAIN         -0.431
  268  CALIFOR  D  KING, CECIL RHODES        -0.431
  269  MICHIGA  D  MACHROWICZ, THADDEUS MICH -0.431
  270  CALIFOR  D  SALINGER, PIERRE          -0.431
  271  WASHING  D  MITCHELL, HUGH BURNTON    -0.430
  272  WEST VI  D  NEELY, MATTHEW MANSFIELD  -0.430
  273  MONTANA  D  OLSEN, ARNOLD             -0.430
  274  MICHIGA  D  KILPATRICK, CAROLYN C.    -0.430
  275  NEW JER  D  GALLAGHER, CORNELIUS EDWA -0.428
  276  NEW YOR  D  PFEIFER, JOSEPH LAWRENCE  -0.428
  277  ILLINOI  D  GUTIERREZ, LUIS V.        -0.428
  278  ALASKA   D  BARTLETT, EDWARD LEWIS    -0.427
  279  MINNESO  D  MCCARTHY, EUGENE JOSEPH   -0.427
  280  ILLINOI  D  RONAN, DANIEL J.          -0.427
  281  CALIFOR  D  CRANSTON, ALAN            -0.427
  282  TEXAS    D  JOHNSON, EDDIE BERNICE    -0.427
  283  PENNSYL  D  BRADLEY, MICHAEL JOSEPH   -0.426
  284  PENNSYL  D  BYRNE, JAMES ALOYSIUS     -0.426
  285  NEW YOR  D  BYRNE, WILLIAM THOMAS     -0.426
  286  CALIFOR  D  IZAC, EDOUARD VICTOR MICH -0.426
  287  NEW YOR  D  KELLY, GEORGE BRADSHAW    -0.426
  288  HAWAII   D  LONG, OREN ETHELBIRT      -0.426
  289  NEW YOR  D  MEAD, JAMES MICHAEL       -0.426
  290  OREGON   D  DEFAZIO, PETER A          -0.426
  291  MISSOUR  D  CLAY, WILLIAM (LACY)      -0.426
  292  OHIO     D  HUBER, WALTER B.          -0.424
  293  NEW YOR  D  O'TOOLE, DONALD           -0.424
  294  PENNSYL  D  SCANLON, THOMAS EDWARD    -0.424
  295  CALIFOR  D  LEVINE, MEL               -0.424
  296  NEW MEX  D  UDALL, TOM                -0.424
  297  WISCONS  D  BIEMILLER, ANDREW JOHN    -0.423
  298  CALIFOR  D  CONDON, ROBERT LIKENS     -0.423
  299  NEW YOR  D  ACKERMAN, GARY L.         -0.423
  300  KENTUCK  D  BARKLEY, ALBEN WILLIAM    -0.421
  301  NEW YOR  D  FITZPATRICK, JAMES MARTIN -0.421
  302  ILLINOI  D  GORDON, THOMAS SYLVY      -0.421
  303  NEW YOR  D  HEFFERNAN, JAMES JOSEPH   -0.421
  304  PENNSYL  D  QUINN, JAMES LELAND       -0.421
  305  OHIO     D  YOUNG, STEPHEN MARVIN     -0.421
  306  PENNSYL  D  EILBERG, JOSHUA           -0.421
  307  TENNESS  D  FORD, HAROLD              -0.421
  308  NEW YOR  D  FLAKE, FLOYD              -0.421
  309  PENNSYL  D  BUCHANAN, VERA DAERR      -0.420
  310  NEW YOR  D  EDELSTEIN, MORRIS MICHAEL -0.420
  311  FLORIDA  D  PEPPER, CLAUDE DENSON     -0.420
  312  INDIANA  D  BRADEMAS, JOHN            -0.419
  313  MICHIGA  D  NEDZI, LUCIEN N.          -0.419
  314  CALIFOR  D  DYAL, KEN W.              -0.419
  315  COLORAD  D  HART, GARY                -0.419
  316  ILLINOI  D  EVANS, LANE               -0.419
  317  NEW YOR  D  BLOOM, SOL                -0.417
  318  NEW YOR  D  HEALEY, JAMES CHRISTOPHER -0.416
  319  MINNESO  D  KNUTSON, COYA GJESDAL     -0.416
  320  WISCONS  D  OBEY, DAVID R.            -0.416
  321  CONNECT  D  MOFFETT, ANTHONY          -0.416
  322  SOUTH C  D  CLYBURN, JAMES E.         -0.416
  323  IOWA     D  MEZVINSKY, EDWARD         -0.414
  324  IOWA     D  CARTER, STEVEN V.         -0.413
  325  PENNSYL  D  FURLONG, ROBERT GRANT     -0.413
  326  CALIFOR  P  HAVENNER, FRANCK ROBERTS  -0.413
  327  NEW YOR  D  KEOGH, EUGENE JAMES       -0.413
  328  WISCONS  D  PROXMIRE, WILLIAM         -0.413
  329  OREGON   D  FURSE, ELIZABETH          -0.413
  330  COLORAD  D  DEGETTE, DIANA            -0.413
  331  MASSACH  D  ELIOT, THOMAS HOPKINSON   -0.412
  332  PENNSYL  D  HOLLAND, ELMER JOSEPH     -0.412
  333  NEW YOR  D  BRASCO, FRANK J.          -0.412
  334  CALIFOR  D  DANIELSON, GEORGE         -0.412
  335  MARYLAN  D  MFUME, KWEISI             -0.412
  336  NORTH C  D  CLAYTON, EVA              -0.412
  337  CONNECT  D  BOWLES, CHESTER BLISS     -0.410
  338  PENNSYL  D  MCGLINCHEY, HERBERT JOSEP -0.410
  339  VIRGINI  D  SCOTT, ROBERT C.          -0.410
  340  PENNSYL  D  GRANAHAN, WILLIAM THOMAS  -0.409
  341  DELAWAR  D  HUGHES, JAMES HURD        -0.409
  342  NEBRASK  D  O'SULLIVAN, EUGENE        -0.409
  343  WEST VI  D  RAMSAY, ROBERT LINCOLN    -0.409
  344  NEW JER  D  RODINO, PETER WALLACE JR. -0.409
  345  ILLINOI  D  ROWAN, WILLIAM A.         -0.409
  346  HAWAII   D  MATSUNAGA, SPARK M.       -0.407
  347  NEW JER  D  LAUTENBERG, FRANK R.      -0.407
  348  HAWAII   D  ABERCROMBIE, NEIL         -0.407
  349  NEW YOR  D  TORRENS, JAMES H.         -0.406
  350  MICHIGA  D  RIEGLE, DONALD W., JR.    -0.406
  351  PENNSYL  D  TOLL, HERMAN              -0.404
  352  NEW JER  D  MEYNER, HELEN             -0.404
  353  NEW YOR  D  SOLARZ, STEPHEN           -0.404
  354  LOUISIA  D  FIELDS, CLEO              -0.404
  355  CALIFOR  D  MCFALL, JOHN JOSEPH       -0.403
  356  MICHIGA  D  O'HARA, JAMES G.          -0.403
  357  ALASKA   D  RIVERS, RALPH JULIAN      -0.403
  358  NEW JER  D  HOWARD, JAMES J.          -0.403
  359  NEW JER  D  MAGUIRE, ANDREW           -0.403
  360  CALIFOR  D  FAZIO, VICTOR HERBERT     -0.403
  361  MISSOUR  D  CHRISTOPHER, GEORGE HENRY -0.402
  362  IOWA     D  CULVER, JOHN C.           -0.402
  363  CALIFOR  D  TUCKER, WALTER R.         -0.402
  364  NEW YOR  D  REID, OGDEN R.            -0.402
  365  PENNSYL  D  DUNN, MATTHEW ANTHONY     -0.400
  366  WASHING  D  ADAMS, BROCK              -0.400
  367  OHIO     D  CARNEY, CHARLES           -0.400
  368  CALIFOR  D  MCDONALD, JUANITA M.      -0.400
  369  CONNECT  D  GEELAN, JAMES PATRICK     -0.399
  370  CALIFOR  D  MILLER, GEORGE PAUL       -0.399
  371  INDIANA  D  WALSH, JOHN RICHARD       -0.399
  372  CALIFOR  D  BERMAN, HOWARD  L.        -0.399
  373  INDIANA  D  CARSON, JULIA             -0.399
  374  ILLINOI  D  BOWLER, JAMES BERNARD     -0.397
  375  PENNSYL  D  GRANAHAN, KATHRYN ELIZABE -0.397
  376  ILLINOI  D  KELLER, KENT ELLSWORTH    -0.397
  377  CONNECT  D  KOWALSKI, FRANK           -0.397
  378  MICHIGA  D  LEVIN, CARL MILTON        -0.397
  379  COLORAD  D  UDALL, MARK               -0.397
  380  MISSOUR  D  KARST, RAYMOND WILLARD    -0.396
  381  WASHING  D  MEEDS, LLOYD              -0.396
  382  TEXAS    D  THOMAS, LERA              -0.396
  383  INDIANA  D  HARTKE, RUPERT VANCE      -0.395
  384  UTAH     D  MOSS, FRANK EDWARD        -0.395
  385  INDIANA  D  BAYH, BIRCH               -0.395
  386  CONNECT  D  GEJDENSON, SAMUEL         -0.395
  387  INDIANA  D  MADDEN, RAY JOHN          -0.393
  388  CALIFOR  D  FARR, SAM                 -0.393
  389  OHIO     D  BROWN, SHERROD            -0.393
  390  NEW YOR  D  KELLY, EDNA FLANNERY      -0.392
  391  CALIFOR  D  MILLER, CLEMENT WOODNUTT  -0.392
  392  NEW YOR  D  PEYSER, THEODORE ALBERT   -0.392
  393  ILLINOI  D  PRICE, CHARLES MELVIN     -0.392
  394  CALIFOR  D  SHELLEY, JOHN FRANCIS     -0.392
  395  ILLINOI  D  FINNEGAN, EDWARD          -0.392
  396  NEW JER  D  ADDONIZIO, HUGH JOSEPH    -0.390
  397  TENNESS  D  KEFAUVER, CAREY ESTES     -0.390
  398  NEW YOR  D  LYNCH, WALTER ALOYSIUS    -0.390
  399  PENNSYL  D  MORGAN, THOMAS ELLSWORTH  -0.390
  400  KENTUCK  D  FARNSLEY, CHARLES P.      -0.390
  401  MASSACH  D  CASEY, JOSEPH EDWARD      -0.389
  402  CALIFOR  D  SISK, BERNICE FREDERIC    -0.389
  403  NEW YOR  D  SOMERS, ANDREW LAWRENCE   -0.389
  404  MINNESO  D  KARTH, JOSEPH EDWARD      -0.387
  405  PENNSYL  D  MOORHEAD, WILLIAM SINGER  -0.387
  406  IOWA     D  HARKIN, TOM               -0.387
  407  DELAWAR  D  MCDOWELL, HARRIS BROWN JR -0.386
  408  NEW YOR  D  ROONEY, JOHN JAMES        -0.386
  409  COLORAD  D  HASKELL, FLOYD            -0.386
  410  OHIO     D  ASHLEY, THOMAS WILLIAM LU -0.385
  411  RHODE I  D  GREEN, THEODORE FRANCIS   -0.385
  412  MICHIGA  D  HOOK, FRANK EUGENE        -0.385
  413  ILLINOI  D  MURPHY, WILLIAM THOMAS    -0.385
  414  RHODE I  D  PELL, CLAIBORNE           -0.385
  415  MASSACH  I  MOAKLEY, JOHN             -0.385
  416  NEW YOR  D  DOWNEY, THOMAS            -0.385
  417  HAWAII   D  AKAKA, DANIEL             -0.385
  418  MASSACH  D  ATKINS, CHESTER G.        -0.385
  419  MASSACH  D  KENNEDY, JOSEPH P II      -0.385
  420  NEW YOR  D  FAY, JAMES HERBERT        -0.383
  421  CONNECT  D  KOPPLEMANN, HERMAN PAUL   -0.383
  422  MINNESO  D  MCCOLLUM, BETTY           -0.383
  423  TEXAS    D  JACKSON-LEE, SHEILA       -0.383
  424  MARYLAN  D  BYRON, KATHARINE EDGAR    -0.382
  425  NEW JER  D  KREBS, PAUL J.            -0.382
  426  WASHING  D  SWIFT, ALLEN              -0.382
  427  NEW JER  D  BRADLEY, WILLIAM WARREN   -0.382
  428  NEW YOR  D  ENGEL, ELIOT L.           -0.382
  429  LOUISIA  D  JEFFERSON, WILLIAM J.     -0.382
  430  NEW YOR  D  BOYLAN, JOHN JOSEPH       -0.380
  431  MAINE    D  MUSKIE, EDMUND SIXTUS     -0.380
  432  CONNECT  D  ST. ONGE, WILLIAM L.      -0.380
  433  CONNECT  D  MORRISON, BRUCE A.        -0.380
  434  OHIO     D  KIRWAN, MICHAEL JOSEPH    -0.379
  435  UTAH     D  MURDOCK, ORRICE ABRAM JR. -0.379
  436  NEW YOR  D  ADDABBO, JOSEPH P.        -0.379
  437  CALIFOR  D  MATSUI, ROBERT TAKEO      -0.379
  438  RHODE I  D  REED, JOHN F.             -0.379
  439  TEXAS    D  DOGGETT, LLOYD            -0.379
  440  ILLINOI  D  STEVENSON, ADLAI E.       -0.378
  441  VERMONT  D  LEAHY, PATRICK            -0.378
  442  RHODE I  D  MCGRATH, JAMES HOWARD     -0.376
  443  ILLINOI  D  RESA, ALEXANDER JOHN      -0.376
  444  PENNSYL  D  WEISS, SAMUEL ARTHUR      -0.376
  445  MARYLAN  D  CUMMINGS, ELIJAH E.       -0.376
  446  USA      D  JOHNSON, LYNDON B.        -0.376
  447  NEW JER  D  WILLIAMS, HARRISON ARLING -0.375
  448  WYOMING  D  RONCALIO, TENO            -0.375
  449  CALIFOR  D  COELHO, ANTHONY LEE       -0.375
  450  ILLINOI  D  BRAUN, CAROL MOSELEY      -0.375
  451  ILLINOI  D  KLUCZYNSKI, JOHN CARL     -0.373
  452  MICHIGA  D  LESINSKI, JOHN            -0.373
  453  OHIO     D  OAKAR, MARY ROSE          -0.373
  454  NEW YOR  D  SLAUGHTER, LOUISE         -0.373
  455  OREGON   D  HONEYMAN, NAN WOOD        -0.372
  456  CALIFOR  D  VAN DEERLIN, LIONEL       -0.372
  457  PENNSYL  D  HARRISON, FRANK           -0.372
  458  FLORIDA  D  BROWN, CORRINE            -0.372
  459  NEW YOR  D  WEINER, ANTHONY D.        -0.372
  460  PENNSYL  D  BUCHANAN, FRANK -PENNSYLV -0.371
  461  OHIO     D  VANIK, CHARLES ALBERT     -0.371
  462  ILLINOI  D  O'BRIEN, THOMAS           -0.369
  463  MISSOUR  D  SULLIVAN, LEONOR KRETZER  -0.369
  464  MICHIGA  D  VIVIAN, WESTON P.         -0.369
  465  PENNSYL  D  EDGAR, ROBERT             -0.369
  466  NEW YOR  D  FERRARO, GERALDINE        -0.369
  467  MICHIGA  D  WOLPE, HOWARD ELIOT       -0.369
  468  NORTH D  D  BURDICK, JOYCELYN BIRCH   -0.369
  469  MAINE    D  COFFIN, FRANK MOREY       -0.368
  470  MINNESO  D  GALLAGHER, WILLIAM JAMES  -0.368
  471  WASHING  D  MAGNUSON, DONALD HAMMER   -0.368
  472  IOWA     D  WOLF, LEONARD GEORGE      -0.368
  473  NEW JER  D  MCGRATH, THOMAS C., JR.   -0.368
  474  INDIANA  D  HAYES, PHILIP             -0.368
  475  MICHIGA  D  LESINSKI, JOHN JR.        -0.366
  476  NORTH D  D  LINK, ARTHUR S.           -0.366
  477  NEW HAM  D  DURKIN, JOHN              -0.366
  478  MASSACH  D  KERRY,JOHN F.             -0.366
  479  MISSOUR  D  CARNAHAN, ALBERT SIDNEY J -0.365
  480  CALIFOR  D  SAUND, DALIP SINGH        -0.365
  481  NEW YOR  D  TENZER, HERBERT           -0.365
  482  MARYLAN  D  MIKULSKI, BARBARA         -0.365
  483  PENNSYL  D  DORSEY, FRANK JOSEPH GERA -0.363
  484  CALIFOR  D  GEYER, LEE EDWARD         -0.363
  485  CONNECT  D  WOODHOUSE, CHASE GOING    -0.363
  486  NEW JER  D  PATTEN, EDWARD J.         -0.363
  487  NEW JER  D  DANIELS, DOMINICK V.      -0.362
  488  MONTANA  D  MANSFIELD, MICHAEL JOSEPH -0.362
  489  PENNSYL  D  RHODES, GEORGE MILTON     -0.362
  490  WASHING  D  WALLGREN, MONRAD CHARLES  -0.362
  491  CALIFOR  D  RYAN, LEO                 -0.362
  492  OREGON   D  WEAVER, JAMES             -0.362
  493  ILLINOI  D  FARY, JOHN                -0.362
  494  ILLINOI  D  DOUGLAS, EMILY TAFT       -0.361
  495  CALIFOR  D  BURKHALTER, EVERETT G.    -0.361
  496  OHIO     D  GILLIGAN, JOHN J.         -0.361
  497  NEW JER  D  LEFANTE, JOSEPH           -0.361
  498  MASSACH  D  BURKE, JAMES ANTHONY      -0.359
  499  NEW YOR  D  KENNEDY, MICHAEL JOSEPH   -0.359
  500  INDIANA  D  WAMPLER, FRED             -0.359
  501  MISSOUR  D  EAGLETON, THOMAS F.       -0.359
  502  WISCONS  D  BALDUS, ALVIN             -0.359
  503  RHODE I  D  KENNEDY, PATRICK J.       -0.359
  504  WASHING  D  MURRAY, PATTY             -0.359
  505  NORTH D  D  BURDICK, QUENTIN NORTHROP -0.358
  506  WEST VI  D  KEE, JOHN                 -0.358
  507  UTAH     D  THOMAS, ELBERT DUNCAN     -0.358
  508  OKLAHOM  D  HARRIS, FRED R.           -0.358
  509  PENNSYL  D  CROSBY, CHARLES NOEL      -0.356
  510  CALIFOR  D  JOHNSON, HAROLD TERRY     -0.356
  511  MARYLAN  D  HOYER, STENY H .          -0.356
  512  CALIFOR  D  THOMPSON, MIKE            -0.356
  513  NEW YOR  D  GORSKI, CHESTER CHARLES   -0.355
  514  TEXAS    D  YARBOROUGH, RAPLH WEBSTER -0.355
  515  MICHIGA  D  KILDEE, DALE              -0.355
  516  NEW YOR  D  LOWEY, NITA M.            -0.355
  517  MAINE    D  ANDREWS, THOMAS H.        -0.355
  518  OREGON   D  BLUMENAUER, EARL          -0.355
  519  NEW JER  D  HOLT, RUSH D.             -0.355
  520  USA      D  TRUMAN, HARRY S.          -0.355
  521  WASHING  D  MAGNUSON, WARREN GRANT    -0.354
  522  MASSACH  D  O'NEILL, THOMAS           -0.354
  523  MICHIGA  D  RABAUT, LOUIS CHARLES     -0.354
  524  MARYLAN  D  TYDINGS, JOSEPH           -0.354
  525  RHODE I  D  TIERNAN, ROBERT O.        -0.354
  526  MICHIGA  D  VANDER VEEN, RICHARD      -0.354
  527  CALIFOR  D  LOFGREN, ZOE              -0.354
  528  WASHING  D  BAIRD, BRIAN              -0.354
  529  MICHIGA  D  MOODY, ARTHUR EDSON BLAIR -0.352
  530  NEW YOR  D  CAREY, HUGH L.            -0.352
  531  MISSOUR  D  GEPHARDT, RICHARD         -0.352
  532  FLORIDA  D  STACK, EDWARD JOHN        -0.352
  533  CONNECT  D  DELAURO, ROSA             -0.352
  534  MAINE    D  ALLEN, THOMAS H.          -0.352
  535  CONNECT  D  DADDARIO, EMILIO QUINCY   -0.351
  536  RHODE I  D  FORAND, AIME JOSEPH       -0.349
  537  MARYLAN  D  FRIEDEL, SAMUEL NATHANIEL -0.349
  538  PENNSYL  D  MCARDLE, JOSEPH A.        -0.349
  539  ILLINOI  D  MCKEOUGH, RAYMOND STEPHEN -0.349
  540  DELAWAR  D  TUNNELL, JAMES MILLER     -0.349
  541  ARIZONA  D  UDALL, MORRIS K.          -0.349
  542  CALIFOR  D  TUNNEY, JOHN V.           -0.349
  543  CALIFOR  D  ESHOO, ANNA G.            -0.349
  544  PENNSYL  D  DALY, JOHN BURRWOOD       -0.348
  545  NEW YOR  D  GAVAGAN, JOSEPH ANDREW    -0.348
  546  MISSOUR  D  HENNINGS, THOMAS CAREY JR -0.348
  547  CONNECT  D  GRABOWSKI, BERNARD F.     -0.348
  548  PENNSYL  D  MYERS, MICHAEL            -0.348
  549  NEW YOR  D  SCHUMER, CHARLES E.       -0.348
  550  USA      D  ROOSEVELT, FRANKLIN D.    -0.348
  551  IDAHO    D  CHURCH, FRANK FORRESTER   -0.347
  552  NORTH C  D  FOLGER, JOHN HAMLIN       -0.347
  553  ILLINOI  D  ROSTENKOWSKI, DANIEL DAVI -0.347
  554  WASHING  D  HICKS, FLOYD V.           -0.347
  555  NEW YOR  D  MOYNIHAN, DANIEL          -0.347
  556  ILLINOI  D  GRAY, KENNETH JAMES       -0.347
  557  CALIFOR  D  NAPOLITANO, GRACE F.      -0.347
  558  WISCONS  D  BARRETT, THOMAS M.        -0.347
  559  NEW YOR  D  CLINTON, HILLARY RODHAM   -0.347
  560  PENNSYL  D  SHERIDAN, JOHN EDWARD     -0.345
  561  PENNSYL  D  SMITH, FRANCIS RAPHAEL    -0.345
  562  NEW YOR  D  MURPHY, JOHN M.           -0.345
  563  ILLINOI  D  ANNUNZIO, FRANK           -0.345
  564  WASHING  D  FOLEY, THOMAS S.          -0.345
  565  MAINE    D  MITCHELL, GEORGE          -0.345
  566  MASSACH  D  NEAL, RICHARD E.          -0.345
  567  MICHIGA  D  RIVERS, LYNN N.           -0.345
  568  PENNSYL  D  FLOOD, DANIEL JOHN        -0.344
  569  CALIFOR  D  MCGRATH, JOHN JOSEPH      -0.344
  570  CONNECT  D  RIBICOFF, ABRAHAM A.      -0.344
  571  CALIFOR  D  DOWNEY, SHERIDAN          -0.342
  572  OREGON   D  GREEN, EDITH              -0.342
  573  WASHING  D  HANSEN, JULIA BUTLER      -0.342
  574  ILLINOI  D  DURBIN, RICHARD J.        -0.342
  575  ARIZONA  D  PASTOR, ED                -0.342
  576  ILLINOI  D  LIBONATI, ROLAND VICTOR   -0.341
  577  PENNSYL  D  QUIGLEY, JAMES MICHAEL    -0.341
  578  CALIFOR  D  WILSON, CHARLES H.        -0.341
  579  MARYLAN  D  BARNES, MICHAEL DARR      -0.341
  580  CONNECT  D  RATCHFORD, WILLIAM RICHAR -0.341
  581  PENNSYL  D  BORSKI, ROBERT A., JR.    -0.341
  582  MASSACH  D  MEEHAN, MARTIN T.         -0.341
  583  WASHING  D  JACKSON, HENRY MARTIN     -0.339
  584  MICHIGA  D  MACKIE, JOHN C.           -0.339
  585  WISCONS  D  MOODY, JIM                -0.339
  586  PENNSYL  D  MURPHY, JOHN WILLIAM      -0.338
  587  SOUTH C  D  SIMS, HUGO SHERIDAN JR.   -0.338
  588  RHODE I  D  ST. GERMAIN, FERNAND J.   -0.338
  589  IOWA     D  BANDSTRA, BERT            -0.338
  590  NEW YOR  D  MCHUGH, MATTHEW           -0.338
  591  MASSACH  D  LYNCH, STEPHEN F.         -0.338
  592  NEW YOR  D  MALONEY, CAROLYN B.       -0.338
  593  MASSACH  D  SMITH, BENJAMIN II        -0.337
  594  MINNESO  D  BERGLAND, ROBERT          -0.337
  595  ILLINOI  D  MURPHY, MORGAN            -0.337
  596  DELAWAR  D  BIDEN, JOSEPH R.          -0.337
  597  CALIFOR  D  COLDEN, CHARLES J.        -0.335
  598  WEST VI  D  HECHLER, KENNETH          -0.335
  599  PENNSYL  D  WRIGHT, JAMES ASSION      -0.335
  600  MINNESO  D  OLSON, ALEX G.            -0.335
  601  NEW JER  D  DWYER, BERNARD            -0.335
  602  INDIANA  D  VISCLOSKEY, PETER J.      -0.335
  603  MARYLAN  D  WYNN, ALBERT R.           -0.335
  604  PENNSYL  D  HOCH, DANIEL KNABB        -0.334
  605  PENNSYL  D  LEDERER, RAYMOND          -0.334
  606  OHIO     D  SAWYER, TOM               -0.334
  607  MASSACH  D  MCCORMACK, JOHN WILLIAM   -0.332
  608  CONNECT  D  MCGUIRE, JOHN ANDREW      -0.332
  609  ILLINOI  D  SMITH, THOMAS VERNOR      -0.332
  610  OREGON   D  ULLMAN, ALBERT CONRAD     -0.332
  611  MICHIGA  D  RYAN, HAROLD M.           -0.332
  612  MICHIGA  D  BLANCHARD, JAMES          -0.332
  613  CONNECT  D  DODD, CHRISTOPHER         -0.332
  614  MICHIGA  D  HERTEL, DENNIS M.         -0.332
  615  NEW YOR  D  MRAZEK, ROBERT J.         -0.332
  616  NEW YOR  D  CROWLYE, JOSEPH           -0.332
  617  OHIO     D  CROSSER, ROBERT           -0.331
  618  ARIZONA  D  UDALL, STEWART LEE        -0.331
  619  MICHIGA  D  FARNUM, BILLIE S.         -0.331
  620  NEW YOR  D  PEYSER, PETER             -0.331
  621  MICHIGA  D  LEVIN, SANDER M.          -0.331
  622  WEST VI  D  KEE, MAUDE ELIZABETH      -0.330
  623  MASSACH  D  KENNEDY, JOHN FITZGERALD  -0.330
  624  RHODE I  D  FOGARTY, JOHN EDWARD      -0.328
  625  ILLINOI  D  MACIEJEWSKI, ANTON FRANK  -0.328
  626  NEW YOR  D  MCCARTHY, RICHARD D.      -0.328
  627  SOUTH D  D  DENHOLM, FRANK            -0.328
  628  NEW YOR  D  PATTISON, EDWARD          -0.328
  629  CALIFOR  D  MARTINEZ, MATTHEW G.      -0.328
  630  INDIANA  D  JONTZ, JIM                -0.328
  631  MISSOUR  D  MAGEE, CLARE              -0.327
  632  OREGON   D  REAMES, ALFRED EVAN       -0.327
  633  CALIFOR  D  PATTERSON, JERRY          -0.327
  634  OREGON   D  WU, DAVID                 -0.327
  635  NEW YOR  D  MURPHY, JAMES JOSEPH      -0.325
  636  CONNECT  D  RYTER, JOSEPH FRANCIS     -0.325
  637  CALIFOR  D  HANNA, RICHARD T.         -0.325
  638  WISCONS  D  CORNELL, ROBERT           -0.325
  639  INDIANA  D  DENTON, WINFIELD KIRKPATR -0.324
  640  ARKANSA  D  ELLIS, CLYDE TAYLOR       -0.324
  641  COLORAD  D  MARTIN, JOHN ANDREW       -0.324
  642  IDAHO    D  PFOST, GRACIE BOWERS      -0.324
  643  NEW JER  D  SIEMINSKI, ALFRED DENNIS  -0.324
  644  ILLINOI  D  GORSKI, MARTIN            -0.323
  645  UTAH     D  GRANGER, WALTER KIEL      -0.323
  646  NEW YOR  D  MERRITT, MATTHEW JOSEPH   -0.323
  647  ILLINOI  D  HALL, TIM                 -0.323
  648  VIRGINI  D  HARRIS, HERBERT           -0.323
  649  FLORIDA  D  WEXLER, ROBERT            -0.323
  650  TENNESS  D  FORD, HAROLD E., JR.      -0.323
  651  INDIANA  D  CROOK, THURMAN CHARLES    -0.321
  652  KANSAS   D  HARGIS, DENVER DAVID      -0.321
  653  MISSOUR  D  WELCH, PHILIP JAMES       -0.321
  654  MAINE    D  KYROS, PETER N.           -0.321
  655  MASSACH  D  MAVROULES, NICHOLAS       -0.321
  656  CALIFOR  D  LANTOS, TOM               -0.321
  657  MICHIGA  D  STUPAK, BART              -0.321
  658  MARYLAN  D  LEWIS, DAVID JOHN         -0.320
  659  CONNECT  D  MCMAHON, JAMES O@BRIEN    -0.320
  660  MISSOUR  D  SULLIVAN, JOHN BERCHMANS  -0.320
  661  MISSISS  D  ESPY, MIKE                -0.320
  662  IOWA     D  NAGLE, DAVE R             -0.320
  663  PENNSYL  D  WOFFORD, HARRIS           -0.320
  664  MICHIGA  D  GRIFFITHS, MARTHA WRIGHT  -0.318
  665  CONNECT  D  MACIORA, LUCIEN JOHN      -0.318
  666  TEXAS    D  RAYBURN, SAM              -0.318
  667  WASHING  D  MCCORMACK, MIKE           -0.318
  668  FLORIDA  D  SMITH, LAWRENCE           -0.318
  669  RHODE I  D  O'CONNELL, JOHN M.        -0.317
  670  CONNECT  D  KENNELLY, BARBARA B.      -0.317
  671  TEXAS    D  COLEMAN, RONALD           -0.317
  672  NEW YOR  D  MANTON, THOMAS J.         -0.317
  673  OHIO     D  STRICKLAND, TED           -0.317
  674  HAWAII   D  INOUYE, DANIEL KEN        -0.315
  675  INDIANA  D  SCHULTE, WILLIAM THEODORE -0.315
  676  CALIFOR  D  CAMERON, RONALD B.        -0.315
  677  PENNSYL  D  DENT, JOHN HERMAN         -0.314
  678  NEW YOR  D  MCGRATH, CHRISTOPHER COLU -0.314
  679  WISCONS  D  ZABLOCKI, CLEMENT JOHN    -0.314
  680  PENNSYL  D  ROONEY, FRED B.           -0.314
  681  NEW YOR  D  NOWAK, HENRY              -0.314
  682  CALIFOR  D  SANCHEZ, LORETTA          -0.314
  683  PENNSYL  D  DAVENPORT, HARRY JAMES    -0.313
  684  CONNECT  D  DOWNS, LE ROY DONNELLY    -0.313
  685  INDIANA  D  HOGAN, EARL LEE           -0.313
  686  MICHIGA  D  TRAXLER, BOB              -0.313
  687  COLORAD  D  KOGOVSEK, RAYMOND PETER   -0.313
  688  LOUISIA  D  FERNANDEZ, JOACHIM OCTAVE -0.311
  689  ILLINOI  D  SLATTERY, JAMES MICHAEL   -0.311
  690  NEW JER  D  JOELSON, CHARLES S.       -0.311
  691  NEW JER  D  MENENDEZ, ROBERT          -0.311
  692  CONNECT  D  LARSON, JOHN B.           -0.311
  693  TEXAS    D  GONZALEZ, CHARLES A.      -0.311
  694  INDIANA  D  JACKSON, SAMUEL DILLON    -0.310
  695  ILLINOI  D  LEWIS, JAMES HAMILTON     -0.310
  696  ALABAMA  D  PATRICK, LUTHER           -0.310
  697  KENTUCK  D  PERKINS, CARL DEWEY       -0.310
  698  MONTANA  D  WILLIAMS, PAT             -0.310
  699  RHODE I  D  LANGEVIN, JAMES R.        -0.310
  700  TEXAS    D  RODRIGUEZ, CIRO D.        -0.310
  701  PENNSYL  D  GILDEA, JAMES HILARY      -0.308
  702  WISCONS  D  JOHNSON, LESTER R.        -0.308
  703  WEST VI  D  MOLLOHAN, ROBERT HOMER    -0.308
  704  ARKANSA  D  BUMPERS, DALE             -0.308
  705  PENNSYL  D  KOSTMAYER, PETER          -0.308
  706  FLORIDA  D  JOHNSTON, HARRY A., II    -0.308
  707  NEW JER  D  MILTON, JOHN GERALD       -0.307
  708  MICHIGA  D  O'BRIEN, GEORGE           -0.307
  709  COLORAD  D  SKAGGS, DAVID E           -0.307
  710  NEW JER  D  HOWELL, CHARLES ROBERT    -0.306
  711  NEW YOR  D  LANZETTA, JAMES JOSEPH    -0.306
  712  WASHING  D  LEAVY, CHARLES HENRY      -0.306
  713  KENTUCK  D  LOGAN, MARVEL MILLS       -0.306
  714  MISSOUR  D  LONG, EDWARD VAUGHN       -0.306
  715  GEORGIA  D  MANKIN, HELEN DOUGLAS     -0.306
  716  KENTUCK  D  SPENCE, BRENT             -0.306
  717  NEW YOR  D  TAURIELLO, ANTHONY FRANCI -0.306
  718  WISCONS  D  ASPIN, LES                -0.306
  719  TEXAS    D  BUSTAMANTE, ALBERT G.     -0.306
  720  CALIFOR  D  CAPPS, WALTER             -0.306
  721  CALIFOR  D  DOYLE, CLYDE GILMAN       -0.304
  722  WEST VI  D  LAIRD, WILLIAM RAMSEY 3D  -0.304
  723  PENNSYL  D  SNYDER, JOHN BUELL        -0.304
  724  CALIFOR  D  VOORHIS, HORACE JERRY     -0.304
  725  WASHING  D  BONKER, DON               -0.304
  726  COLORAD  D  WIRTH, TIMOTHY            -0.304
  727  OREGON   D  WYDEN, RON                -0.304
  728  NEW YOR  D  CLEMENTE, LOUIS GARY      -0.303
  729  MASSACH  D  HEALEY, ARTHUR DANIEL     -0.303
  730  NORTH C  D  WEAVER, ZEBULON           -0.303
  731  MISSOUR  D  SYMINGTON, JAMES W.       -0.303
  732  WEST VI  D  ROCKEFELLER,JOHN D.       -0.303
  733  ILLINOI  D  BUCKLEY, JAMES VINCENT    -0.301
  734  MARYLAN  D  SPELLMAN, GLADYS          -0.301
  735  UTAH     D  ROBINSON, JAMES WILLIAM   -0.300
  736  NEW YOR  D  ROGERS, GEORGE FREDERICK  -0.300
  737  OKLAHOM  D  SYNAR, MICHAEL LYNN       -0.300
  738  PENNSYL  D  SMITH, JOSEPH F.          -0.300
  739  NEW YOR  D  MCNULTY, MICHAEL R.       -0.300
  740  MISSOUR  D  MCCARTHY, KAREN           -0.300
  741  RHODE I  D  PASTORE, JOHN ORLANDO     -0.298
  742  MISSOUR  D  SYMINGTON, WILLIAM STUART -0.298
  743  NEW HAM  D  HUOT, J. OLIVIA           -0.298
  744  IOWA     D  BLOUIN, MICHAEL           -0.298
  745  NEW YOR  D  LUNDINE, STANLEY          -0.298
  746  MARYLAN  D  CARDIN, BENJAMIN L        -0.298
  747  ILLINOI  D  LINEHAN, NEIL JOSEPH      -0.297
  748  NEW YOR  D  QUINN, PETER ANTHONY      -0.297
  749  WEST VI  D  STAGGERS, HARLEY ORRIN    -0.297
  750  ALASKA   D  GRAVEL, MIKE              -0.297
  751  WISCONS  D  KOHL, HERBERT             -0.297
  752  OHIO     D  HARLAN, BYRON BERRY       -0.296
  753  MINNESO  D  STARKEY, FRANK THOMAS     -0.296
  754  NEW YOR  D  BIAGGI, MARIO             -0.296
  755  NEW JER  D  ROE, ROBERT A.            -0.296
  756  OHIO     D  BREEN, EDWARD F           -0.294
  757  ILLINOI  D  DIETERICH, WILLIAM HENRY  -0.294
  758  ILLINOI  D  MACK, PETER FRANCIS JR.   -0.294
  759  MONTANA  D  O'CONNOR, JAMES F.        -0.294
  760  NEW JER  D  MINISH, JOSEPH G.         -0.294
  761  OHIO     D  PEASE, DONALD             -0.294
  762  TEXAS    D  BRYANT, JOHN W .          -0.294
  763  WASHING  D  INSLEE, JAY               -0.294
  764  OKLAHOM  D  ALBERT, CARL              -0.293
  765  CONNECT  D  SHANLEY, JAMES ANDREW     -0.293
  766  WASHING  D  SMITH, MARTIN FERNARD     -0.293
  767  IOWA     D  HANSEN, JOHN R.           -0.293
  768  NEW JER  D  FLORIO, JAMES             -0.293
  769  NEW YOR  D  HOCHBRUECKNER, GEORGE J   -0.293
  770  ILLINOI  D  BOYLE, CHARLES AUGUSTUS   -0.291
  771  NEW YOR  D  DELANEY, JAMES JOSEPH     -0.291
  772  MASSACH  D  FURCOLO, FOSTER           -0.291
  773  CONNECT  D  IRWIN, DONALD J.          -0.291
  774  NEW YOR  D  WOLFF, LESTER L.          -0.291
  775  TENNESS  D  GORE, ALBERT, JR.         -0.291
  776  ARKANSA  D  TUCKER, JIM GUY           -0.291
  777  WASHING  D  LARSEN, RICK              -0.291
  778  KENTUCK  D  WARD, MIKE                -0.291
  779  FLORIDA  D  FASCELL, DANTE BRUNO      -0.290
  780  MARYLAN  D  GARMATZ, EDWARD ALEXANDER -0.290
  781  CONNECT  D  GIAIMO, ROBERT NICHOLAS   -0.290
  782  CALIFOR  D  ROGERS, WILL JR.          -0.290
  783  ILLINOI  D  SCHAEFER, EDWIN MARTIN    -0.290
  784  WYOMING  D  SCHWARTZ, HENRY HERMAN %H -0.290
  785  OHIO     D  STANTON, JAMES V.         -0.290
  786  TEXAS    D  BROOKS, JACK BASCOM       -0.289
  787  IOWA     D  COAD, MERWIN              -0.289
  788  MASSACH  D  FLAHERTY, THOMAS ALOYSIUS -0.289
  789  NEW JER  D  HART, EDWARD JOSEPH       -0.289
  790  NEW YOR  D  O'LEARY, JAMES            -0.289
  791  COLORAD  D  TAYLOR, EDWARD THOMAS     -0.289
  792  LOUISIA  D  BOGGS, CORINNE            -0.289
  793  TENNESS  D  SASSER, JAMES             -0.289
  794  MASSACH  D  DONNELLY, BRIAN JOSEPH    -0.289
  795  WASHING  D  SCHWELLENBACH, LEWIS BAXT -0.287
  796  CALIFOR  D  ANDERSON, GLENN M.        -0.287
  797  VIRGINI  D  FISHER, JOSEPH            -0.287
  798  NEW JER  D  PALLONE, FRANK JR.        -0.287
  799  ARIZONA  D  MURDOCK, JOHN ROBERT      -0.286
  800  INDIANA  D  MCCLOSKEY, FRANCIS X.     -0.286
  801  ILLINOI  D  COX, JOHN W. JR.          -0.286
  802  MAINE    D  BALDACCI, JOHN ELIAS      -0.286
  803  PENNSYL  D  HOEFFEL, JOSEPH M.        -0.286
  804  VIRGINI  D  FLANNAGAN, JOHN WILLIAM J -0.284
  805  PENNSYL  D  FLANNERY, JOHN HAROLD     -0.284
  806  NEW YOR  D  SCHWERT, PIUS LOUIS       -0.284
  807  MASSACH  D  EARLY, JOSEPH             -0.284
  808  WISCONS  D  KLECZKA, GERALD           -0.284
  809  CALIFOR  D  DAVIS, SUSAN A.           -0.284
  810  MICHIGA  D  TENEROWICZ, RUDOLPH GABRI -0.283
  811  CALIFOR  D  TOLAN, JOHN HARVEY        -0.283
  812  MISSOUR  D  TRUMAN, HARRY S.          -0.283
  813  ARKANSA  D  ALEXANDER, WILLIAM V.     -0.283
  814  MISSOUR  D  BURLISON, BILL D.         -0.283
  815  PENNSYL  D  BAILEY, DONALD ALLEN      -0.283
  816  FLORIDA  D  DEUTSCH, PETER            -0.283
  817  MICHIGA  D  STABENOW, DEBORAH ANN     -0.283
  818  COLORAD  D  MARSALIS, JOHN HENRY      -0.282
  819  TEXAS    D  SHEPPARD, MORRIS          -0.282
  820  COLORAD  D  EVANS, FRANK E.           -0.282
  821  NEW YOR  D  LAFALCE, JOHN             -0.282
  822  PENNSYL  D  AMMERMAN, JOSEPH          -0.282
  823  CALIFOR  D  LEHMAN, RICHARD H.        -0.282
  824  NEW JER  D  ROTHMAN, STEVEN R.        -0.282
  825  MASSACH  D  BOLAND, EDWARD PATRICK    -0.280
  826  OHIO     D  FEIGHAN, MICHAEL ALOYSIUS -0.280
  827  OHIO     D  GLENN, JOHN               -0.280
  828  OHIO     D  FEIGHAN, EDWARD F.        -0.280
  829  OREGON   D  DUNCAN, ROBERT B.         -0.279
  830  MONTANA  D  MELCHER, JOHN             -0.279
  831  PENNSYL  D  MUSTO, RAPHAEL            -0.279
  832  LOUISIA  D  LONG, CATHY               -0.279
  833  MAINE    D  BRENNAN, JOSEPH E         -0.279
  834  MINNESO  D  LUTHER, WILLIAM P. "BILL" -0.279
  835  SOUTH C  D  BYRNES, JAMES FRANCIS     -0.277
  836  WYOMING  D  MCGEE, GALE WILLIAM       -0.277
  837  CONNECT  D  GRASSO, ELLA              -0.277
  838  RHODE I  D  BEARD, EDWARD             -0.277
  839  NEW JER  D  GUARINI, FRANK JOSEPH     -0.277
  840  OREGON   D  HOOLEY, DARLENE           -0.277
  841  NEW HAM  D  BROWN, FRED HERBERT       -0.276
  842  WASHING  D  HILL, KNUTE               -0.276
  843  MISSOUR  D  IRVING, THEODORE LEONARD  -0.276
  844  MARYLAN  D  KENNEDY, AMBROSE JEROME   -0.276
  845  MASSACH  D  MACDONALD, TORBERT HART   -0.276
  846  ILLINOI  D  PUCINSKI, ROMAN CONRAD    -0.276
  847  LOUISIA  D  SANDERS, JARED YOUNG, JR. -0.276
  848  TEXAS    D  FROST, JONAS MARTIN III   -0.276
  849  NEW JER  D  DELLAY, VINCENT JOHN      -0.276
  850  DELAWAR  D  ALLEN, WILLIAM FRANKLIN   -0.274
  851  PENNSYL  D  DREW, IRA WALTON          -0.274
  852  ARKANSA  D  HODGES, KANEASTER         -0.274
  853  CALIFOR  D  BATES, JIM                -0.274
  854  OHIO     D  KAPTUR, MARCIA            -0.274
  855  WEST VI  D  STAGGERS, HARLEY O., JR.  -0.274
  856  WISCONS  D  JOHNSON, JAY              -0.274
  857  CALIFOR  D  CAPPS, LOIS               -0.274
  858  KENTUCK  D  BATES, JOSEPH BENGAL      -0.273
  859  MASSACH  D  DONOHUE, HAROLD DANIEL    -0.273
  860  ARIZONA  D  HAYDEN, CARL              -0.273
  861  IDAHO    D  HARDING, RALPH R.         -0.273
  862  CONNECT  D  COTTER, WILLIAM           -0.273
  863  CALIFOR  D  SHERMAN, BRAD             -0.272
  864  NEW JER  D  PASCRELL, WILLIAM JR. (BI -0.272
  865  MARYLAN  D  FOLEY, JOHN ROBERT        -0.270
  866  KENTUCK  D  HUMPHREYS, ROBERT         -0.270
  867  IOWA     D  SMITH, NEAL EDWARD        -0.270
  868  TENNESS  D  FULTON, RICHARD A.        -0.270
  869  MASSACH  D  HICKS, LOUISE DAY         -0.270
  870  COLORAD  D  SCHROEDER, PATRICIA       -0.270
  871  SOUTH D  D  DASCHLE, THOMAS ANDREW    -0.270
  872  TEXAS    D  HINOJOSA, RUBEN           -0.270
  873  ILLINOI  D  BEAM, HARRY PETER         -0.269
  874  OHIO     D  HAYS, WAYNE LEVERE        -0.269
  875  CALIFOR  D  KREBS, JOHN               -0.269
  876  ALABAMA  D  HILL, LISTER              -0.267
  877  LOUISIA  D  LONG, GILLIS W.           -0.267
  878  WEST VI  D  KEE, JAMES                -0.267
  879  WASHING  D  DICKS, NORMAN             -0.267
  880  WEST VI  D  RAHALL, NICK JOE          -0.267
  881  RHODE I  D  WEYGAND, ROBERT A.        -0.267
  882  ARKANSA  D  TRIMBLE, JAMES WILLIAM    -0.266
  883  NORTH C  D  SANFORD, TERRY            -0.266
  884  ILLINOI  D  BLAGOJEVICH, ROD B.       -0.266
  885  TEXAS    D  GREEN, GENE               -0.266
  886  NEW YOR  D  BEITER, ALFRED FLORIAN    -0.265
  887  ALABAMA  D  ELLIOTT, CARL ATWOOD      -0.265
  888  NORTH C  D  FOLGER, ALONZO DILLARD    -0.265
  889  ILLINOI  D  MCANDREWS, JAMES          -0.265
  890  INDIANA  D  NOLAND, JAMES E.          -0.265
  891  TEXAS    D  PATMAN, WRIGHT            -0.265
  892  GEORGIA  D  RAMSPECK, ROBERT C. WORD  -0.265
  893  KENTUCK  D  WHITAKER, JOHN ALBERT     -0.265
  894  NEW YOR  D  HANLEY, JAMES M.          -0.265
  895  OHIO     D  SWEENEY, ROBERT E.        -0.265
  896  NEW HAM  D  MCINTYRE, THOMAS          -0.265
  897  COLORAD  D  ASPINALL, WAYNE NORVIEL   -0.263
  898  ILLINOI  D  FRIES, FRANK WILLIAM      -0.263
  899  NEW YOR  D  KENNEDY, MARTIN JOHN      -0.263
  900  ILLINOI  D  LUCAS, SCOTT WIKE         -0.263
  901  NEW MEX  D  MONTOYA, JOSEPH MANUEL    -0.263
  902  NEW YOR  D  QUINN, THOMAS VINCENT     -0.263
  903  PENNSYL  D  SWOPE, GUY JACOB          -0.263
  904  OHIO     D  LOVE, RODNEY M.           -0.263
  905  MARYLAN  D  BYRON, WILLIAM DEVEREUX   -0.262
  906  PENNSYL  D  DE MUTH, PETER JOSEPH     -0.262
  907  CALIFOR  D  DOCKWEILER, JOHN FRANCIS  -0.262
  908  INDIANA  D  JACOBS, ANDREW SR         -0.262
  909  CALIFOR  D  HANNAFORD, MARK           -0.262
  910  VERMONT  I  JEFFORDS, JAMES           -0.262
  911  TENNESS  D  GORE, ALBERT ARNOLD       -0.260
  912  NEW MEX  D  HATCH, CARL ATWOOD        -0.260
  913  GEORGIA  D  LANHAM, HENDERSON LOVELAC -0.260
  914  CALIFOR  D  PANETTA, LEON             -0.260
  915  WEST VI  D  WISE, ROBERT E            -0.260
  916  PENNSYL  D  CLARK, FRANK MONROE       -0.259
  917  MISSOUR  D  DUNCAN, RICHARD MELOAN    -0.259
  918  ILLINOI  D  GRAY, KENNETH JAMES       -0.259
  919  OHIO     D  WAGNER, EARL THOMAS       -0.259
  920  TENNESS  D  ANDERSON, WILLIAM R.      -0.259
  921  MARYLAN  D  MACHEN, HERVEY            -0.259
  922  MISSISS  D  HARRISON, BYRON PATTON    -0.258
  923  ILLINOI  D  LONG, LEWIS MARSHALL      -0.258
  924  WYOMING  D  O'MAHONEY, JOSEPH         -0.258
  925  WISCONS  D  KIND, RON                 -0.258
  926  CONNECT  D  DODD, THOMAS JOSEPH       -0.256
  927  CALIFOR  D  HAGEN, HARLAN FRANCIS     -0.256
  928  MASSACH  D  LANE, THOMAS JOSEPH       -0.256
  929  MISSOUR  D  HUNGATE, WILLIAM L.       -0.256
  930  NEW MEX  D  RICHARDSON, WILLIAM B.    -0.256
  931  MARYLAN  D  LONG, CLARENCE D.         -0.255
  932  COLORAD  D  MCVICKER, ROY H.          -0.255
  933  UTAH     D  OWENS, WAYNE              -0.255
  934  NEW YOR  D  ZEFERETTI, LEO            -0.255
  935  FLORIDA  D  THURMAN, KAREN L.         -0.255
  936  TENNESS  D  BASS, ROSS                -0.253
  937  KENTUCK  D  BURKE, FRANK WELSH        -0.253
  938  PENNSYL  D  CAVALCANTE, ANTHONY       -0.253
  939  IDAHO    D  WHITE, COMPTON I., JR.    -0.253
  940  MICHIGA  D  TODD, PAUL H., JR.        -0.253
  941  KANSAS   D  KEYS, MARTHA              -0.253
  942  VIRGINI  D  BOUCHER, FREDERICK C.     -0.253
  943  NORTH D  D  CONRAD, KENT              -0.253
  944  MARYLAN  D  BREWSTER, DANIEL BAUGH    -0.252
  945  TEXAS    D  COMBS, JESSE MARTIN       -0.252
  946  MARYLAN  D  GOLDSBOROUGH, THOMAS ALAN -0.252
  947  MISSOUR  D  ROMJUE, MILTON ANDREW     -0.252
  948  NORTH C  D  ROSE, CHARLES             -0.252
  949  MONTANA  D  HATFIELD, PAUL            -0.252
  950  WASHING  D  KREIDLER, MIKE            -0.252
  951  NEW YOR  D  DAVIES, JOHN CLAY         -0.250
  952  ARIZONA  D  MCFARLAND, ERNEST WILLIAM -0.250
  953  ILLINOI  D  MITCHELL, ARTHUR WERGS    -0.250
  954  PENNSYL  D  VIGORITO, JOSEPH P.       -0.250
  955  OREGON   D  AUCOIN, LES               -0.250
  956  IOWA     D  BEDELL, BERKLEY           -0.250
  957  ARIZONA  D  ENGLISH, KARAN            -0.250
  958  TEXAS    D  LAMPSON, NICK             -0.250
  959  TEXAS    D  REYES, SILVESTRE          -0.250
  960  ARIZONA  D  MCNULTY, JAMES  F., JR.   -0.249
  961  CALIFOR  D  SCHIFF, ADAM B.           -0.249
  962  OHIO     D  STRICKLAND, TED           -0.249
  963  OKLAHOM  D  EDMONDSON, EDMOND AUGUSTU -0.248
  964  NEW YOR  D  ROE, JAMES A.             -0.248
  965  OHIO     D  SHAMANSKY, ROBERT M.      -0.248
  966  NEVADA   D  BERKLEY, SHELLEY          -0.248
  967  CONNECT  D  FITZGERALD, WILLIAM JOSEP -0.246
  968  TEXAS    D  JONES, MARVIN             -0.246
  969  NEW MEX  D  LUSK, GEORGIA LEE         -0.246
  970  ALABAMA  D  BANKHEAD, JOHN HOLLIS 2D  -0.245
  971  IOWA     D  GREIGG, STANLEY L.        -0.245
  972  MISSOUR  D  HORN, JOAN KELLY          -0.245
  973  CALIFOR  D  BACA, JOE                 -0.245
  974  NEW YOR  D  BARRY, WILLIAM BERNARD    -0.243
  975  MASSACH  D  CONNERY, LAWRENCE JOSEPH  -0.243
  976  OKLAHOM  D  LEE, JOSHUA BRYAN         -0.243
  977  NEW YOR  D  O'CONNOR, JOHN J.         -0.243
  978  TENNESS  I  PRIEST, JAMES PERCY       -0.243
  979  ARIZONA  D  SENNER, GEORG F., JR.     -0.243
  980  KENTUCK  D  HUDDLESTON, WALTER        -0.243
  981  CALIFOR  D  BOSCO, DOUGLAS  H.        -0.243
  982  NEW JER  D  KLEIN, HERBERT C.         -0.243
  983  MISSOUR  D  BROWN, CHARLES HARRISON   -0.242
  984  SOUTH D  D  HILDEBRANDT, FRED HERMAN  -0.242
  985  ILLINOI  D  BRUCE, TERRY L.           -0.242
  986  NORTH C  D  PRICE, DAVID E            -0.242
  987  TEXAS    D  BENTSEN, KEN              -0.242
  988  KANSAS   D  GEORGE, NEWELL A.         -0.241
  989  TEXAS    D  WRIGHT, JAMES CLAUD, JR.  -0.241
  990  UTAH     D  HOWE, ALLAN               -0.241
  991  MINNESO  D  SIKORSKI, GERRY           -0.241
  992  ALABAMA  D  JONES, ROBERT EMMETT JR.  -0.239
  993  MARYLAN  D  PALMISANO, VINCENT LUKE   -0.239
  994  WEST VI  D  ROSIER, JOSEPH            -0.239
  995  NORTH C  D  EDWARDS, JOHN             -0.239
  996  ARKANSA  D  CARAWAY, HATTIE WYATT     -0.238
  997  TENNESS  D  GRIDER, GEORGE W.         -0.238
  998  PENNSYL  D  WALGREN, DOUG             -0.238
  999  NEW MEX  D  BINGAMAN, JEFF            -0.238
 1000  PENNSYL  D  KLINK, RON                -0.238
 1001  CALIFOR  D  FEINSTEIN, DIANNE         -0.238
 1002  COLORAD  D  CUMMINGS, FRED NELSON     -0.236
 1003  PENNSYL  D  ECKERT, CHARLES RICHARD   -0.236
 1004  PENNSYL  D  CRALEY, N. NIEMAN, JR.    -0.236
 1005  MICHIGA  D  CARR, BOB                 -0.236
 1006  NEW JER  D  TORRICELLI, ROBERT G.     -0.236
 1007  KENTUCK  D  BARLOW, TOM               -0.236
 1008  CALIFOR  D  TAUSCHER, ELLEN O.        -0.236
 1009  WASHING  D  CANTWELL, MARIA           -0.236
 1010  UTAH     D  BOSONE, REVA ZILPHA BECK  -0.235
 1011  TENNESS  D  CHANDLER, WALTER%CLIFT<   -0.235
 1012  MASSACH  D  CURLEY, JAMES MICHAEL     -0.235
 1013  NEW YOR  D  EVANS, MARCELLUS HUGH     -0.235
 1014  VIRGINI  D  MORAN, JAMES P. JR.       -0.235
 1015  INDIANA  D  CROWE, EUGENE BURGESS     -0.234
 1016  NEW YOR  D  DULSKI, THADDEUS J.       -0.234
 1017  NEW YOR  R  JAVITS, JACOB KOPPEL      -0.234
 1018  ILLINOI  D  SCHUETZ, LEONARD WILLIAM  -0.234
 1019  DELAWAR  D  TRAYNOR, PHILIP ANDREW    -0.234
 1020  PENNSYL  D  GAYDOS, JOSEPH M.         -0.234
 1021  MISSOUR  D  COCHRAN, JOHN JOSEPH      -0.232
 1022  SOUTH D  D  HITCHCOCK, HERBERT EMERY  -0.232
 1023  MARYLAN  D  LANKFORD, RICHARD ESTEP   -0.232
 1024  TENNESS  D  MCREYNOLDS, SAMUEL DAVIS  -0.232
 1025  LOUISIA  D  MOUTON, ROBERT LOUIS      -0.232
 1026  CALIFOR  D  SHEPPARD, HARRY RICHARD   -0.232
 1027  INDIANA  D  BENJAMIN, ADAM            -0.232
 1028  MISSOUR  D  YOUNG, ROBERT             -0.232
 1029  WEST VI  D  BAILEY, CLEVELAND MONROE  -0.231
 1030  NEVADA   D  BUNKER, BERKELEY LLOYD    -0.231
 1031  CALIFOR  D  KRAMER, CHARLES           -0.231
 1032  OKLAHOM  D  MORRIS, TOBY              -0.231
 1033  NEVADA   D  SCRUGHAM, JAMES GRAVES    -0.231
 1034  NEBRASK  D  CALLAN, CLAIR A.          -0.231
 1035  NEBRASK  D  KERREY, ROBERT            -0.231
 1036  FLORIDA  D  DAVIS, JIM                -0.231
 1037  ILLINOI  D  CHESNEY, CHESTER ANTON    -0.229
 1038  CALIFOR  D  MCADOO, WILLIAM GIBBS     -0.229
 1039  GEORGIA  D  MACKAY, JAMES             -0.229
 1040  ARKANSA  D  PRYOR, DAVID              -0.229
 1041  SOUTH C  D  JENRETTE, JOHN            -0.229
 1042  PENNSYL  D  KANJORSKI, PAUL E.        -0.229
 1043  NORTH C  D  ETHERIDGE, BOB            -0.229
 1044  LOUISIA  D  BOGGS, THOMAS HALE        -0.228
 1045  MONTANA  D  O'CONNELL, JERRY          -0.228
 1046  ALABAMA  D  STEAGALL, HENRY BASCOM    -0.228
 1047  MISSOUR  D  WOOD, REUBEN TERRELL      -0.228
 1048  NORTH C  D  DEANE, CHARLES BENNETT    -0.226
 1049  NEW YOR  D  O'BRIEN, LEO WILLIAM      -0.226
 1050  NORTH D  D  DORGAN, BYRON             -0.226
 1051  ARKANSA  D  SNYDER, VIC               -0.226
 1052  TEXAS    D  JOHNSON, LYNDON BAINES    -0.225
 1053  OKLAHOM  D  MONRONEY, ALMER STILLWELL -0.225
 1054  MASSACH  D  PHILBIN, PHILIP JOSEPH    -0.225
 1055  ARKANSA  D  THORNTON, RAYMOND         -0.225
 1056  TENNESS  D  ALLEN, CLIFFORD           -0.225
 1057  OHIO     D  ECKART, DENNIS E.         -0.225
 1058  NEW JER  D  ANDREWS, ROBERT E.        -0.225
 1059  NORTH C  D  BURGIN, WILLIAM OLIN      -0.224
 1060  CALIFOR  D  MCKINNON, CLINTON DOTSON  -0.224
 1061  ALABAMA  D  RAINS, ALBERT M.          -0.224
 1062  COLORAD  D  ROGERS, BYRON GILES       -0.224
 1063  MONTANA  D  BAUCUS, MAX               -0.224
 1064  PENNSYL  D  KOLTER, JOSEPH P.         -0.224
 1065  NEVADA   D  REID, HARRY M.            -0.224
 1066  MISSISS  D  BILBO, THEODORE GILMORE   -0.222
 1067  CONNECT  D  CITRON, WILLIAM MICHAEL   -0.222
 1068  INDIANA  D  GREENWOOD, ARTHUR HERBERT -0.222
 1069  ALABAMA  D  JARMAN, PETE              -0.222
 1070  WISCONS  D  STALBAUM, LYNN E.         -0.222
 1071  MASSACH  R  BROOKE, EDWARD A.         -0.222
 1072  MARYLAN  D  D'ALESANDRO, THOMAS       -0.221
 1073  LOUISIA  D  DE ROUEN, RENE LOUIS      -0.221
 1074  NEW JER  D  WENE, ELMER H.            -0.221
 1075  CALIFOR  D  LLOYD, JIM                -0.221
 1076  OHIO     D  HALL, TONY PATRICK        -0.221
 1077  CONNECT  D  LIEBERMAN, JOSEPH I.      -0.221
 1078  KANSAS   D  MOORE, DENNIS             -0.221
 1079  VIRGINI  D  BYRNE, LESLIE L.          -0.221
 1080  IOWA     D  WEARIN, OTHA DONNER       -0.219
 1081  OKLAHOM  D  JOHNSON, JED J., JR.      -0.219
 1082  NEBRASK  D  CAVANAUGH, JOHN           -0.219
 1083  NEW YOR  D  ISRAEL, STEVE             -0.219
 1084  NEW YOR  D  MCCARTHY, CAROLYN         -0.219
 1085  ILLINOI  D  MARTIN, JOHN CUNNINGHAM   -0.218
 1086  TEXAS    D  MAVERICK, FONTAINE MAURY  -0.218
 1087  TEXAS    D  THORNBERRY, WILLIAM HOMER -0.218
 1088  NORTH D  D  POMEROY, EARL             -0.218
 1089  CALIFOR  D  YORTY, SAMUEL WILLIAM     -0.217
 1090  PENNSYL  D  MURTHA, JOHN              -0.217
 1091  TENNESS  D  MATHEWS, HARLAN           -0.217
 1092  MASSACH  D  HIGGINS, JOHN PATRICK     -0.215
 1093  IDAHO    D  MILLER, BERT HENRY        -0.215
 1094  KENTUCK  D  UNDERWOOD, THOMAS RUST    -0.215
 1095  KENTUCK  D  VINSON, FREDERICK MOORE % -0.215
 1096  INDIANA  D  CORNWELL, DAVID           -0.215
 1097  FLORIDA  D  GRAHAM, BOB               -0.215
 1098  CALIFOR  D  SCHENK, LYN               -0.215
 1099  GEORGIA  D  BISHOP, SANFORD           -0.215
 1100  ARKANSA  D  FULBRIGHT, JAMES WILLIAM  -0.214
 1101  ILLINOI  D  SHIPLEY, GEORGE EDWARD    -0.214
 1102  OKLAHOM  D  THOMAS, JOHN WILLIAM ELME -0.214
 1103  NEVADA   D  BRYAN, RICHARD H.         -0.214
 1104  INDIANA  D  LARRABEE, WILLIAM HENRY   -0.212
 1105  WEST VI  D  MOLLOHAN, ALAN B.         -0.212
 1106  MISSOUR  D  BRIGGS, FRANK PARKS       -0.211
 1107  WEST VI  D  RANDOLPH, JENNINGS        -0.211
 1108  CALIFOR  D  SCOTT, BYRON NICHOLSON    -0.211
 1109  TEXAS    D  YOUNG, JOHN ANDREW        -0.211
 1110  OHIO     D  HUFFMAN, JAMES WYLIE      -0.210
 1111  IOWA     D  SCHMIDHAUSER, JOHN R.     -0.210
 1112  WEST VI  D  BYRD, ROBERT CARYLE       -0.208
 1113  MISSISS  D  DOXEY, WALL               -0.208
 1114  MARYLAN  D  GAMBRILL, STEPHEN WARFIEL -0.208
 1115  ALABAMA  D  STEWART, DONALD WILBUR    -0.208
 1116  ILLINOI  D  COSTELLO, JERRY F.        -0.208
 1117  NEW MEX  D  ANDERSON, CLINTON PRESBA  -0.207
 1118  WEST VI  D  BURNSIDE, MAURICE GWINN   -0.207
 1119  CONNECT  D  MONAGAN, JOHN STEPHEN     -0.207
 1120  WASHING  D  SMITH, ADAM               -0.207
 1121  UTAH     D  SHEPARD, KAREN            -0.207
 1122  NEW MEX  D  CHAVEZ, DENNIS            -0.205
 1123  OHIO     D  COOK, ROBERT EUGENE       -0.205
 1124  TENNESS  D  EVINS, JOSEPH LANDON      -0.205
 1125  PENNSYL  D  HAINES, HARRY LUTHER      -0.205
 1126  INDIANA  D  HARMON, RANDALL S.        -0.205
 1127  IOWA     D  JACOBSEN, WILLIAM SEBASTI -0.205
 1128  NORTH D  D  REDLIN, ROLLAND           -0.205
 1129  ARIZONA  D  HARLESS, RICHARD FIELDING -0.204
 1130  ILLINOI  D  KELLY, EDWARD AUSTIN      -0.204
 1131  LOUISIA  D  PLAUCHE, VANCE            -0.204
 1132  LOUISIA  D  TONRY, RICHARD E.         -0.204
 1133  CALIFOR  D  HARMAN, JANE              -0.204
 1134  OHIO     D  DIXON, JOSEPH ANDREW      -0.202
 1135  LOUISIA  D  GRIFFITH, JOHN KELLER     -0.202
 1136  OHIO     D  THOM, WILLIAM RICHARD     -0.202
 1137  PENNSYL  D  MASCARA, FRANK R.         -0.202
 1138  KENTUCK  D  NATCHER, WILLIAM HUSTON   -0.201
 1139  UTAH     D  PETERSON, M. BLAIN        -0.201
 1140  KANSAS   D  ROY, WILLIAM              -0.201
 1141  MICHIGA  D  ALBOSTA, DONALD JOSEPH    -0.201
 1142  MINNESO  F  BERNARD, JOHN TOUSSAINT   -0.200
 1143  KENTUCK  D  CLEMENTS, EARLE C.        -0.200
 1144  KENTUCK  D  CREAL, EDWARD WESTER      -0.200
 1145  WISCONS  D  DILWEG, LAVERN RALPH      -0.200
 1146  ARKANSA  D  SPENCER, GEORGE LLOYD     -0.200
 1147  TEXAS    D  THOMASON, ROBERT EWING    -0.200
 1148  MISSOUR  D  LITTON, JERRY             -0.200
 1149  TEXAS    D  ORTIZ, SOLOMON            -0.200
 1150  SOUTH D  D  JOHNSON, TIM              -0.200
 1151  VIRGINI  D  ROBB, CHARLES S.          -0.200
 1152  MISSOUR  D  CARNAHAN, JEAN            -0.200
 1153  INDIANA  D  BAYH, EVAN                -0.200
 1154  FLORIDA  D  ANDREWS, CHARLES OSCAR    -0.198
 1155  PENNSYL  D  LIND, JAMES FRANCIS       -0.198
 1156  MICHIGA  D  LUECKE, JOHN FREDERICK    -0.198
 1157  WEST VI  D  SLACK, JOHN MARK, JR.     -0.198
 1158  FLORIDA  D  PETERSON, PETE            -0.198
 1159  ARIZONA  D  COPPERSMITH, SAM          -0.198
 1160  TEXAS    D  SANDLIN, MAX              -0.198
 1161  ARKANSA  D  HAYS, LAWRENCE BROOKS     -0.197
 1162  OKLAHOM  D  JOHNSON, GLEN DALE        -0.197
 1163  MISSOUR  D  ZIMMERMAN, ORIVLLE        -0.197
 1164  HAWAII   D  HEFTEL, CECIL             -0.197
 1165  CONNECT  D  MALONEY, JAMES H.         -0.197
 1166  NORTH C  D  SCOTT, WILLIAM KERR       -0.195
 1167  TEXAS    D  MATTOX, JIM               -0.195
 1168  GEORGIA  D  FOWLER, WYCHE, JR.        -0.195
 1169  GEORGIA  D  JONES, BEN                -0.195
 1170  CALIFOR  D  ENGLE, CLAIR              -0.194
 1171  IOWA     D  HERRING, CLYDE LAVERNE    -0.194
 1172  NEW JER  D  MOORE, ARTHUR HARRY       -0.194
 1173  PENNSYL  D  MCHALE, PAUL              -0.194
 1174  PENNSYL  D  DOYLE, MIKE F.            -0.194
 1175  PENNSYL  D  ELLENBOGEN, HENRY         -0.193
 1176  OHIO     D  MCSWEENEY, JOHN           -0.193
 1177  ILLINOI  D  RIGNEY, HUGH MCPHEETERS   -0.193
 1178  OKLAHOM  D  ROGERS, WILL              -0.193
 1179  ILLINOI  D  SCHISLER, GALE            -0.193
 1180  OKLAHOM  D  FERGUSON, PHILLIP COLGAN  -0.191
 1181  LOUISIA  D  MORRISON, JAMES HOBSON    -0.191
 1182  OREGON   D  PIERCE, WALTER MARCUS     -0.191
 1183  MARYLAN  D  RADCLIFFE, GEORGE L.      -0.191
 1184  ARKANSA  D  ANTHONY, BERYL FRANKLIN   -0.191
 1185  FLORIDA  D  BACCHUS, JIM              -0.191
 1186  IDAHO    D  LAROCCO, LARRY            -0.191
 1187  MISSOUR  D  MOULDER, MORGAN MOORE     -0.190
 1188  NORTH C  D  PREYER, L. RICHARDSON     -0.190
 1189  PENNSYL  D  MARGOLIES-MEZVINSKI, MARJ -0.190
 1190  OKLAHOM  D  CARTWRIGHT, WILBURN       -0.188
 1191  UTAH     D  KING, DAVID SJODAHL       -0.188
 1192  ILLINOI  D  PARSONS, CLAUDE VANCLEVE  -0.188
 1193  MARYLAN  D  MCMILLEN, THOMAS          -0.188
 1194  INDIANA  D  HILL, BARON P.            -0.188
 1195  KANSAS   D  BREEDING, JAMES FLOYD     -0.187
 1196  TENNESS  D  MCCORD, JAMES NANCE       -0.187
 1197  INDIANA  D  ROUSH, JOHN EDWARD        -0.187
 1198  NORTH C  D  HEFNER, W. G. (BILL)      -0.187
 1199  ILLINOI  D  RUSSO, MARTIN             -0.187
 1200  ARKANSA  D  BERRY, MARION             -0.187
 1201  TEXAS    D  TEJEDA, FRANK             -0.187
 1202  ILLINOI  D  KOCIALKOWSKI, LEO PAUL    -0.185
 1203  MISSOUR  D  SHANNON, JOSEPH BERNARD   -0.185
 1204  ALABAMA  D  SPARKMAN, JOHN JACKSON    -0.185
 1205  WASHING  D  BONE, HOMER TRUETT        -0.184
 1206  OHIO     D  BURKE, THOMAS A.          -0.184
 1207  IDAHO    D  POPE, JAMES PINCKNEY      -0.184
 1208  KENTUCK  D  VINCENT, BEVERLY MILLS    -0.184
 1209  GEORGIA  D  CLELAND, MAX              -0.184
 1210  OKLAHOM  D  EDMONDSON, J. HOWARD      -0.183
 1211  UTAH     D  MCKAY, K. GUNN            -0.183
 1212  WEST VI  D  HUTCHINSON, JOHN G.       -0.181
 1213  SOUTH C  D  SPRATT, JOHN M .          -0.181
 1214  MINNESO  D  MINGE, DAVID              -0.181
 1215  OREGON   R  MORSE, WAYNE LYMAN        -0.181
 1216  ILLINOI  D  ARNOLD, LAURENCE FLETCHER -0.180
 1217  KENTUCK  D  GREGORY, NOBLE JONES      -0.180
 1218  NORTH C  D  KERR, JOHN HOSEA          -0.180
 1219  ARKANSA  D  TERRY, DAVID DICKSON      -0.180
 1220  OHIO     D  LUKEN, THOMAS A.          -0.180
 1221  MISSISS  D  DOWDY, WAYNE              -0.180
 1222  ILLINOI  D  SANGMEISTER, GEORGE E.    -0.180
 1223  MICHIGA  D  BROWN, PRENTISS MARSH     -0.178
 1224  TEXAS    D  THOMPSON, CLARK WALLACE   -0.178
 1225  NEW YOR  D  AMBRO, JEROME             -0.178
 1226  KENTUCK  D  FORD, WENDELL             -0.178
 1227  TEXAS    D  EDWARDS, CHET             -0.178
 1228  ILLINOI  D  BOYER, LEWIS LEONARD      -0.177
 1229  FLORIDA  D  GIBBONS, SAM M.           -0.177
 1230  NEW YOR  R  REID, OGDEN R.            -0.177
 1231  OHIO     D  MANN, DAVID               -0.177
 1232  ALABAMA  D  DEGRAFFENRIED, EDWARD     -0.176
 1233  NEVADA   D  SULLIVAN, MAURICE JOSEPH  -0.176
 1234  KENTUCK  D  BRECKINRIDGE, JOHN        -0.176
 1235  NEBRASK  D  HOAGLAND, PETER           -0.176
 1236  INDIANA  D  LONG, JILL                -0.176
 1237  VIRGINI  D  GLASS, CARTER             -0.174
 1238  FLORIDA  D  GREEN, ROBERT ALEXIS      -0.174
 1239  LOUISIA  D  MILLS, NEWT VIRGUS        -0.174
 1240  WYOMING  D  HICKEY, J. J.             -0.174
 1241  FLORIDA  D  CANNON, ARTHUR PATRICK    -0.173
 1242  VIRGINI  D  HAMILTON, NORMAN ROND     -0.173
 1243  TEXAS    D  DE LA GARZA, ELIGIO       -0.173
 1244  OKLAHOM  D  HILL, ROBERT POTTER       -0.171
 1245  WEST VI  D  SMITH, JOSEPH LUTHER      -0.171
 1246  KENTUCK  D  WITHERS, GARRETT LEE      -0.171
 1247  OHIO     R  WHALEN, CHARLES W., JR.   -0.171
 1248  TENNESS  D  COURTNEY, WILLIAM WIRT    -0.170
 1249  OHIO     D  LEVERING, ROBERT WOODROW  -0.170
 1250  LOUISIA  D  MALONEY, PAUL HERBERT     -0.170
 1251  MARYLAN  D  SASSCER, LANSDALE GHISELI -0.170
 1252  TENNESS  D  GORDON, BART J.           -0.170
 1253  TENNESS  D  COOPER, JERE              -0.169
 1254  MISSOUR  D  NELSON, WILLIAM LESTER    -0.169
 1255  CONNECT  D  SMITH, JOHN JOSEPH        -0.169
 1256  NORTH C  D  CLARKE, JAMES MCCLURE     -0.169
 1257  NORTH C  D  BULWINKLE, ALFRED LEE     -0.167
 1258  OHIO     D  GARDNER, EDWARD JOSEPH    -0.167
 1259  SOUTH C  D  MCMILLAN, CLARA GOODING   -0.167
 1260  PENNSYL  D  STACK, MICHAEL JOSEPH     -0.167
 1261  PENNSYL  D  WALTER, FRANCIS EUGENE    -0.167
 1262  PENNSYL  D  YATRON, GUS               -0.167
 1263  TENNESS  D  BONER, WILLIAM HILL       -0.167
 1264  WEST VI  D  JOHNSON, GEORGE WILLIAM   -0.166
 1265  ALABAMA  D  ROBERTS, KENNETH ALLISON  -0.166
 1266  OKLAHOM  D  STEED, THOMAS JEFFERSON   -0.166
 1267  MISSOUR  D  WILLIAMS, CLYDE           -0.166
 1268  WISCONS  D  RACE, JOHN A.             -0.166
 1269  LOUISIA  D  LANDRIEU, MARY L.         -0.166
 1270  TEXAS    D  BECKWORTH, LINDLEY GARY   -0.164
 1271  TENNESS  D  FRAZIER, JAMES BERIAH JR. -0.164
 1272  OHIO     D  IMHOFF, LAWRENCE E.       -0.164
 1273  KANSAS   D  MILLER, HOWARD SHULTZ     -0.164
 1274  ILLINOI  D  THOMPSON, CHESTER CHARLES -0.164
 1275  WASHING  D  INSLEE, JAY               -0.164
 1276  MINNESO  D  MARSHALL, FRED            -0.163
 1277  SOUTH C  D  HOLLAND, KENNETH          -0.163
 1278  TENNESS  D  CLEMENT, BOB              -0.163
 1279  NEVADA   D  CANNON, HOWARD WALTER     -0.161
 1280  WEST VI  D  HEDRICK, ERLAND HAROLD    -0.161
 1281  TEXAS    D  JOHNSON, LUTHER ALEXANDER -0.161
 1282  OKLAHOM  D  MASSINGALE, SAMUEL CHAPMA -0.161
 1283  OHIO     D  HUNTER, JOHN FEENEY       -0.160
 1284  TEXAS    D  MANSFIELD, JOSEPH JEFFERS -0.160
 1285  OKLAHOM  D  WICKERSHAM, VICTOR EUGENE -0.160
 1286  TENNESS  D  BLANTON, RAY              -0.160
 1287  KENTUCK  D  MAZZOLI, ROMANO           -0.160
 1288  SOUTH C  D  DERRICK, BUTLER           -0.160
 1289  ILLINOI  D  POSHARD, GLENN            -0.160
 1290  OHIO     D  FINGERHUT, ERIC D.        -0.160
 1291  TEXAS    D  CONNALLY, THOMAS TERRY%TO -0.159
 1292  ARKANSA  D  MILLER, JOHN ELVIS        -0.159
 1293  KENTUCK  D  STUBBLEFIELD, FRANK ALBER -0.159
 1294  TEXAS    D  THOMAS, ALBERT            -0.159
 1295  PENNSYL  D  GINGERY, DON              -0.157
 1296  WYOMING  D  MCINTYRE, JOHN JOSEPH     -0.157
 1297  MINNESO  F  TEIGAN, HENRY GEORGE      -0.157
 1298  TEXAS    D  KAZEN, ABRAHAM J.         -0.157
 1299  FLORIDA  D  CHILES, LAWTON            -0.157
 1300  ARIZONA  D  ASHURST, HENRY FOUNTAIN   -0.156
 1301  TENNESS  D  ATKINSON, RICHARD MERRILL -0.156
 1302  NEVADA   D  PITTMAN, KEY              -0.156
 1303  CALIFOR  D  DOOLEY, CALVIN            -0.156
 1304  INDIANA  D  FARLEY, JAMES INDUS       -0.154
 1305  NEW HAM  D  D AMOURS, NORMAN          -0.154
 1306  OHIO     D  FLEGER, ANTHONY ALFRED    -0.153
 1307  TENNESS  D  MCKELLAR, KENNETH DOUGLAS -0.153
 1308  MISSOUR  D  RANDALL, WILLIAM JOSEPH   -0.153
 1309  WISCONS  D  REILLY, MICHAEL KIERAN    -0.153
 1310  TEXAS    D  SANDERS, MORGAN GURLEY    -0.153
 1311  CALIFOR  D  WHITE, CECIL FIELDING     -0.153
 1312  NEW YOR  R  KUPFERMAN, THEODORE       -0.153
 1313  SOUTH C  D  HOLLINGS, ERNEST F.       -0.153
 1314  INDIANA  D  FITHIAN, FLOYD            -0.153
 1315  OKLAHOM  D  CARSON, BRAD              -0.153
 1316  UTAH     D  MATHESON, JIM             -0.153
 1317  IOWA     D  BOSWELL, LEONARD L.       -0.153
 1318  VIRGINI  D  BLAND, SCHUYLER OTIS      -0.152
 1319  KENTUCK  D  CHELF, FRANK LESLIE       -0.152
 1320  NORTH C  D  CLARK, JEROME BAYARD      -0.152
 1321  NEW MEX  D  MILES, JOHN ESTEN         -0.152
 1322  IDAHO    D  WHITE, COMPTON IGNATIUS   -0.152
 1323  PENNSYL  D  ERTEL, ALLEN              -0.152
 1324  ALABAMA  D  HOBBS, SAMUEL FRANCIS     -0.150
 1325  INDIANA  D  HAMILTON, LEE H.          -0.150
 1326  KENTUCK  D  CURLIN, WILLIAM           -0.150
 1327  OHIO     D  BIGELOW, HERBERT SEELY    -0.149
 1328  OHIO     D  CLAYPOOL, HAROLD KILE     -0.149
 1329  TEXAS    D  WORLEY, FRANCIS EUGENE    -0.149
 1330  NEW YOR  D  PIKE, OTIS G.             -0.149
 1331  OHIO     D  HARTER, DOW WATTERS       -0.147
 1332  FLORIDA  D  PETERSON, JAMES HARDIN    -0.147
 1333  OKLAHOM  D  STIGLER, WILLIAM GRADY    -0.147
 1334  MICHIGA  R  RIEGLE, DONALD W., JR.    -0.147
 1335  NEW MEX  D  MORRIS, THOMAS GAYLE      -0.146
 1336  CONNECT  D  PHILLIPS, ALFRED NOROTON  -0.146
 1337  INDIANA  D  SHARP, PHILIP             -0.146
 1338  ILLINOI  D  PHELPS, DAVID D.          -0.146
 1339  MINNESO  F  BUCKLER, RICHARD THOMPSON -0.143
 1340  OHIO     D  DAVIS, JACOB ERASTUS      -0.143
 1341  INDIANA  D  JENCKES, VIRGINIA ELLIS   -0.143
 1342  TEXAS    D  PATTON, NAT               -0.143
 1343  SOUTH C  D  DAVIS, MENDEL             -0.143
 1344  ARKANSA  D  ROSS, MIKE                -0.143
 1345  DELAWAR  D  CARPER, THOMAS            -0.143
 1346  NEW JER  R  CASE, CLIFFORD PHILLIP    -0.142
 1347  KANSAS   D  HOUSTON, JOHN MILLS       -0.142
 1348  INDIANA  D  KRUSE, EDWARD H. JR.      -0.142
 1349  MARYLAN  D  WARD, DAVID JENKINS       -0.142
 1350  TEXAS    D  PICKLE, J. J.             -0.142
 1351  TEXAS    D  WILSON, CHARLES           -0.142
 1352  COLORAD  D  CAMPBELL, BEN NIGHTHORSE  -0.142
 1353  PENNSYL  D  HOLDEN, TIM               -0.142
 1354  OHIO     D  ALESHIRE, ARTHUR WILLIAM  -0.140
 1355  OKLAHOM  D  KERR, ROBERT SAMUEL       -0.140
 1356  INDIANA  D  LUDLOW, LOUIS LEON        -0.140
 1357  GEORGIA  D  VINSON, CARL              -0.140
 1358  OKLAHOM  D  WILSON, GEORGE HOWARD     -0.140
 1359  ARIZONA  D  DECONCINI, DENNIS         -0.140
 1360  NORTH C  D  BRITT, ROBIN              -0.140
 1361  ILLINOI  D  CHAMPION, EDWIN VAN METER -0.137
 1362  TENNESS  D  JONES, EDWARD             -0.137
 1363  ILLINOI  D  DIXON, ALAN J.            -0.137
 1364  CALIFOR  D  BUCK, FRANK HENRY         -0.136
 1365  MISSOUR  D  CANNON, CLARENCE          -0.136
 1366  SOUTH C  D  MAHON, GABRIEL HEYWARD JR -0.136
 1367  GEORGIA  D  WELTNER, CHARLES L.       -0.136
 1368  FLORIDA  D  MICA, DANIEL ANDREW       -0.136
 1369  NEVADA   D  BILBRAY, JAMES H          -0.136
 1370  FLORIDA  D  BOYD, ALLEN               -0.136
 1371  TENNESS  D  DAVIS, CLIFFORD           -0.135
 1372  WISCONS  D  DUFFY, FRANCIS RYAN       -0.135
 1373  FLORIDA  D  HENDRICKS, JOSEPH EDWARD  -0.135
 1374  OKLAHOM  D  JOHNSON, JED JOSEPH       -0.135
 1375  NEW JER  D  HUGHES, WILLIAM           -0.135
 1376  IOWA     D  EICHER, EDWARD CLAYTON    -0.133
 1377  MARYLAN  D  FALLON, GEORGE HYDE       -0.133
 1378  PENNSYL  D  FREY, OLIVER WALTER       -0.133
 1379  GEORGIA  D  MITCHELL, HARLAN ERWIN    -0.133
 1380  NEW JER  D  O'NEILL, EDWARD           -0.133
 1381  SOUTH C  D  RICHARDS, JAMES PRIOLEAU  -0.133
 1382  MICHIGA  D  TRANSUE, ANDREW JACKSON   -0.133
 1383  MARYLAN  R  MATHIAS, CHARLES MCC.     -0.133
 1384  GEORGIA  D  HATCHER, CHARLES F.       -0.133
 1385  ARKANSA  D  LAMBERT, BLANCHE          -0.133
 1386  NEVADA   D  BIBLE, ALAN HARVEY        -0.132
 1387  OHIO     D  KLOEB, FRANK LE BLOND     -0.132
 1388  NEW JER  D  KENNEY, EDWARD ALOYSIUS   -0.130
 1389  TENNESS  D  STEWART, ARTHUR THOMAS    -0.130
 1390  OHIO     D  POLK, JAMES GOULD         -0.129
 1391  MARYLAN  R  STEERS, NEWTON            -0.129
 1392  TEXAS    D  TURNER, JIM               -0.129
 1393  ILLINOI  D  MEEKS, JAMES ANDREW       -0.128
 1394  WISCONS  D  BARCA, PETER W.           -0.128
 1395  NEW YOR  R  HALPERN, SEYMOUR          -0.126
 1396  OHIO     D  HOLBROCK, GREG JOHN       -0.126
 1397  NORTH C  D  WARREN, LINDSAY CARTER    -0.126
 1398  MISSOUR  D  DANNER, PAT               -0.126
 1399  WYOMING  D  HUNT, LESTER CALLAWAY     -0.125
 1400  ALABAMA  D  MANASCO, CARTER           -0.125
 1401  ILLINOI  D  LIPINSKI, WILLIAM O.      -0.125
 1402  TEXAS    D  CHAPMAN, JIM              -0.125
 1403  NORTH C  D  COOLEY, HAROLD DUNBAR     -0.123
 1404  VIRGINI  D  DAUGHTON, RALPH HUNTER    -0.123
 1405  WYOMING  D  GREEVER, PAUL RANOUS      -0.123
 1406  KENTUCK  D  WATTS, JOHN CLARENCE      -0.123
 1407  OHIO     D  SWEENEY, MARTIN LEONARD   -0.122
 1408  GEORGIA  D  BROWN, PAUL               -0.121
 1409  OKLAHOM  D  NICHOLS, JOHN CONOVER     -0.121
 1410  OKLAHOM  D  PEDEN, PRESTON ELMER      -0.121
 1411  GEORGIA  D  JOHNSON, DON              -0.121
 1412  SOUTH C  D  GASQUE, ALLARD HENRY      -0.119
 1413  KANSAS   D  MCGILL, GEORGE            -0.119
 1414  NEW MEX  D  WALKER, E. S. JOHNNY      -0.119
 1415  MISSOUR  D  VOLKMER, HAROLD           -0.119
 1416  INDIANA  D  ROEMER, TIM               -0.119
 1417  GEORGIA  D  GIBBS, WILLIS BENJAMIN    -0.118
 1418  NEW YOR  D  STRATTON, SAMUEL STUDDIFO -0.118
 1419  TEXAS    D  PURCELL, GRAHAM           -0.118
 1420  KENTUCK  D  BAESLER, SCOTTY           -0.118
 1421  MARYLAN  D  COLE, WILLIAM PURINGTON,  -0.116
 1422  ARKANSA  D  FULLER, CLAUDE ALBERT     -0.116
 1423  OKLAHOM  D  GILMER, WILLIAM FRANKLIN  -0.116
 1424  NORTH C  D  HANCOCK, FRANKLIN WILLS J -0.116
 1425  CALIFOR  D  LEA, CLARENCE FREDERICK   -0.116
 1426  NORTH C  D  PRATT, ELIZA JANE         -0.116
 1427  GEORGIA  D  GINN, BO                  -0.116
 1428  DELAWAR  D  CARPER, THOMAS R.         -0.116
 1429  MICHIGA  D  BARCIA, JAMES A.          -0.116
 1430  NEW YOR  D  FORBES, MICHAEL P.        -0.116
 1431  NORTH C  D  JONES, WALTER             -0.115
 1432  FLORIDA  D  GRANT, BILL               -0.115
 1433  INDIANA  D  BARR, JOSEPH WALKER       -0.113
 1434  GEORGIA  D  CAMP, ALBERT SIDNEY       -0.112
 1435  ARKANSA  D  MILLS, WILBUR DAIGH       -0.112
 1436  MISSISS  D  SMITH, FRANK ELLIS        -0.112
 1437  WEST VI  D  EDMISTON, ANDREW          -0.111
 1438  NEW MEX  D  FERNANDEZ, ANTONIO MANUEL -0.111
 1439  SOUTH C  D  HARE, BUTLER BLACK        -0.111
 1440  MARYLAN  D  JOHNSON, THOMAS F.        -0.111
 1441  SOUTH C  D  MAYBANK, BURNET RHETT     -0.109
 1442  NORTH C  D  ANDREWS, IKE              -0.109
 1443  VIRGINI  D  PICKETT, OWEN B           -0.109
 1444  VIRGINI  D  FUGATE, THOMAS BACON      -0.108
 1445  NORTH C  D  NEAL, STEPHEN             -0.108
 1446  NEW YOR  D  GREENWOOD, ERNEST         -0.106
 1447  VIRGINI  D  WOODRUM, CLIFTON ALEXANDE -0.106
 1448  NEBRASK  D  EXON, JOHN JAMES          -0.106
 1449  NEW HAM  D  SWETT, DICK               -0.106
 1450  KENTUCK  D  O'NEAL, EMMET             -0.105
 1451  OKLAHOM  D  MCSPADDEN, CLEM ROGERS    -0.105
 1452  OKLAHOM  D  RISENHOOVER, THEO         -0.105
 1453  TENNESS  D  TANNER, JOHN              -0.105
 1454  KENTUCK  D  CHANDLER, ALBERT BENJAMIN -0.104
 1455  VIRGINI  D  JENNINGS, WILLIAM PAT     -0.104
 1456  LOUISIA  D  LONG, GEORGE SHANNON      -0.104
 1457  CALIFOR  R  WELCH, RICHARD JOSEPH     -0.104
 1458  NEW YOR  R  BUTTON, DANIEL E.         -0.104
 1459  LOUISIA  D  JOHNSTON, J. BENNETT      -0.104
 1460  KANSAS   D  GLICKMAN, DAN             -0.104
 1461  FLORIDA  D  MACKAY, KENNETH           -0.104
 1462  ALABAMA  D  BATTLE, LAURIE CALVIN     -0.102
 1463  MINNESO  F  JOHNSON, DEWEY WILLIAM    -0.102
 1464  LOUISIA  D  EDWARDS, EDWIN            -0.102
 1465  MISSISS  D  COLLINS, ROSS ALEXANDER   -0.101
 1466  GEORGIA  D  PRESTON, PRINCE HULON JR. -0.101
 1467  TENNESS  D  COOPER, JAMES H.          -0.099
 1468  ILLINOI  D  BARNES, JAMES MARTIN      -0.098
 1469  ARKANSA  D  DRIVER, WILLIAM JOSHUA    -0.098
 1470  NEBRASK  R  NORRIS, GEORGE WILLIAM    -0.098
 1471  FLORIDA  D  WILCOX, JAMES MARK        -0.098
 1472  VIRGINI  D  SPONG, WILLIAM B., JR.    -0.098
 1473  OHIO     I  REAMS, HENRY FRAZIER      -0.097
 1474  INDIANA  D  JACOBS, ANDREW, JR.       -0.097
 1475  MISSOUR  D  ANDERSON, CHARLES ARTHUR  -0.095
 1476  VIRGINI  D  HARRIS, WINDER RUSSELL    -0.095
 1477  OHIO     D  MOSIER, HAROLD GERARD     -0.095
 1478  NEW JER  D  TOWEY, FRANK WILLIAM, JR. -0.095
 1479  NORTH C  D  MCINTYRE, MIKE            -0.095
 1480  TEXAS    D  BENTSEN, LLOYD MILLARD JR -0.094
 1481  TENNESS  D  BERRY, GEORGE LEONARD     -0.094
 1482  KENTUCK  D  CHAPMAN, VIRGIL MUNDAY    -0.094
 1483  SOUTH C  D  JOHNSTON, OLIN DEWITT TAL -0.094
 1484  COLORAD  D  LEWIS, LAWRENCE           -0.094
 1485  WISCONS  D  WASIELEWSKI, THADDEUS FRA -0.094
 1486  ALABAMA  D  BEVILL, TOM               -0.094
 1487  NORTH C  D  MORGAN, ROBERT            -0.094
 1488  ARKANSA  D  CRAVENS, WILLIAM BEN      -0.092
 1489  IOWA     D  HARRINGTON, VINCENT FRANC -0.092
 1490  TEXAS    D  SOUTH, CHARLES LACY       -0.092
 1491  NORTH C  D  WHITLEY, CHARLES          -0.092
 1492  TEXAS    D  ANDREWS, MICHAEL          -0.092
 1493  ALABAMA  D  BROWDER, GLEN             -0.092
 1494  TEXAS    D  LYLE, JOHN EMMETT JR.     -0.091
 1495  VIRGINI  D  OLIN, JAMES R.            -0.091
 1496  IOWA     D  BIERMANN, FREDERICK ELLIO -0.089
 1497  SOUTH C  D  BRYSON, JOSEPH RALEIGH    -0.089
 1498  LOUISIA  D  OVERTON, JOHN HOLMES      -0.089
 1499  FLORIDA  D  STONE, RICHARD            -0.089
 1500  FLORIDA  D  NELSON, CLARENCE WILLIAM  -0.089
 1501  LOUISIA  D  FAIRFIELD, JOHN           -0.088
 1502  GEORGIA  D  DEEN, BRASWELL DRUE       -0.088
 1503  TENNESS  D  EVERETT, ROBERT ASHTON    -0.088
 1504  ALABAMA  D  STARNES, JOE              -0.088
 1505  NEW JER  D  SUTPHIN, WILLIAM HALSTEAD -0.088
 1506  TENNESS  D  SUTTON, JAMES PARTICK %PA -0.088
 1507  NORTH C  D  LANCASTER, MARTIN         -0.088
 1508  MINNESO  D  PETERSON, COLLIN C.       -0.088
 1509  VIRGINI  D  DREWRY, PATRICK HENRY     -0.087
 1510  LOUISIA  D  LONG, RUSSELL BILIU       -0.087
 1511  IDAHO    D  GOSSETT, CHARLES CLINTON  -0.085
 1512  MINNESO  F  KVALE, PAUL JOHN          -0.085
 1513  TEXAS    D  SUMNERS, HATTON WILLIAM   -0.085
 1514  VIRGINI  D  PAYNE, L.F.               -0.085
 1515  WISCONS  R  AMLIE, THOMAS RYUM        -0.084
 1516  INDIANA  D  GRAY, FINLY HUTCHINSON    -0.084
 1517  TEXAS    D  MCFARLANE, WILLIAM DODDRI -0.084
 1518  ALABAMA  D  FLIPPO, RONNIE            -0.084
 1519  NORTH C  D  GUDGER, LAMAR             -0.084
 1520  PENNSYL  D  MURPHY, AUSTIN            -0.084
 1521  ALABAMA  D  CRAMER, BUD               -0.084
 1522  ARKANSA  D  HARRIS, OREN              -0.082
 1523  WISCONS  R  LA FOLLETTE, ROBERT MARIO -0.082
 1524  GEORGIA  D  DARDEN, GEORGE            -0.082
 1525  OHIO     D  BULKLEY, ROBERT JOHNS     -0.081
 1526  FLORIDA  D  CALDWELL, MILLARD FILMORE -0.081
 1527  TEXAS    D  GARRETT, CLYDE LEONARD    -0.081
 1528  MARYLAN  R  GUDE, GILBERT             -0.081
 1529  VIRGINI  D  DARDEN, COLGATE WHITEHEAD -0.080
 1530  FLORIDA  D  SMATHERS, GEORGE ARMISTEA -0.080
 1531  LOUISIA  D  THOMPSON, THEO ASHTON     -0.078
 1532  TENNESS  D  TURNER, CLARENCE WYLY     -0.078
 1533  GEORGIA  D  TUTEN, J. RUSSELL         -0.078
 1534  VIRGINI  D  SISISKY, NORMAN           -0.078
 1535  NEW MEX  D  DEMPSEY, JOHN JOSEPH      -0.077
 1536  TENNESS  D  LOSER, JOSEPH CARLTON     -0.077
 1537  CALIFOR  D  CONDIT, GARY              -0.077
 1538  GEORGIA  D  WHELCHEL, BENJAMIN FRANK  -0.075
 1539  LOUISIA  D  WILLIS, EDWIN EDWARD      -0.075
 1540  MISSOUR  D  SKELTON, IKE              -0.075
 1541  OHIO     D  TRAFICANT, JAMES A., JR.  -0.075
 1542  LOUISIA  D  JOHN, CHRISTOPHER         -0.075
 1543  TEXAS    D  WHITE, RICHARD C.         -0.074
 1544  GEORGIA  D  THOMAS, LINDSAY           -0.074
 1545  TEXAS    D  IKARD, FRANK NEVILLE      -0.072
 1546  TEXAS    D  MAHON, GEORGE HERMAN      -0.072
 1547  GEORGIA  D  TARVER, MALCOLM CONNOR    -0.072
 1548  GEORGIA  D  DAVIS, JOHN W.            -0.072
 1549  NORTH C  D  DOUGHTON, ROBERT LEE      -0.071
 1550  ARKANSA  D  KITCHENS, WADE HAMPTON    -0.071
 1551  OHIO     D  MOELLER, WALTER HENRY     -0.071
 1552  TENNESS  D  WALTERS, HERBERT          -0.071
 1553  CONNECT  R  WEICKER, LOWELL P.        -0.071
 1554  OHIO     D  LUKEN, CHARLES            -0.071
 1555  IOWA     D  GILLETTE, GUY MARK        -0.070
 1556  FLORIDA  D  PRICE, EMORY HILLIARD     -0.070
 1557  FLORIDA  D  GUNTER, WILLIAM D.        -0.070
 1558  GEORGIA  D  ROWLAND, J. ROY           -0.070
 1559  ALABAMA  D  BOYKIN, FRANK WILLIAM     -0.068
 1560  NEW YOR  R  LINDSAY, JOHN VLIET       -0.068
 1561  GEORGIA  D  NUNN, SAM                 -0.068
 1562  NEW YOR  D  DONOVAN, JAMES GEORGE     -0.067
 1563  SOUTH C  D  FULMER, HAMPTON PITTS     -0.067
 1564  NORTH C  D  GALIFIANAKIS, NICK        -0.067
 1565  OKLAHOM  D  MCCURDY, DAVE             -0.067
 1566  PENNSYL  D  ALLEN, ROBERT GRAY        -0.065
 1567  NEVADA   D  CARVILLE, EDWARD PETER    -0.065
 1568  GEORGIA  D  PILCHER, JOHN LEONARD     -0.065
 1569  SOUTH C  D  SMITH, ELLISON DURANT     -0.065
 1570  OHIO     D  APPLEGATE, DOUGLAS        -0.065
 1571  KANSAS   D  SLATTERY, JAMES           -0.065
 1572  LOUISIA  D  BROOKS, OVERTON           -0.064
 1573  NEBRASK  D  BINDERUP, CHARLES GUSTAV  -0.063
 1574  WISCONS  R  BOILEAU, GERALD JOHN      -0.063
 1575  CONNECT  D  LONERGAN, AUGUSTINE       -0.063
 1576  ARIZONA  D  PATTEN, HAROLD AMBROSE    -0.063
 1577  NORTH C  D  REYNOLDS, ROBERT RICE     -0.063
 1578  OREGON   R  HATFIELD, MARK I.         -0.063
 1579  NEW YOR  R  PEYSER, PETER             -0.063
 1580  TENNESS  D  MITCHELL, JOHN RIDLEY     -0.061
 1581  GEORGIA  D  PACE, STEPHEN             -0.061
 1582  NEW JER  R  HOLLENBECK, HAROLD        -0.061
 1583  NEBRASK  D  MCLAUGHLIN, CHARLES FRANC -0.060
 1584  MISSISS  D  BOWEN, DAVID              -0.060
 1585  TEXAS    D  KILDAY, PAUL JOSEPH       -0.058
 1586  MARYLAN  D  MEYER, JOHN AMBROSE       -0.058
 1587  GEORGIA  D  STEPHENS, ROBERT G., JR.  -0.058
 1588  MARYLAN  D  DYSON, ROYDEN             -0.058
 1589  IDAHO    D  CLARK, DAVID WORTH        -0.057
 1590  MASSACH  D  CONNERY, WILLIAM PATRICK, -0.057
 1591  NORTH C  D  DURHAM, CARL THOMAS       -0.057
 1592  INDIANA  D  EVANS, DAVID              -0.057
 1593  GEORGIA  D  OWEN, EMMETT MARSHALL     -0.056
 1594  INDIANA  D  VAN NUYS, FREDERICK       -0.056
 1595  LOUISIA  D  BREAUX, JOHN B.           -0.056
 1596  OKLAHOM  D  WATKINS, WES              -0.056
 1597  WISCONS  D  CANNON, RAYMOND JOSEPH    -0.054
 1598  CALIFOR  D  COSTELLO, JOHN MARTIN     -0.054
 1599  VIRGINI  D  HARDY, PORTER JR.         -0.054
 1600  NORTH C  D  UMSTEAD, WILLIAM BRADLEY  -0.054
 1601  TEXAS    D  KRUEGER, ROBERT           -0.054
 1602  SOUTH C  D  TALLON, ROBERT            -0.054
 1603  LOUISIA  D  ELLENDER, ALLEN JOSEPH    -0.053
 1604  ALABAMA  D  HUDDLESTON, GEORGE JR.    -0.053
 1605  FLORIDA  D  MATTHEWS, DONALD RAY      -0.053
 1606  MINNESO  D  RYAN, ELMER JAMES         -0.053
 1607  ALABAMA  D  GRANT, GEORGE MCINVALE    -0.050
 1608  OREGON   D  LUSK, HALL STONER         -0.050
 1609  KENTUCK  D  MAY, ANDREW JACKSON       -0.050
 1610  FLORIDA  D  FUQUA, DON                -0.050
 1611  OKLAHOM  D  BOREN, DAVID LYLE         -0.050
 1612  IDAHO    D  STALLINGS, RICHARD H.     -0.050
 1613  OHIO     D  FLETCHER, THOMAS BROOKS   -0.048
 1614  MISSOUR  D  JONES, PAUL CARUTHERS     -0.048
 1615  NEW JER  D  WALSH, ARTHUR             -0.048
 1616  NEW YOR  R  GREEN, S. WILLIAM         -0.048
 1617  OKLAHOM  D  BREWSTER, BILL            -0.048
 1618  RHODE I  R  CHAFEE, LINCOLN           -0.048
 1619  INDIANA  R  LA FOLLETTE, CHARLES MARI -0.047
 1620  NORTH C  D  BONNER, HERBERT COVINGTON -0.046
 1621  TEXAS    D  CABELL, EARLE             -0.046
 1622  TEXAS    D  RUSSELL, SAM MORRIS       -0.044
 1623  GEORGIA  D  JENKINS, ED               -0.044
 1624  OHIO     D  SECREST, ROBERT THOMPSON  -0.043
 1625  GEORGIA  D  GAMBRELL,DAVID H.         -0.041
 1626  MISSISS  D  SHOWS, RONNIE             -0.041
 1627  MASSACH  R  HECKLER, MARGARET M.      -0.040
 1628  ALABAMA  D  HARRIS, CLAUDE            -0.040
 1629  COLORAD  D  BURLEIGH, WILLIAM         -0.039
 1630  MISSOUR  D  BELL, CHARLES JASPER      -0.039
 1631  VIRGINI  D  BURTON, CLARENCE GODBER   -0.039
 1632  GEORGIA  D  GEORGE, WALTER FRANKLIN   -0.039
 1633  MISSOUR  D  HULL, WILLIAM RALEIGH JR. -0.039
 1634  OKLAHOM  D  JONES, JAMES R.           -0.039
 1635  NORTH C  D  JONES, HAMILTON CHAMBERLA -0.037
 1636  VIRGINI  D  SATTERFIELD, DAVE EDWARD, -0.037
 1637  MISSOUR  D  SLAUGHTER, ROGER CALDWELL -0.037
 1638  VIRGINI  D  BURCH, THOMAS GRANVILLE   -0.036
 1639  TENNESS  D  BYRNS, JOSEPH WELLINGTON, -0.036
 1640  LOUISIA  D  DOMENGEAUX, JAMES         -0.036
 1641  CONNECT  D  MALONEY, FRANCIS THOMAS   -0.036
 1642  NEBRASK  D  MCGINLEY, DONALD FRANCIS  -0.036
 1643  SOUTH C  D  MCMILLAN, THOMAS SANDERS  -0.036
 1644  MAINE    R  TUPPER, STANLEY R.        -0.036
 1645  NORTH C  D  VALENTINE, TIM            -0.036
 1646  FLORIDA  D  MCMULLEN, CHESTER BARTOW  -0.034
 1647  MASSACH  R  MORSE, F. BRADFORD        -0.034
 1648  NEVADA   D  SANTINI, JIM              -0.034
 1649  RHODE I  R  SCHNEIDER, CLAUDINE       -0.034
 1650  FLORIDA  D  LANTAFF, WILLIAM COURTLAN -0.033
 1651  MARYLAN  D  BALDWIN, HARRY STREETT    -0.032
 1652  MARYLAN  R  ELLISON, DANIEL           -0.032
 1653  TENNESS  D  PEARSON, HERRON CARNEY    -0.032
 1654  FLORIDA  D  SIKES, ROBERT LOUIS FULTO -0.032
 1655  MISSISS  D  WHITTINGTON, WILLIAM MADI -0.030
 1656  LOUISIA  D  FEAZEL, WILLIAM CROSSON   -0.029
 1657  MINNESO  D  PENNY, TIMOTHY            -0.029
 1658  NORTH D  R  BURDICK, USHER LLOYD      -0.027
 1659  MISSISS  D  FORD, AARON LANE          -0.027
 1660  TEXAS    D  LAUGHLIN, GREG H.         -0.026
 1661  FLORIDA  D  BENNETT, CHARLES EDWARD   -0.024
 1662  PENNSYL  D  GRAY, JOSEPH ANTHONY      -0.024
 1663  TEXAS    D  HIGHTOWER, JACK           -0.024
 1664  INDIANA  D  BOEHNE, JOHN WILLIAM, JR. -0.023
 1665  MARYLAN  D  O'CONOR, HERBERT          -0.022
 1666  ARKANSA  D  TACKETT, BOYD             -0.022
 1667  GEORGIA  D  EVANS, BILLY LEE          -0.022
 1668  SOUTH C  D  PATTERSON, ELIZABETH      -0.022
 1669  MASSACH  R  CONTE, SILVIO OTTO        -0.020
 1670  TENNESS  D  EARTHMAN, HAROLD HENDERSO -0.020
 1671  TEXAS    D  RUTHERFORD, J. T.         -0.020
 1672  ALABAMA  D  FLOWERS, WALTER W.        -0.020
 1673  VERMONT  R  JEFFORDS, JAMES           -0.020
 1674  MASSACH  D  WALSH, DAVID IGNATIUS     -0.019
 1675  MISSISS  D  WHITTEN, JAMIE LLOYD      -0.019
 1676  GEORGIA  D  LEVITAS, ELLIOTT          -0.019
 1677  ALABAMA  D  ERDREICH, BEN             -0.019
 1678  UTAH     D  ORTON, BILL               -0.017
 1679  KANSAS   D  PATTERSON, EDWARD WHITE   -0.016
 1680  SOUTH C  D  RILEY, JOHN JACOB         -0.016
 1681  MASSACH  R  CRONIN, PAUL W.           -0.016
 1682  CONNECT  R  DENARDIS, LAWRENCE J.     -0.016
 1683  CONNECT  R  MCKINNEY, STEWART         -0.015
 1684  RHODE I  R  CHAFEE, JOHN              -0.015
 1685  NORTH C  D  BAILEY, JOSIAH WILLIAM    -0.013
 1686  MARYLAN  D  BOLTON, WILLIAM P         -0.013
 1687  GEORGIA  D  PETERSON, HUGH            -0.013
 1688  MISSISS  D  MCGEHEE, DANIEL RAYFORD   -0.012
 1689  VERMONT  R  STAFFORD, ROBERT T.       -0.012
 1690  GEORGIA  D  STUCKEY, W. S., JR.       -0.012
 1691  MARYLAN  D  MEADE, HUGH ALLEN         -0.010
 1692  TENNESS  D  LLOYD, MARILYN (BOUQUARD) -0.010
 1693  TEXAS    D  WYATT, JOSEPH PEYTON, JR. -0.010
 1694  SOUTH C  D  RIVERS, LUCIUS MENDEL     -0.009
 1695  PENNSYL  R  SCHWEIKER, RICHARD S.     -0.009
 1696  ILLINOI  R  PERCY, CHARLES H.         -0.009
 1697  LOUISIA  D  HAYES, JIMMY              -0.009
 1698  PENNSYL  R  FULTON, JAMES GROVE       -0.008
 1699  VIRGINI  D  GARY, JULIAN VAUGHAN      -0.008
 1700  WISCONS  D  O'MALLEY, THOMAS          -0.008
 1701  TEXAS    D  ROBERTS, RAY              -0.008
 1702  CONNECT  R  STEELE, ROBERT            -0.008
 1703  NEBRASK  D  NELSON, BEN               -0.008
 1704  VIRGINI  D  ALMOND, JAMES LINDSAY JR. -0.006
 1705  FLORIDA  D  CAMPBELL, COURTNEY WARREN -0.006
 1706  NORTH C  D  ERVIN, JOSEPH WILSON      -0.006
 1707  INDIANA  D  GRISWOLD, GLENN HASENFRAT -0.006
 1708  LOUISIA  D  HEBERT, FELIX EDWARD      -0.006
 1709  UTAH     D  KING, WILLIAM HENRY       -0.006
 1710  WISCONS  P  GEHRMANN, BERNARD JOHN    -0.005
 1711  NEW YOR  R  HORTON, FRANK J.          -0.005
 1712  PENNSYL  R  MARKS, MARC               -0.005
 1713  MARYLAN  R  MORELLA, CONSTANCE        -0.005
 1714  SOUTH C  D  HEMPHILL, ROBERT WITHERSP -0.003
 1715  PENNSYL  R  SPECTER, ARLEN            -0.003
 1716  NEW JER  R  DELLAY, VINCENT JOHN      -0.002
 1717  NORTH C  D  REDDEN, MONROE MINOR      -0.002
 1718  PENNSYL  D  ATKINSON, EUGENE VINCENT  -0.002
 1719  TEXAS    D  SARPALIUS, BILL           -0.002
 1720  NEVADA   D  BARING, WALTER STEPHAN     0.000
 1721  PENNSYL  D  FADDIS, CHARLES I.         0.000
 1722  TEXAS    D  POAGE, WILLIAM ROBERT      0.000
 1723  WISCONS  F  SAUTHOFF, HARRY            0.000
 1724  ALABAMA  D  SELDEN, ARMISTEAD INGE, J  0.000
 1725  PENNSYL  R  BIESTER, EDWARD G.         0.000
 1726  TEXAS    D  GEREN, PRESTON M. "PETE"   0.000
 1727  SOUTH D  D  BULOW, WILLIAM JOHN        0.001
 1728  PENNSYL  R  DOUGHERTY, CHARLES FRANCI  0.001
 1729  CALIFOR  D  MCGROARTY, JOHN STEVEN     0.002
 1730  NORTH C  D  MORRISON, CAMERON A.       0.002
 1731  TEXAS    D  CASEY, ROBERT RANDOLPH     0.004
 1732  GEORGIA  D  LANDRUM, PHILLIP MITCHELL  0.004
 1733  NORTH D  R  LANGER, WILLIAM            0.004
 1734  SOUTH C  D  GETTYS, THOMAS S.          0.004
 1735  KENTUCK  D  LUCAS, KENNETH             0.004
 1736  NORTH C  D  LAMBETH, JOHN WALTER       0.007
 1737  FLORIDA  D  ROGERS, DWIGHT LAING       0.007
 1738  MARYLAN  D  TYDINGS, MILLARD EVELYN    0.007
 1739  PENNSYL  R  HEINZ, H. JOHN             0.007
 1740  KENTUCK  R  COOPER, JOHN SHERMAN       0.008
 1741  LOUISIA  D  LARCADE, HENRY DOMINIQUE   0.008
 1742  MINNESO  R  LUNDEEN, ERNEST            0.008
 1743  COLORAD  D  JOHNSON, EDWIN CARL        0.009
 1744  NEBRASK  D  LUCKEY, HENRY CARL         0.009
 1745  TEXAS    D  TEAGUE, OLIN EARL          0.009
 1746  ARKANSA  D  NORRELL, CATHERINE D.      0.009
 1747  GEORGIA  D  GIBSON, JOHN STRICKLAND    0.011
 1748  GEORGIA  D  MILLER, ZELL               0.012
 1749  VERMONT  R  AIKEN, GEORGE DAVID        0.014
 1750  ALABAMA  D  HEFLIN, HOWELL THOMAS      0.014
 1751  GEORGIA  D  DEAL, NATHAN               0.014
 1752  GEORGIA  D  BLITCH, IRIS FAIRCLOTH     0.015
 1753  ARKANSA  D  CRAVENS, WILLIAM FADJO     0.015
 1754  NORTH C  D  CHATHAM, RICHARD THURMOND  0.016
 1755  FLORIDA  D  CHAPPELL, WILLIAM V.       0.016
 1756  OKLAHOM  D  BOREN, LYLE H              0.018
 1757  NEW JER  R  CANFIELD, GORDON           0.018
 1758  LOUISIA  D  CAFFERY, PATRICK T.        0.018
 1759  NORTH C  D  BARDEN, GRAHAM ARTHUR      0.019
 1760  NEBRASK  D  BROCK, LAWRENCE            0.019
 1761  KENTUCK  D  HUBBARD, CARROLL           0.019
 1762  NEW YOR  R  DORN, FRANCIS EDWIN        0.021
 1763  NEW YOR  R  IVES, IRVING MCNEIL        0.021
 1764  NORTH C  D  JORDAN, B. EVERETT         0.022
 1765  OHIO     D  ASHBROOK, WILLIAM ALBERT   0.024
 1766  GEORGIA  D  COX, EDWARD EUGENE         0.024
 1767  OKLAHOM  D  DISNEY, WESLEY ERNEST      0.024
 1768  NEW YOR  R  FINO, PAUL ALBERT          0.024
 1769  NORTH C  D  HOEY, CLYDE ROARK          0.024
 1770  FLORIDA  D  ROGERS, PAUL GRANT         0.024
 1771  NEW JER  R  RINALDO, MATTHEW           0.024
 1772  SOUTH C  D  WOFFORD, THOMAS ALBERT     0.025
 1773  CALIFOR  R  MCCLOSKEY, PAUL            0.025
 1774  LOUISIA  D  LEACH, ANTHONY CLAUDE      0.025
 1775  NORTH C  D  KORNEGAY, HORACE R.        0.029
 1776  ARKANSA  D  ROBINSON, TOMMY F.         0.029
 1777  VIRGINI  D  DOWNING, THOMAS NELMS      0.031
 1778  ARKANSA  D  NORRELL, WILLIAM FRANK     0.031
 1779  OHIO     D  MOTTL, RONALD              0.031
 1780  MISSISS  D  TAYLOR, GENE               0.031
 1781  MARYLAN  D  BYRON, BEVERLY BARTON BUT  0.032
 1782  TEXAS    D  GOSSETT, ED LEE            0.033
 1783  TEXAS    D  KILGORE, JOE MADISON       0.033
 1784  OKLAHOM  D  STEWART, PAUL              0.033
 1785  OKLAHOM  D  ENGLISH, GLENN             0.033
 1786  MINNESO  R  DURENBERGER, DAVID FERDIN  0.033
 1787  SOUTH C  D  MCMILLAN, JOHN LANNEAU     0.035
 1788  WISCONS  R  SCHNEIDER, GEORGE JOHN     0.035
 1789  ALABAMA  D  SWIFT, GEORGE ROBINSON     0.035
 1790  NORTH C  D  TAYLOR, ROY ARTHUR         0.035
 1791  NORTH C  D  HENDERSON, DAVID N.        0.035
 1792  NEBRASK  D  BURKE, EDWARD RAYMOND      0.036
 1793  MISSOUR  D  CLARK, JOEL BENNETT %CHAM  0.036
 1794  CALIFOR  D  ELLIOTT, ALFRED JAMES      0.036
 1795  GEORGIA  D  BARNARD, DOUG              0.036
 1796  WISCONS  R  HULL, MERLIN               0.038
 1797  OHIO     D  KNIFFIN, FRANK CHARLES     0.038
 1798  MAINE    R  COHEN, WILLIAM             0.038
 1799  TEXAS    D  HANCE, KENT RONALD         0.038
 1800  NEW YOR  R  BALDWIN, JOSEPH CLARK      0.039
 1801  TEXAS    D  BELL, JOHN JUNIOR          0.041
 1802  CALIFOR  R  KUCHEL, THOMAS HENRY       0.041
 1803  GEORGIA  D  RUSSELL, RICHARD BREVARD   0.041
 1804  OREGON   R  PACKWOOD, ROBERT W.        0.041
 1805  NORTH C  D  HALL, DAVID MCKEE          0.042
 1806  CONNECT  R  MORANO, ALBERT PAUL        0.042
 1807  ALABAMA  D  NEWSOME, JOHN PARKS        0.042
 1808  GEORGIA  D  BRINKLEY, JACK             0.042
 1809  NEW JER  R  DWYER, FLORENCE PRICE      0.043
 1810  NEBRASK  R  SEATON, FREDERICK ANDREW   0.043
 1811  GEORGIA  D  TALMADGE, HERMAN EUGENE    0.043
 1812  OKLAHOM  D  JARMAN, JOHN               0.045
 1813  TEXAS    D  LANHAM, FRITZ GARLAND      0.045
 1814  NEBRASK  D  ZORINSKY, EDWARD           0.045
 1815  OHIO     D  DONAHEY, ALVIN VICTOR      0.046
 1816  NORTH C  D  FOUNTAIN, LAWRENCE H.      0.046
 1817  LOUISIA  D  EDWARDS, ELAINE S.         0.046
 1818  NORTH C  D  CARLYLE, FRANK ERTEL       0.048
 1819  NEVADA   D  MCCARRAN, PATRICK ANTHONY  0.048
 1820  MONTANA  D  WHEELER, BURTON KENDALL    0.048
 1821  LOUISIA  D  HUCKABY, JERRY             0.048
 1822  OHIO     R  WILLIAMS, LYLE             0.048
 1823  KENTUCK  R  MEADE, WENDELL HOWES       0.050
 1824  SOUTH C  D  RUSSELL, DONALD            0.050
 1825  MISSOUR  R  BAKEWELL, CLAUDE IGNATIUS  0.052
 1826  CALIFOR  R  BALDWIN, JOHN FINLEY JR.   0.052
 1827  ALABAMA  D  ANDREWS, GEORGE WILLIAM    0.053
 1828  PENNSYL  R  DUFF, JAMES HENDERSON      0.053
 1829  GEORGIA  D  FORRESTER, ELIJAH LEWIS    0.053
 1830  FLORIDA  D  HUTTO, EARL DEWITT         0.053
 1831  TEXAS    D  PATMAN, WILLIAM N.         0.053
 1832  LOUISIA  D  PASSMAN, OTTO ERNEST       0.056
 1833  MISSISS  D  STENNIS, JOHN CORNELIUS    0.056
 1834  TENNESS  D  MURRAY, THOMAS JEFFERSON   0.057
 1835  MISSOUR  D  ICHORD, RICHARD H.         0.057
 1836  FLORIDA  D  HOLLAND, SPESSARD LINDSEY  0.059
 1837  ALABAMA  D  NICHOLS, BILL              0.059
 1838  NEW YOR  R  GILMAN, BENJAMIN           0.059
 1839  NEW JER  R  WALLHAUSER, GEORGE MARVIN  0.060
 1840  CONNECT  R  SIBAL, ABNER W.            0.060
 1841  SOUTH C  D  MANN, JAMES R.             0.060
 1842  MARYLAN  D  BYRON, GOODLOE             0.060
 1843  TEXAS    D  DIES, MARTIN JR.           0.062
 1844  TEXAS    D  PICKETT, THOMAS AUGUSTUS   0.062
 1845  LOUISIA  D  MCKENZIE, CHARLES EDGAR    0.063
 1846  TEXAS    D  WEST, MILTON HORACE        0.063
 1847  MAINE    R  PAYNE, FREDERICK GEORGE    0.065
 1848  TEXAS    D  ROGERS, WALTER EDWARD      0.065
 1849  PENNSYL  R  CORBETT, ROBERT JAMES      0.066
 1850  INDIANA  D  PETTENGILL, SAMUEL BARRET  0.066
 1851  CONNECT  R  SEELY-BROWN, HORACE, JR.   0.066
 1852  VERMONT  R  SMITH, PETER               0.066
 1853  NORTH C  D  ERVIN, SAMUEL JAMES JR.    0.067
 1854  WASHING  R  TOLLEFSON, THOR CARL       0.067
 1855  ALABAMA  D  SHELBY, RICHARD CRAIG      0.067
 1856  NEW JER  R  CAHILL, WILLIAM THOMAS     0.069
 1857  TEXAS    D  GAMMAGE, BOB               0.069
 1858  PENNSYL  D  MOSER, GUY LOUIS           0.070
 1859  SOUTH C  D  HARE, JAMES BUTLER         0.072
 1860  GEORGIA  D  HAGAN, G. ELLIOTT          0.073
 1861  SOUTH C  D  RILEY, CORINNE B.          0.073
 1862  PENNSYL  R  SCRANTON, WILLIAM W.       0.073
 1863  LOUISIA  D  TAUZIN, WILBERT            0.073
 1864  HAWAII   R  FONG, HIRAM LEONG          0.074
 1865  MISSISS  D  RANKIN, JOHN ELLIOTT       0.074
 1866  GEORGIA  D  MATHIS, DAWSON             0.074
 1867  NEW YOR  R  WALSH, WILLIAM             0.074
 1868  ARKANSA  D  GATHINGS, EZEKIEL CANDLER  0.076
 1869  RHODE I  D  GERRY, PETER GOELET        0.076
 1870  NEW JER  R  WOLVERTON, CHARLES ANDERS  0.076
 1871  FLORIDA  D  IRELAND, ANDREW            0.076
 1872  TEXAS    D  DANIEL, PRICE MARION       0.077
 1873  CONNECT  R  LODGE, JOHN DAVIS          0.077
 1874  MAINE    R  SMITH, MARGARET CHASE      0.077
 1875  KENTUCK  R  COOK, MARLOW W.            0.077
 1876  MISSISS  D  GRIFFIN, CHARLES           0.079
 1877  ALABAMA  D  ANDREWS, ELIZABETH         0.079
 1878  CONNECT  R  SARASIN, RONALD            0.079
 1879  NEW JER  R  FENWICK, MILLICENT         0.079
 1880  FLORIDA  D  HERLONG, ALBERT SYDNEY JR  0.080
 1881  CONNECT  R  PATTERSON, JAMES THOMAS    0.080
 1882  TEXAS    D  VANDERGRIFF, TOMMY J.      0.081
 1883  TEXAS    D  KLEBERG, RICHARD MIFFLIN,  0.083
 1884  WASHING  R  PRITCHARD, JOEL            0.083
 1885  GEORGIA  D  RAY, RICHARD B.            0.083
 1886  NORTH C  D  WHITENER, BASIL LEE        0.084
 1887  LOUISIA  D  LONG, SPEEDY O.            0.084
 1888  NEW YOR  R  FISH, HAMILTON, JR.        0.086
 1889  MAINE    R  COLLINS, SUSAN M.          0.086
 1890  MASSACH  R  HESELTON, JOHN WALTER      0.087
 1891  NEW HAM  R  MERROW, CHESTER EARL       0.087
 1892  PENNSYL  R  MCDADE, JOSEPH M.          0.087
 1893  MAINE    R  SNOWE, OLYMPIA             0.089
 1894  WASHING  R  JONES, HOMER RAYMOND       0.090
 1895  LOUISIA  D  MCSWEEN, HAROLD BARNETT    0.090
 1896  WASHING  R  HOLMES, OTIS HALBERT       0.091
 1897  CONNECT  R  MAY, EDWIN HYLAND JR.      0.091
 1898  NEW YOR  R  BOEHLERT, SHERWOOD L.      0.091
 1899  MISSISS  D  PARKER, MIKE               0.091
 1900  DELAWAR  D  FREAR, JOSEPH ALLEN JR.    0.093
 1901  MAINE    R  OLIVER, JAMES CHURCHILL    0.093
 1902  GEORGIA  D  WOOD, JOHN STEPHENS        0.093
 1903  TEXAS    D  MILFORD, DALE              0.094
 1904  VIRGINI  D  STANLEY, THOMAS BAHNSON    0.096
 1905  PENNSYL  R  ATKINSON, EUGENE VINCENT   0.096
 1906  NORTH D  R  ANDREWS, MARK              0.097
 1907  HAWAII   R  SAIKI, PATRICIA            0.097
 1908  OREGON   R  ANGELL, HOMER DANIEL       0.098
 1909  NEW YOR  R  KEATING, KENNETH BARNARD   0.098
 1910  OHIO     R  MOSHER, CHARLES A.         0.098
 1911  MINNESO  R  DEVITT, EDWARD JAMES       0.100
 1912  CALIFOR  R  MAILLIARD, WILLIAM SOMERS  0.100
 1913  TEXAS    D  LUCAS, WINGATE HEZEKIAH    0.101
 1914  ARKANSA  D  MCCLELLAN, JOHN LITTLE     0.101
 1915  CONNECT  R  MILLER, WILLIAM JENNINGS   0.101
 1916  VIRGINI  D  SMITH, HOWARD WORTH        0.101
 1917  MICHIGA  R  ESCH, MARVIN L.            0.101
 1918  NEW YOR  R  MCKNEALLY, MARTIN B.       0.101
 1919  OHIO     R  SAXBE, WILLIAM B.          0.101
 1920  VERMONT  R  GIBSON, ERNEST WILLIAM     0.103
 1921  NORTH C  D  SHUFORD, GEORGE ADAMS      0.103
 1922  NORTH C  D  SMITH, WILLIS              0.103
 1923  WISCONS  R  WITHROW, GARDNER ROBERT    0.103
 1924  ARKANSA  I  ALFORD, THOMAS DALE        0.104
 1925  PENNSYL  R  SCOTT, HUGH DOGGETT, JR.   0.104
 1926  NEW YOR  R  BENNET, AUGUSTUS WITSCHIE  0.105
 1927  ILLINOI  R  RAILSBACK, TOM             0.105
 1928  CONNECT  R  LUCE, CLARE BOOTHE         0.107
 1929  NEW YOR  R  MITCHELL, DONALD           0.107
 1930  CONNECT  R  CRETELLA, ALBERT WILLIAM   0.108
 1931  KANSAS   R  PEARSON, JAMES B.          0.108
 1932  TEXAS    D  BURLESON, OMAR TRUMAN      0.111
 1933  MINNESO  R  JUDD, WALTER HENRY         0.111
 1934  MARYLAN  D  ROE, DUDLEY GEORGE         0.111
 1935  MICHIGA  R  DAVIS, ROBERT WILLIAM      0.111
 1936  SOUTH C  D  DORN, WILLIAM JENNINGS BR  0.113
 1937  CONNECT  R  FOOTE, ELLSWORTH BISHOP    0.113
 1938  MINNESO  R  GALE, RICHARD PILLSBURY    0.113
 1939  NEW YOR  R  MRUK, JOSEPH               0.113
 1940  TEXAS    D  REGAN, KENNETH MILLS       0.113
 1941  KENTUCK  R  ROBSION, JOHN MARSHALL JR  0.113
 1942  NEW YOR  R  CAPUTO, BRUCE              0.113
 1943  NORTH C  D  SCOTT, RALPH JAMES         0.114
 1944  RHODE I  R  MACHTLEY, RONALD K.        0.114
 1945  NORTH D  R  LEMKE, WILLIAM             0.115
 1946  MISSISS  D  EASTLAND, JAMES OLIVER     0.117
 1947  PENNSYL  R  JENKINS, MITCHELL          0.117
 1948  NORTH C  D  KITCHIN, ALVIN PAUL        0.117
 1949  VERMONT  R  PROUTY, WINSTON LEWIS      0.120
 1950  CALIFOR  R  ROLPH, THOMAS              0.120
 1951  OREGON   R  WYATT, WENDELL             0.120
 1952  MAINE    R  MCKERNAN, JOHN R., JR.     0.120
 1953  VIRGINI  D  HARRISON, BURR POWELL      0.121
 1954  MINNESO  R  THYE, EDWARD JOHN          0.121
 1955  NEW HAM  R  TOBEY, CHARLES WILLIAM     0.122
 1956  CALIFOR  R  MATHIAS, ROBERT B.         0.122
 1957  VIRGINI  D  ROBERTSON, A. WILLIS       0.124
 1958  MISSISS  D  WINSTEAD, WILLIAM ARTHUR   0.124
 1959  ALASKA   R  POLLOCK, HOWARD W.         0.124
 1960  MICHIGA  R  PURSELL, CARL              0.124
 1961  MARYLAN  R  BEALL, J. GLENN, JR.       0.125
 1962  DELAWAR  R  DU PONT, PIERRE S.         0.125
 1963  TEXAS    D  STENHOLM, CHARLES WALTER   0.125
 1964  IDAHO    R  BORAH, WILLIAM EDGAR       0.127
 1965  NEW YOR  D  COPELAND, ROYAL SAMUEL     0.127
 1966  SOUTH C  D  TAYLOR, JOHN CLARENCE      0.127
 1967  CONNECT  R  JOHNSON, NANCY             0.127
 1968  TEXAS    D  FISHER, OVIE CLARK         0.128
 1969  GEORGIA  D  WHEELER, WILLIAM MCDONALD  0.128
 1970  NEW JER  R  WIDNALL, WILLIAM BECK      0.128
 1971  NEW JER  R  BARBOUR, WILLIAM WARREN    0.130
 1972  MISSISS  D  COLMER, WILLIAM MEYERS     0.130
 1973  NEW YOR  R  RADWAN, EDMUND PATRICK     0.130
 1974  MICHIGA  R  RUPPE, PHILIP E.           0.130
 1975  IOWA     R  LEACH, JAMES               0.130
 1976  NEW JER  R  GLENN, MILTON WILLITS      0.131
 1977  DELAWAR  R  HASKELL, HARRY GARNER JR.  0.131
 1978  MISSOUR  R  DANFORTH, JOHN             0.131
 1979  CONNECT  R  SHAYS, CHRISTOPHER         0.131
 1980  PENNSYL  R  CHADWICK, E. WALLACE       0.132
 1981  NORTH D  R  FRAZIER, LYNN JOSEPH       0.132
 1982  NEW YOR  R  FORBES, MICHAEL P.         0.132
 1983  KENTUCK  R  CARTER, TIM L.             0.134
 1984  MICHIGA  R  MCDONALD, JACK             0.134
 1985  IDAHO    R  HANSEN, ORVAL H.           0.134
 1986  GEORGIA  D  DAVIS, JAMES CURRAN        0.135
 1987  TEXAS    D  WILSON, JOSEPH FRANKLIN    0.135
 1988  KANSAS   R  ELLSWORTH, ROBERT F.       0.135
 1989  TEXAS    D  LEATH, JAMES MARVIN        0.135
 1990  NORTH C  D  ALEXANDER, HUGH QUINCY     0.137
 1991  OHIO     R  EVANS, LEMUEL DALE         0.137
 1992  NEW YOR  R  DOOLEY, EDWIN BENEDICT     0.137
 1993  CALIFOR  R  JOHNSON, JUSTIN LEROY      0.137
 1994  NEW JER  R  SMITH, CHRISTOPHER H.      0.137
 1995  PENNSYL  R  CARRIGG, JOSEPH LEONARD    0.138
 1996  CALIFOR  R  EATON, THOMAS MARION       0.138
 1997  NORTH C  D  LENNON, ALTON ASA          0.138
 1998  TENNESS  R  PHILLIPS, DAYTON EDWARD    0.138
 1999  VIRGINI  D  ROBESON, EDWARD JOHN JR.   0.138
 2000  MISSISS  D  MONTGOMERY, G. V.          0.138
 2001  PENNSYL  R  NELLIGAN, JAMES L.         0.138
 2002  NEW YOR  R  BARRY, ROBERT RAYMOND      0.139
 2003  PENNSYL  R  CURTIN, WILLARD SEVIER     0.139
 2004  WISCONS  R  O'KONSKI, ALVIN E.         0.139
 2005  MASSACH  R  ROGERS, EDITH NOURSE       0.139
 2006  CONNECT  R  MESKILL, THOMAS J.         0.139
 2007  NEW MEX  D  RUNNELS, HAROLD            0.139
 2008  KANSAS   R  KASSEBAUM, NANCY LANDON    0.139
 2009  TENNESS  R  BAKER, HOWARD HENRY        0.141
 2010  NEW JER  R  MARAZITI, JOSEPH           0.141
 2011  MASSACH  R  KEITH, HASTINGS            0.142
 2012  CONNECT  R  PURTELL, WILLIAM ARTHUR    0.142
 2013  TEXAS    D  POOL, JOE                  0.142
 2014  TEXAS    D  HALL, SAM                  0.142
 2015  NEW YOR  R  DULLES, JOHN FOSTER        0.144
 2016  OHIO     R  STANTON, J. WILLIAM        0.144
 2017  NEW YOR  R  D'AMATO, ALFONSE M.        0.144
 2018  WASHING  R  EVANS, DANIEL              0.144
 2019  PENNSYL  R  MUHLENBERG, FREDERICK AUG  0.145
 2020  MINNESO  R  ZWACH, JOHN M.             0.145
 2021  MAINE    R  EMERY, DAVID F.            0.145
 2022  MISSISS  D  ABERNETHY, THOMAS GERSTLE  0.146
 2023  MINNESO  F  HAGEN, HAROLD CHRISTIAN    0.146
 2024  TEXAS    D  HALL, RALPH M.             0.148
 2025  VERMONT  R  AUSTIN, WARREN ROBINSON    0.149
 2026  MINNESO  R  MACKINNON, GEORGE EDWARD   0.149
 2027  KENTUCK  R  MORTON, THRUSTON BALLARD   0.149
 2028  GEORGIA  D  FLYNT, JOHN JAMES JR.      0.151
 2029  PENNSYL  R  MILLIKEN, WILLIAM H. JR.   0.151
 2030  NEW YOR  R  PIRNIE, ALEXANDER          0.151
 2031  MASSACH  R  SALTONSTALL, LEVERETT -MA  0.151
 2032  NEW JER  R  SANDMAN, CHAS. W., JR.     0.151
 2033  MARYLAN  R  HOGAN, LAWRENCE J.         0.151
 2034  TEXAS    D  O'DANIEL, WILBERT          0.152
 2035  MONTANA  R  RANKIN, JEANNETTE          0.154
 2036  NEW JER  R  SMITH, HOWARD ALEXANDER    0.154
 2037  COLORAD  R  JOHNSON, JAMES             0.155
 2038  NEW YOR  R  GOODELL, CHARLES ELLSWORT  0.156
 2039  WISCONS  R  KERSTEN, CHARLES J.        0.156
 2040  CALIFOR  R  NIXON, RICHARD MILHOUS     0.156
 2041  MASSACH  R  CURTIS, LAURENCE           0.158
 2042  NEW JER  R  FRELINGHUYSEN, PETER H. B  0.158
 2043  PENNSYL  R  VAN ZANDT, JAMES EDWARD    0.158
 2044  ILLINOI  R  SMITH, RALPH T.            0.158
 2045  SOUTH C  D  ASHMORE, ROBERT THOMAS     0.159
 2046  WISCONS  R  BROPHY, JOHN CHARLES       0.159
 2047  PENNSYL  R  SAYLOR, JOHN PHILLIPS      0.159
 2048  MASSACH  R  TORKILDSEN, PETER G.       0.159
 2049  DELAWAR  R  BOGGS, JAMES CALEB         0.161
 2050  NEW YOR  R  POTTS, DAVID MATTHEW       0.161
 2051  CONNECT  R  SADLAK, ANTONI NICHOLAS    0.161
 2052  IOWA     R  SCHWENGEL, FREDERICK DELB  0.161
 2053  NEW HAM  R  STEARNS, FOSTER WATERMAN   0.161
 2054  COLORAD  R  BROTZMAN, DONALD G.        0.161
 2055  CALIFOR  R  ENGLEBRIGHT, HARRY LANE    0.162
 2056  MINNESO  R  PITTENGER, WILLIAM ALVIN   0.162
 2057  WEST VI  R  SNYDER, MELVIN CLAUDE      0.162
 2058  CONNECT  R  ROWLAND, JOHN G.           0.162
 2059  WEST VI  R  MOORE, ARCH ALFRED JR.     0.163
 2060  VIRGINI  D  ABBITT, WATKINS MOORMAN    0.165
 2061  CALIFOR  R  BELL, ALPHONZO             0.165
 2062  LOUISIA  D  WAGGONER, JOE D., JR.      0.165
 2063  ALABAMA  D  ###NOT IN ICPSR FILE###    0.165
 2064  VERMONT  R  GIBSON, ERNEST WILLARD     0.166
 2065  NEW YOR  R  ELSAESSER, EDWARD JULIUS   0.168
 2066  OHIO     D  LAMNECK, ARTHUR PHILIP     0.168
 2067  PENNSYL  R  COUGHLIN, R. LAWRENCE      0.168
 2068  DELAWAR  R  EVANS, THOMAS              0.168
 2069  MICHIGA  R  MCINTOSH, ROBERT JOHN      0.169
 2070  NEW HAM  R  UPTON, ROBERT WILLIAM      0.169
 2071  MICHIGA  R  DUNN, JIM                  0.169
 2072  WASHING  R  MORRISON, SID              0.169
 2073  SOUTH C  R  RAVENEL, ARTHUR JR         0.169
 2074  VIRGINI  D  GOODE, VIRGIL H., JR.      0.169
 2075  VERMONT  R  FLANDERS, RALPH EDWARD     0.170
 2076  GEORGIA  D  O'NEAL, MASTEN             0.170
 2077  NEW YOR  R  RONCALLO, ANGELO           0.170
 2078  NEW YOR  R  HOUGHTON, AMORY JR         0.170
 2079  NEW YOR  R  WEIS, JESSICA MCCULLOUGH   0.172
 2080  CALIFOR  R  PETTIS, JERRY L.           0.172
 2081  MICHIGA  R  SAWYER, HAROLD             0.172
 2082  NEW JER  R  ROUKEMA, MARGE             0.172
 2083  MINNESO  R  ERDAHL, ARLEN INGOLF       0.173
 2084  WASHING  R  MILLER, JOHN R.            0.173
 2085  MINNESO  R  QUIE, ALBERT HAROLD        0.175
 2086  CALIFOR  R  HORN, STEVE                0.175
 2087  NEW JER  R  MARTINI, WILLIAM J.        0.176
 2088  ALABAMA  D  ALLEN, JAMES B.            0.178
 2089  CONNECT  R  SIMMONS, ROB               0.178
 2090  OHIO     R  BURTON, HAROLD HITZ        0.179
 2091  NEW YOR  R  WAINWRIGHT, STUYVESANT     0.179
 2092  FLORIDA  R  HAWKINS, PAULA             0.179
 2093  NEW HAM  R  BASS, PERKINS              0.180
 2094  CONNECT  R  BUSH, PRESCOTT SHELDON     0.180
 2095  WASHING  R  PELLY, THOMAS MINOR        0.180
 2096  VIRGINI  R  WAMPLER, WILLIAM CREED     0.180
 2097  CALIFOR  R  ROYER, WILLIAM             0.180
 2098  PENNSYL  R  RIDGE, THOMAS J.           0.180
 2099  MARYLAN  R  BEALL, JAMES GLENN         0.182
 2100  PENNSYL  R  DAVIS, JAMES JOHN          0.182
 2101  NEW JER  R  OSMERS, FRANK CHARLES JR.  0.182
 2102  SOUTH D  R  REIFEL, BEN                0.182
 2103  VIRGINI  D  MARSH, JOHN O., JR.        0.182
 2104  TEXAS    D  BLAKLEY, WILLIAM A.        0.183
 2105  CALIFOR  R  HINSHAW, JOHN CARL WILLIA  0.183
 2106  ALASKA   R  STEVENS, THEODORE F.       0.183
 2107  ILLINOI  R  ANDERSON, JOHN B.          0.185
 2108  UTAH     R  DAWSON, WILLIAM ADAMS      0.186
 2109  PENNSYL  R  KUNKEL, JOHN CRAIN         0.186
 2110  NEW YOR  R  PFEIFFER, WILLIAM LOUIS    0.186
 2111  WISCONS  R  WILEY, ALEXANDER           0.186
 2112  UTAH     R  BURTON, LAWRENCE J.        0.186
 2113  CALIFOR  R  CLAUSEN, DON H.            0.186
 2114  INDIANA  R  HILLIS, ELWOOD             0.186
 2115  USA      R  EISENHOWER, DWIGHT D.      0.186
 2116  MASSACH  R  HERTER, CHRISTIAN          0.187
 2117  NEBRASK  R  THONE, CHARLES             0.187
 2118  ILLINOI  R  O BRIEN, GEORGE            0.187
 2119  NEBRASK  D  COFFEE, HARRY BUFFINGTON   0.189
 2120  NEVADA   R  RUSSELL, CHARLES HINTON    0.189
 2121  INDIANA  R  DECKARD, H. JOEL           0.189
 2122  MICHIGA  R  BENNETT, JOHN BONIFAS      0.190
 2123  NEBRASK  R  GRISWOLD, DWIGHT PALMER    0.190
 2124  NEW JER  R  KEAN, ROBERT WINTHROP      0.190
 2125  CALIFOR  R  POULSON, NORRIS            0.190
 2126  PENNSYL  R  WEAVER, JAMES D.           0.190
 2127  KENTUCK  R  COWGER, WILLIAM O.         0.190
 2128  PENNSYL  R  CLINGER, WILLIAM FLOYD, J  0.190
 2129  OREGON   R  SMITH, GORDON H.           0.190
 2130  KENTUCK  R  LEWIS, WILLIAM             0.192
 2131  NEW YOR  R  PHEIFFER, WILLIAM TOWNSEN  0.192
 2132  PENNSYL  R  SCOTT, HARDIE              0.192
 2133  NEW YOR  R  MCGRATH, RAYMOND J.        0.192
 2134  OREGON   R  BUNN, JIM                  0.192
 2135  MAINE    R  HALE, ROBERT               0.193
 2136  NORTH C  D  JONES, WOODROW WILSON      0.193
 2137  MICHIGA  R  HARVEY, JAMES              0.193
 2138  KANSAS   R  SHRIVER, GARNER E.         0.193
 2139  OREGON   R  DELLENBACK, JOHN R.        0.193
 2140  MINNESO  R  BOSCHWITZ, RUDOLF ELY      0.193
 2141  NEW MEX  R  SCHIFF, STEVEN H.          0.193
 2142  MASSACH  R  BLUTE, PETER I.            0.193
 2143  PENNSYL  R  BONIN, EDWARD JOHN         0.194
 2144  KANSAS   R  MIZE, CHESTER L.           0.194
 2145  NEW YOR  R  LENT, NORMAN               0.194
 2146  WASHING  R  MAY, CATHERINE DEAN        0.196
 2147  KANSAS   R  AVERY, WILLIAM HENRY       0.197
 2148  VIRGINI  R  BROYHILL, JOEL THOMAS      0.197
 2149  TEXAS    D  DOWDY, JOHN VERNARD        0.197
 2150  MARYLAN  R  HYDE, DEWITT STEPHEN       0.197
 2151  ILLINOI  R  SPRINGER, WILLIAM LEE      0.197
 2152  ILLINOI  R  JOHNSON, TIMOTHY V.        0.197
 2153  NEW YOR  R  QUINN, JACK                0.199
 2154  MINNESO  R  ALEXANDER, JOHN GRANT      0.200
 2155  OHIO     R  BURKE, RAYMOND HUGH        0.200
 2156  OHIO     D  LAUSCHE, FRANK JOHN        0.200
 2157  NEW YOR  R  ROSS, ROBERT TRIPP         0.200
 2158  NEW YOR  R  SMITH, HENRY P., III       0.200
 2159  NEW YOR  R  WALSH, JAMES T.            0.200
 2160  NEW JER  R  VREELAND, ALBERT LINCOLN   0.202
 2161  PENNSYL  R  WILLIAMS, LAWRENCE G.      0.202
 2162  ILLINOI  R  YOUNG, SAMUEL              0.202
 2163  CALIFOR  R  PETTIS, SHIRLEY            0.202
 2164  PENNSYL  R  DENNY, HARMAR DENNY JR.    0.203
 2165  MASSACH  R  LODGE, HENRY CABOT JR.     0.203
 2166  NEW YOR  R  RIEHLMAN, ROY WALTER       0.203
 2167  MARYLAN  R  MORTON, ROGERS C.          0.203
 2168  OHIO     R  TAFT, ROBERT, JR.          0.203
 2169  TEXAS    R  BUSH, GEORGE               0.203
 2170  CONNECT  R  BALDWIN, RAYMOND EARL      0.204
 2171  CALIFOR  R  GUBSER, CHARLES SAMUEL     0.204
 2172  NEW HAM  R  CLEVELAND, JAMES C.        0.204
 2173  SOUTH C  R  NAPIER, JOHN L.            0.204
 2174  NEW JER  R  GALLO, DEAN A.             0.204
 2175  DELAWAR  R  CASTLE, MICHAEL N.         0.204
 2176  ILLINOI  R  FITZGERALD, PETER G.       0.204
 2177  NEW JER  R  AUCHINCLOSS, JAMES COATS   0.206
 2178  COLORAD  R  MCKEVITT, JAMES            0.206
 2179  NEW HAM  R  ADAMS, SHERMAN             0.207
 2180  MISSOUR  R  DONNELL, FORREST C.        0.207
 2181  IOWA     R  DOWELL, CASSIUS CLAY       0.207
 2182  NEW JER  R  HENDRICKSON, ROBERT CLYME  0.207
 2183  OREGON   R  NORBLAD, ALBIN WALTER JR.  0.207
 2184  NORTH D  R  NYE, GERALD PRENTICE       0.207
 2185  OHIO     R  RAMEY, HOMER ALONZO        0.207
 2186  NORTH D  R  YOUNG, MILTON RUBEN        0.207
 2187  NEW YOR  R  LAZIO, RICK A.             0.207
 2188  CALIFOR  R  ALLEN, JOHN JOSEPH JR.     0.209
 2189  CONNECT  R  BALL, THOMAS RAYMOND       0.209
 2190  MASSACH  R  BATES, WILLIAM HENRY       0.209
 2191  PENNSYL  R  GERLACH, CHARLES LEWIS     0.209
 2192  MONTANA  R  SHOUP, RICHARD             0.209
 2193  NEW YOR  R  DIOGUARDI, JOSEPH D.       0.209
 2194  NEBRASK  R  BOWRING, EVA KELLY         0.210
 2195  PENNSYL  R  WHALLEY, JOHN IRVING       0.210
 2196  MISSISS  D  WILLIAMS, JOHN BELL        0.210
 2197  LOUISIA  D  ROEMER, CHARLES            0.210
 2198  CALIFOR  R  KUYKENDALL, STEVEN T.      0.210
 2199  PENNSYL  R  LICHTENWALTER, FRANKLIN H  0.213
 2200  WASHING  R  GORTON, SLADE              0.213
 2201  WASHING  R  HORAN, WALTER FRANKLIN     0.214
 2202  PENNSYL  R  KEARNS, CARROLL DUNDLEY    0.214
 2203  RHODE I  R  RISK, CHARLES FRANCIS      0.214
 2204  NEW YOR  R  WYDLER, JOHN W.            0.214
 2205  NEW YOR  R  HASTINGS, JAMES F.         0.214
 2206  OHIO     R  BENDER, GEORGE HARRISON    0.216
 2207  MICHIGA  R  BROOMFIELD, WILLIAM S      0.216
 2208  UTAH     R  DIXON, HENRY ALDOUS        0.216
 2209  CALIFOR  R  GEARHART, BERTRAND WESLEY  0.216
 2210  NEW YOR  R  KEARNEY, BERNARD WILLIAM   0.216
 2211  WISCONS  R  STEVENSON, WILLIAM HENRY   0.216
 2212  OHIO     R  REGULA, RALPH              0.216
 2213  MAINE    R  GARLAND, PETER A.          0.217
 2214  OHIO     R  GUYER, TENNYSON            0.217
 2215  WISCONS  R  GUNDERSON, STEVEN          0.217
 2216  KANSAS   R  MEYERS, JAN                0.217
 2217  PENNSYL  R  FENTON, IVOR DAVID         0.218
 2218  MONTANA  R  THORKELSON, JACOB          0.218
 2219  TEXAS    R  STEELMAN, ALAN             0.218
 2220  ILLINOI  R  PORTER, JOHN               0.218
 2221  PENNSYL  R  GREENWOOD, JIM             0.218
 2222  CALIFOR  R  CARTER, ALBERT EDWARD      0.220
 2223  UTAH     R  LLOYD, SHERMAN P.          0.220
 2224  PENNSYL  R  COYNE, JAMES K.            0.220
 2225  NEW YOR  R  KELLY, SUE W.              0.220
 2226  OHIO     R  BAUMHART, ALBERT DAVID JR  0.221
 2227  OREGON   R  MCNARY, CHARLES LINZA      0.221
 2228  NEW JER  R  POWERS, DAVID LANE         0.221
 2229  OREGON   R  DURNO, EDWIN R.            0.221
 2230  PENNSYL  R  JOHNSON, ALBERT W.         0.221
 2231  VIRGINI  D  BYRD, HARRY F., JR.        0.221
 2232  SOUTH D  R  PRESSLER, LARRY            0.221
 2233  MARYLAN  R  GILCHREST, WAYNE T.        0.221
 2234  MINNESO  R  BALL, JOSEPH HURST         0.223
 2235  NEW JER  R  JEFFRIES, WALTER SOOY      0.223
 2236  OREGON   R  MOTT, JAMES WHEATON        0.223
 2237  WASHING  R  WESTLAND, ALFRED JOHN      0.223
 2238  NORTH D  R  NYGAARD, HJALMAR C.        0.223
 2239  GEORGIA  R  THOMPSON, FLETCHER         0.223
 2240  NEW YOR  R  WORTLEY, GEORGE            0.223
 2241  FLORIDA  R  GRANT, BILL                0.223
 2242  NEW YOR  R  BARTON, BRUCE              0.224
 2243  MICHIGA  R  GRIFFIN, ROBERT PAUL       0.224
 2244  MASSACH  R  MARTIN, JOSEPH WILLIAM JR  0.224
 2245  NEW YOR  R  TAYLOR, DEAN PARK          0.224
 2246  NEW JER  R  FRANKS, BOB                0.224
 2247  OHIO     R  LATOURETTE, STEVEN C.      0.224
 2248  PENNSYL  R  FOX, JON D.                0.224
 2249  FLORIDA  D  HALEY, JAMES ANDREW        0.226
 2250  IOWA     R  CUNNINGHAM, PAUL HARVEY    0.227
 2251  CONNECT  R  HART, THOMAS CHARLES       0.227
 2252  MINNESO  F  SHIPSTEAD, HENRIK          0.227
 2253  MINNESO  R  MACGREGOR, CLARK           0.227
 2254  ILLINOI  R  KIRK, MARK STEVEN          0.227
 2255  NEW YOR  R  COUDERT, FREDERIC RENE, J  0.228
 2256  CALIFOR  R  FORD, LELAND MERRITT       0.228
 2257  CALIFOR  R  MCDONOUGH, GORDON LEO      0.228
 2258  OHIO     R  KEATING, WILLIAM           0.228
 2259  IOWA     R  EVANS, COOPER              0.228
 2260  NEW YOR  R  ROBISON, HOWARD WINFIELD   0.230
 2261  KENTUCK  R  STANFILL, WILLIAM ABNER    0.230
 2262  PENNSYL  R  WELDON, CURT               0.230
 2263  WEST VI  R  CAPITO, SHELLEY MOORE      0.230
 2264  FLORIDA  R  DIAZ-BALART, LINCOLN       0.230
 2265  WEST VI  R  HOBLITZELL, JOHN DEMPSEY   0.231
 2266  MICHIGA  R  POTTER, CHARLES EDWARD     0.231
 2267  ILLINOI  R  MADIGAN, EDWARD            0.231
 2268  NEW JER  R  MATHEWS, FRANK ASBURY JR.  0.233
 2269  OHIO     R  HARSHA, WILLIAM H.         0.233
 2270  ALABAMA  R  BUCHANAN, JOHN H., JR.     0.233
 2271  CONNECT  R  TALBOT, JOSEPH EDWARD      0.234
 2272  VIRGINI  R  WHITEHURST, G. WILLIAM     0.234
 2273  CALIFOR  R  FLETCHER, CHARLES KIMBALL  0.235
 2274  INDIANA  R  NIMTZ, F. JAY              0.235
 2275  NEW YOR  R  OSTERTAG, HAROLD CHARLES   0.235
 2276  OKLAHOM  R  BELLMON, HENRY             0.235
 2277  NEW MEX  R  DOMENICI, PETE V.          0.235
 2278  NEW JER  R  FREYLINGHUYSEN, RODNEY P.  0.235
 2279  KANSAS   R  SKUBITZ, JOE               0.237
 2280  NEW JER  R  FORSYTHE, EDWIN B.         0.237
 2281  NEBRASK  R  BEREUTER, DOUGLAS K.       0.237
 2282  NEW JER  R  SAXTON, H. JAMES           0.237
 2283  NEW YOR  R  CULKIN, FRANCIS DUGAN      0.238
 2284  NEBRASK  R  CUNNINGHAM, GLENN CLARENC  0.238
 2285  CALIFOR  R  VEYSEY, VICTOR             0.238
 2286  MARYLAN  R  MILLS, WILLIAM             0.238
 2287  NEW JER  R  LOBIONDO, FRANK A.         0.238
 2288  COLORAD  R  CAMPBELL, BEN NIGHTHORSE   0.238
 2289  MICHIGA  R  COFFIN, HOWARD ALDRIDGE    0.240
 2290  MARYLAN  R  DEVEREUX, JAMES PATRICK S  0.240
 2291  CALIFOR  R  HILLINGS, PATRICK JEROME   0.240
 2292  OREGON   R  HOLMAN, RUFUS CECIL        0.240
 2293  NEW YOR  R  MARTIN, DAVID O'B.         0.240
 2294  NEW YOR  R  GRUCCI, FELIX J. JR.       0.240
 2295  NORTH D  R  DANE, JOSEPH               0.241
 2296  OHIO     R  BOLTON, FRANCES PAYNE      0.241
 2297  MICHIGA  R  CHAMBERLAIN, CHARLES ERNE  0.241
 2298  NEVADA   R  YOUNG, CLARENCE CLIFTON    0.241
 2299  MICHIGA  R  VAN DER JAGT, GUY          0.241
 2300  TENNESS  R  BAKER, HOWARD H., JR.      0.241
 2301  NEVADA   R  TOWELL, DAVID              0.241
 2302  CALIFOR  R  CAMPBELL, TOM              0.241
 2303  IOWA     R  GANSKE, GREG               0.241
 2304  NEW YOR  R  HARTER, JOHN FRANCIS       0.243
 2305  TENNESS  R  DUNCAN, JOHN J.            0.243
 2306  DELAWAR  R  ROTH, WILLIAM V., JR.      0.243
 2307  IOWA     R  TAUKE, THOMAS JOSEPH       0.243
 2308  WASHING  R  CHANDLER, ROD              0.243
 2309  FLORIDA  R  ROS-LEHTINEN, ILEANA       0.243
 2310  NEW JER  R  HAND, THOMAS MILLET        0.244
 2311  NEW JER  R  HARTLEY, FRED ALLAN JR.    0.244
 2312  WEST VI  D  HOLT, RUSH DEW             0.244
 2313  NEW JER  R  SEGER, GEORGE NICHOLAS     0.244
 2314  PENNSYL  R  SITTLER, EDWARD LEWIS JR.  0.244
 2315  WISCONS  R  TEWES, DONALD EDGAR        0.244
 2316  CALIFOR  R  REINECKE, ED.              0.244
 2317  VIRGINI  D  DANIEL, W. C.              0.244
 2318  VIRGINI  R  DAVIS, THOMAS M.           0.244
 2319  MAINE    R  SMITH, CLYDE HAROLD        0.245
 2320  PENNSYL  R  MYERS, GARY                0.245
 2321  NEW HAM  R  RUDMAN, WARREN             0.245
 2322  MICHIGA  R  HENRY, PAUL B.             0.245
 2323  PENNSYL  R  PLATTS, TODD RUSSELL       0.245
 2324  COLORAD  R  CHENOWETH, JOHN EDGAR      0.247
 2325  KANSAS   R  HOPE, CLIFFORD RAGSDALE    0.247
 2326  WASHING  R  MACK, RUSSELL VERNON       0.247
 2327  ILLINOI  R  MCCLORY, ROBERT            0.247
 2328  NEW YOR  R  MOLINARI, GUY V.           0.247
 2329  NEW YOR  R  HALL, LEONARD WOOD         0.248
 2330  CALIFOR  R  ANDERSON, JOHN ZUINGLIUS   0.250
 2331  MASSACH  R  CLASON, CHARLES RUSSELL    0.250
 2332  CALIFOR  R  KNOWLAND, WILLIAM FIFE     0.250
 2333  OHIO     R  MOOREHEAD, TOM V.          0.250
 2334  CALIFOR  R  OSE, DOUG                  0.250
 2335  COLORAD  R  ALLOTT, GORDON LLEWELLYN   0.251
 2336  CALIFOR  R  BRADLEY, WILLIS WINTER     0.251
 2337  ARIZONA  R  RHODES, JOHN JACOB         0.251
 2338  CALIFOR  R  TEAGUE, CHARLES MCKEVETT   0.251
 2339  NEW YOR  R  MCEWEN, ROBERT C.          0.251
 2340  OKLAHOM  R  SMITH, JAMES V.            0.251
 2341  NEW JER  R  COURTER, JAMES ANDREW      0.251
 2342  VIRGINI  R  WARNER, JOHN WILLIAM       0.251
 2343  WISCONS  R  KLUG, SCOTT L.             0.251
 2344  OREGON   R  CORDON, GUY                0.252
 2345  ILLINOI  R  DEWEY, CHARLES SCHUVELDT   0.252
 2346  IOWA     R  GILCHRIS, FRED CRAMER      0.252
 2347  NEW YOR  R  LATHAM, HENRY JEPSON       0.252
 2348  NEW YOR  R  NODAR, ROBERT JOSEPH JR.   0.252
 2349  MONTANA  R  BATTIN, JAMES F.           0.252
 2350  NEW HAM  R  WYMAN, LOUIS C.            0.252
 2351  OHIO     R  GRADISON, WILLIS           0.252
 2352  MISSOUR  R  COLEMAN, E. THOMAS         0.252
 2353  KANSAS   R  COLE, ALBERT MCDONALD      0.254
 2354  NEW HAM  R  JENKS, ARTHUR BYRON        0.254
 2355  CONNECT  R  MONKIEWICZ, BOLESLAUS JOS  0.254
 2356  MASSACH  R  WIGGLESWORTH, RICHARD BOW  0.254
 2357  MICHIGA  R  BROWN, GARY E.             0.254
 2358  VERMONT  R  MALLARY, RICHARD W.        0.254
 2359  OKLAHOM  R  JARMAN, JOHN               0.254
 2360  CALIFOR  R  HOSMER, CRAIG              0.255
 2361  MICHIGA  R  MEADER, GEORGE             0.255
 2362  NEW JER  R  SUNDSTROM, FRANK LEANDER   0.255
 2363  WISCONS  R  KASTEN, ROBERT W.          0.255
 2364  NEW YOR  R  MORROW, JEREMIAH           0.257
 2365  INDIANA  R  MERRILL, D. BAILEY         0.257
 2366  MICHIGA  R  OAKMAN, CHARLES GIBB       0.257
 2367  VIRGINI  D  TUCK, WILLIAM MUNFORD      0.257
 2368  CALIFOR  R  WILSON, ROBERT CARLETON    0.257
 2369  CALIFOR  R  HINSHAW, ANDREW            0.257
 2370  OHIO     R  WEBER, ED                  0.257
 2371  NEW YOR  R  MOLINARI, SUSAN            0.257
 2372  NEW YOR  R  MCHUGH, JOHN M.            0.257
 2373  OHIO     R  VOINOVICH, GEORGE          0.257
 2374  OHIO     R  BOLTON, OLIVER PAYNE       0.258
 2375  INDIANA  R  BRAY, WILLIAM GILMER       0.258
 2376  NEW JER  R  EATON, CHARLES AUBREY      0.258
 2377  NEW YOR  R  HALL, EDWIN ARTHUR         0.258
 2378  ALABAMA  R  EDWARDS, JACK              0.258
 2379  NEW JER  R  FERGUSON, MIKE             0.258
 2380  KANSAS   R  CARLSON, FRANK             0.259
 2381  KANSAS   R  DARBY, HARRY               0.259
 2382  MAINE    R  HALE, FREDERICK            0.259
 2383  NEW YOR  R  O'BRIEN, JOSEPH JOHN       0.259
 2384  WEST VI  R  ROHRBOUGH, EDWARD GAY      0.259
 2385  NEW YOR  R  GROVER, JAMES R., JR.      0.259
 2386  MISSISS  R  COCHRAN, THAD              0.259
 2387  NEBRASK  R  SMITH, VIRGINIA            0.259
 2388  NEW JER  R  ZIMMER, DICK               0.259
 2389  MISSOUR  R  ARMSTRONG, ORLAND KAY      0.261
 2390  VIRGINI  D  BYRD, HARRY FLOOD          0.261
 2391  FLORIDA  R  CRAMER, WILLIAM CATO       0.261
 2392  IDAHO    R  GOFF, ABE MCGREGOR         0.261
 2393  CALIFOR  R  HOLT, JOSEPH FRANKLIN 3D   0.261
 2394  MINNESO  R  MAAS, MELVIN JOSEPH        0.261
 2395  MASSACH  R  BATES, GEORGE JOSEPH       0.262
 2396  OHIO     R  JEFFREY, HARRY PALMER      0.262
 2397  MICHIGA  R  MAPES, CARL EDGAR          0.262
 2398  WISCONS  R  STEIGER, WILLIAM A.        0.262
 2399  FLORIDA  R  FREY, LOUIS, JR.           0.262
 2400  PENNSYL  R  GARTNER, FRED CHRISTIAN    0.264
 2401  TEXAS    R  GUILL, BEN HUGH            0.264
 2402  SOUTH D  R  GURNEY, CHAN               0.264
 2403  WISCONS  R  KEEFE, FRANK BATEMAN       0.264
 2404  TENNESS  R  REECE, LOUISE G.           0.264
 2405  CALIFOR  R  TALCOTT, BURT L.           0.264
 2406  PENNSYL  R  WARE, JOHN III             0.264
 2407  ALASKA   R  YOUNG, DONALD              0.264
 2408  ILLINOI  R  FLANAGAN, MICHAEL P.       0.264
 2409  NEW MEX  R  WILSON, HEATHER            0.264
 2410  CONNECT  R  DANAHER, JOHN ANTHONY      0.265
 2411  KANSAS   R  GEORGE, MYRON VIRGIL       0.265
 2412  NEW JER  R  TOWE, HARRY LANCASTER      0.265
 2413  PENNSYL  R  TROUTMAN, WILLIAM IRVIN    0.265
 2414  VIRGINI  R  WOLF, FRANK R.             0.265
 2415  CONNECT  R  FRANKS, GARY               0.265
 2416  NEW YOR  R  LE FEVRE, JAY              0.267
 2417  NEW YOR  R  MILLER, WILLIAM EDWARD     0.267
 2418  WISCONS  R  THOMSON, VERNON W.         0.267
 2419  OHIO     R  WYLIE, CHALMERS P.         0.267
 2420  SOUTH D  R  ABDNOR, JAMES              0.267
 2421  MAINE    R  LONGLEY, JAMES B. JR       0.267
 2422  MINNESO  R  NELSEN, ANCHER             0.268
 2423  SOUTH C  R  WATSON, ALBERT W.          0.268
 2424  NORTH D  R  KLEPPE, TOM                0.268
 2425  KANSAS   R  WINN, LARRY, JR.           0.268
 2426  NEBRASK  R  OSBORNE, TOM               0.268
 2427  NEW YOR  R  KING, PETER T.             0.268
 2428  CALIFOR  R  BILBRAY, BRIAN P.          0.268
 2429  SOUTH D  R  CASE, FRANCIS HIGBEE       0.269
 2430  COLORAD  R  HILL, WILLIAM SILAS        0.269
 2431  ARKANSA  R  HAMMERSCHMIDT, JOHN P.     0.269
 2432  PENNSYL  R  CONOVER, WILLIAM           0.269
 2433  CALIFOR  R  MARTIN, PAT W.             0.271
 2434  NORTH C  R  MIZELL, WILMER D.          0.271
 2435  MICHIGA  R  SCHUETTE, BILL             0.271
 2436  PENNSYL  R  ENGLISH, PHIL              0.271
 2437  SOUTH C  D  WATSON, ALBERT W.          0.271
 2438  MICHIGA  R  FORD, GERALD R. JR.        0.272
 2439  PENNSYL  R  GAVIN, LEON HARRY          0.272
 2440  VIRGINI  R  BATEMAN, HERBERT H.        0.272
 2441  CALIFOR  R  SEYMOUR, JOHN              0.272
 2442  ARKANSA  R  ROBINSON, TOMMY F.         0.272
 2443  INDIANA  R  HARDEN, CECIL MURRAY       0.274
 2444  PENNSYL  R  SCOBLICK, JAMES PAUL       0.274
 2445  PENNSYL  R  VAUGHN, ALBERT CLINTON, S  0.274
 2446  TENNESS  R  BAKER, IRENE B.            0.274
 2447  TENNESS  R  KUYKENDALL, DAN            0.274
 2448  VIRGINI  R  PARRIS, STANFORD           0.274
 2449  LOUISIA  R  MOORE, W. HENSON           0.274
 2450  UTAH     R  MARRIOTT, DAN              0.274
 2451  VIRGINI  R  TRIBLE, PAUL               0.274
 2452  WEST VI  R  BENEDICT, CLEVE            0.274
 2453  NEW YOR  R  FRISA, DANIEL              0.274
 2454  INDIANA  R  MITCHELL, EDWARD ARCHIBAL  0.275
 2455  NORTH D  R  ROBERTSON, CHARLES RAYMON  0.275
 2456  NEW YOR  R  STANLEY, WINIFRED CLAIRE   0.275
 2457  IOWA     R  THURSTON, LLOYD            0.275
 2458  MARYLAN  R  BENTLEY, HELEN D.          0.275
 2459  PENNSYL  R  MCDOWELL, JOHN RALPH       0.276
 2460  NEW JER  R  HUNT, JOHN E.              0.276
 2461  OHIO     R  GILLMOR, PAUL E.           0.276
 2462  MICHIGA  R  ABRAHAM, SPENCER           0.276
 2463  PENNSYL  R  JAMES, BENJAMIN FRANKLIN   0.278
 2464  MICHIGA  R  MCLEOD, CLARENCE JOHN      0.278
 2465  OREGON   R  STEIWER, FREDERICK         0.278
 2466  ILLINOI  R  FINDLEY, PAUL              0.278
 2467  ILLINOI  R  HANRAHAN, ROBERT           0.278
 2468  TENNESS  R  QUILLEN, JAMES H.          0.279
 2469  PENNSYL  R  WATKINS, G. ROBERT         0.279
 2470  CALIFOR  R  PASHAYAN, CHARLES SAHAG,   0.279
 2471  ILLINOI  R  LAHOOD, RAY                0.279
 2472  TEXAS    D  GENTRY, BRADY PRESTON      0.281
 2473  ILLINOI  R  RUMSFELD, DONALD           0.281
 2474  PENNSYL  R  ESHLEMAN, EDWIN D.         0.281
 2475  IOWA     R  GRANDY, FRED               0.281
 2476  PENNSYL  R  MCCONNELL, SAMUEL KERNS J  0.282
 2477  NEW YOR  R  MCMAHON, GREGORY           0.282
 2478  DELAWAR  R  WILLEY, EARLE DUKES        0.282
 2479  INDIANA  R  MYERS, JOHN T.             0.282
 2480  OHIO     R  DEWINE, MICHAEL            0.282
 2481  CALIFOR  R  BRAMBLETT, ERNEST KING     0.283
 2482  WISCONS  R  HENRY, ROBERT KIRKLAND     0.283
 2483  PENNSYL  R  STAUFFER, S. WALTER        0.283
 2484  NEW JER  R  ###NOT IN ICPSR FILE###    0.283
 2485  OHIO     R  NEY, ROBERT W.             0.283
 2486  OREGON   R  ELLSWORTH, MATHEW HARRIS   0.285
 2487  CALIFOR  R  SCUDDER, HUBERT BAXTER     0.285
 2488  TENNESS  R  TAYLOR, JAMES WILLIS       0.285
 2489  OHIO     R  BROWN, CLARENCE, JR.       0.285
 2490  IOWA     R  MAYNE, WILEY               0.285
 2491  ILLINOI  R  CARLSON, CLIFFORD          0.285
 2492  MICHIGA  R  BLACKNEY, WILLIAM WALLACE  0.286
 2493  IOWA     R  MILLER, JACK               0.286
 2494  WISCONS  R  FROELICH, HARLOLD          0.286
 2495  INDIANA  R  LUGAR, RICHARD             0.286
 2496  NEW YOR  R  SWEENEY, JOHN E.           0.286
 2497  PENNSYL  R  DAGUE, PAUL BARTRAM        0.288
 2498  DELAWAR  R  WARBURTON, HERBERT BIRCHB  0.288
 2499  MINNESO  R  YOUNGDAHL, OSCAR FERDINAN  0.288
 2500  NEW MEX  R  LUJAN, MANUEL, JR.         0.288
 2501  PENNSYL  R  RITTER, DONALD LAWRENCE    0.288
 2502  WYOMING  R  SIMPSON, ALAN KOOI         0.288
 2503  ILLINOI  R  JONAS, EDGAR ALLAN         0.289
 2504  IOWA     R  LE COMPTE, KARL MILES      0.289
 2505  ILLINOI  R  STRATTON, WILLIAM GRANT    0.289
 2506  NEBRASK  R  MCCOLLISTER, JOHN          0.289
 2507  FLORIDA  R  FOLEY, MARK ADAM           0.289
 2508  SOUTH D  R  MUNDT, KARL EARL           0.291
 2509  WYOMING  R  THOMSON, EDWIN KEITH       0.291
 2510  IOWA     R  BROMWELL, JAMES E.         0.291
 2511  OHIO     R  RICH, CARL W.              0.291
 2512  MICHIGA  R  EHLERS, VERNON J.          0.291
 2513  NORTH D  R  BRUNSDALE, CLARENCE NORMA  0.292
 2514  OREGON   R  STOCKMAN, LOWELL           0.292
 2515  NEBRASK  R  WEAVER, PHILLIP HART       0.292
 2516  NORTH C  R  BROYHILL, JAMES T.         0.292
 2517  NORTH C  R  HENDON, WILLIAM M.         0.292
 2518  INDIANA  R  ADAIR, EDWIN ROSS          0.293
 2519  MASSACH  R  TREADWAY, ALLEN TOWNER     0.293
 2520  NEW HAM  R  MURPHY, MAURICE J.         0.293
 2521  ARKANSA  R  BETHUNE, EDWIN RUTHVIN     0.293
 2522  ILLINOI  R  BIGGERT, JUDY              0.293
 2523  INDIANA  R  CRUMPACKER, SHEPARD J. JR  0.295
 2524  MICHIGA  R  KNOX, VICTOR ALFRED        0.295
 2525  IOWA     R  GRASSLEY, CHARLES          0.295
 2526  OHIO     R  LEWIS, EARL RAMAGE         0.296
 2527  MISSOUR  R  BOND, CHRISTOPHER          0.296
 2528  NEW YOR  R  FISH, HAMILTON JR.         0.298
 2529  MAINE    R  NELSON, CHARLES PEMBROKE   0.298
 2530  MICHIGA  R  VANDENBERG, ARTHUR HENDRI  0.298
 2531  ILLINOI  R  ERLENBORN, JOHN N.         0.298
 2532  INDIANA  R  ZION, ROGER H.             0.298
 2533  PENNSYL  R  SCHULZE, RICHARD           0.298
 2534  NORTH C  R  MCMILLAN, J. ALEX          0.298
 2535  CONNECT  R  AUSTIN, ALBERT ELMER       0.299
 2536  TENNESS  R  JENNINGS, JOHN JR.         0.299
 2537  SOUTH D  R  LOVRE, HAROLD ORRIN        0.299
 2538  MISSOUR  R  REEVES, ALBERT LEE JR.     0.299
 2539  WEST VI  R  SCHIFFLER, ANDREW CHARLES  0.299
 2540  MICHIGA  R  UPTON, FRED                0.299
 2541  NEW YOR  R  BACON, ROBERT LOW          0.300
 2542  NEW YOR  R  GAMBLE, RALPH ABERNETHY    0.300
 2543  NEBRASK  R  STEFAN, KARL               0.300
 2544  INDIANA  R  BROWNSON, CHARLES BRUCE    0.302
 2545  MAINE    R  MCINTIRE, CLIFFORD GUY     0.302
 2546  ILLINOI  R  MCMILLEN, ROLLA CORAL      0.302
 2547  PENNSYL  R  PRACHT, CHARLES FREDERICK  0.302
 2548  MARYLAN  R  SMALL, FRANK, JR.          0.302
 2549  IOWA     R  TALLE, HENRY OSCAR         0.302
 2550  MINNESO  R  FRENZEL, WILLIAM           0.302
 2551  NEW MEX  R  SCHMITT, HARRISON          0.302
 2552  CALIFOR  R  HUFFINGTON, MICHAEL        0.302
 2553  KANSAS   R  CAPPER, ARTHUR             0.303
 2554  ILLINOI  R  SIMPSON, EDNA OAKES        0.303
 2555  ARIZONA  R  MCCAIN, JOHN S             0.303
 2556  PENNSYL  R  SHERWOOD, DONALD           0.303
 2557  MAINE    R  BREWSTER, RALPH OWEN       0.305
 2558  KENTUCK  R  ROGERS, HAROLD             0.305
 2559  CALIFOR  R  ZSCHAU, EDWIN V. W.        0.305
 2560  NEW HAM  R  BASS, CHARLES F.           0.305
 2561  OHIO     R  DENNISON, DAVID SHORT      0.306
 2562  TENNESS  R  ROSS, THOMAS RANDOLPH      0.306
 2563  RHODE I  R  SANDAGER, HARRY            0.306
 2564  WISCONS  R  SCHAFER, JOHN CHARLES      0.306
 2565  CALIFOR  R  MURPHY, GEORGE             0.306
 2566  FLORIDA  R  BURKE, J. HERBERT          0.306
 2567  ILLINOI  R  CORCORAN, TOM              0.306
 2568  CALIFOR  R  WILSON, PETE               0.306
 2569  PENNSYL  R  BUSH, ALVIN RAY            0.307
 2570  CONNECT  R  COMPTON, RANULF            0.307
 2571  CALIFOR  R  HUNTER, ALLAN OAKLEY       0.307
 2572  NEW YOR  R  CARNEY, WILLIAM            0.307
 2573  NEW MEX  R  SKEEN, JOSEPH              0.307
 2574  OHIO     R  HOBSON, DAVID L.           0.307
 2575  KENTUCK  R  WHITFIELD, EDWARD          0.307
 2576  SOUTH D  R  THUNE, JOHN R.             0.307
 2577  GEORGIA  R  ISAKSON, JOHNNY            0.307
 2578  UTAH     R  BENNETT, ROBERT F.         0.307
 2579  PENNSYL  R  CROW, WILLIAM JOSIAH       0.309
 2580  NORTH C  R  RUTH, EARL B.              0.309
 2581  CALIFOR  R  BURGENER, CLAIR            0.309
 2582  IOWA     R  JEPSEN, ROGER WILLIAM      0.309
 2583  OKLAHOM  R  BELCHER, PAGE HENRY        0.310
 2584  KENTUCK  R  GOLDEN, JAMES STEPHEN      0.310
 2585  MINNESO  R  LANGEN, ODIN               0.310
 2586  MARYLAN  R  MILLER, EDWARD TYLOR       0.310
 2587  OHIO     R  SCHENCK, PAUL FORNSHELL    0.310
 2588  NEW YOR  R  KEMP, JACK                 0.310
 2589  ILLINOI  R  HYDE, HENRY                0.310
 2590  CALIFOR  R  RIGGS, FRANK               0.310
 2591  KENTUCK  R  FLETCHER, ERNIE            0.310
 2592  INDIANA  R  HALLECK, CHARLES ABRAHAM   0.312
 2593  PENNSYL  R  MUMMA, WALTER MANN         0.312
 2594  PENNSYL  R  PRATT, JOSEPH MARMADUKE    0.312
 2595  PENNSYL  R  TIBBOTT, HARVE             0.312
 2596  ALABAMA  R  ANDREWS, GLENN             0.312
 2597  SOUTH C  R  CAMPBELL, CARROLL ASHMORE  0.312
 2598  FLORIDA  R  SHAW, CLAY                 0.312
 2599  NEW MEX  R  REDMOND, BILL              0.312
 2600  CALIFOR  R  BONO, MARY                 0.312
 2601  MONTANA  R  D'EWART, WESLEY A.         0.313
 2602  ILLINOI  R  DIRKSEN, EVERETT MCKINLEY  0.313
 2603  IOWA     R  DOLLIVER, JAMES ISAAC      0.313
 2604  MICHIGA  R  ENGEL, ALBERT JOSEPH       0.313
 2605  MICHIGA  R  FERGUSON, HOMER            0.313
 2606  NEW YOR  R  CONABLE, BARBER B., JR.    0.313
 2607  CALIFOR  R  FIEDLER, BOBBI             0.315
 2608  MISSOUR  R  BUECHNER, JACK             0.315
 2609  NEW YOR  R  REYNOLDS, THOMAS M.        0.315
 2610  COLORAD  R  GILLESPIE, DEAN MILTON     0.316
 2611  OHIO     R  MCCULLOCH, WILLIAM MOORE   0.316
 2612  VERMONT  R  PLUMLEY, CHARLES ALBERT    0.316
 2613  NEW JER  R  THOMAS, JOHN PARNELL       0.316
 2614  OHIO     R  VORYS, JOHN MARTIN         0.316
 2615  KENTUCK  R  SNYDER, M. G.              0.316
 2616  TENNESS  R  BAKER, LAMAR               0.316
 2617  INDIANA  R  HUDNUT, WILLIAM            0.316
 2618  MINNESO  R  HAGEDORN, TOM              0.316
 2619  MISSISS  R  FRANKLIN, WILLIAM W.       0.316
 2620  NEBRASK  R  KARNES, DAVID K.           0.316
 2621  ILLINOI  R  BYRNE, EMMET FRANCIS       0.317
 2622  PENNSYL  R  SCHNEEBELI, HERMAN T.      0.317
 2623  NEW YOR  R  SHARP, EDGAR ALLAN         0.317
 2624  NORTH C  R  HEINEMAN, FREDERICK K.     0.317
 2625  KENTUCK  R  NORTHUP, ANNE M.           0.317
 2626  INDIANA  R  HARVEY, RALPH              0.319
 2627  PENNSYL  R  LAFORE, JOHN ARMAND JR.    0.319
 2628  KANSAS   R  SEBELIUS, KEITH G.         0.319
 2629  FLORIDA  R  YOUNG, C.W.                0.319
 2630  ILLINOI  R  MARTIN, LYNN M.            0.319
 2631  MICHIGA  R  BENTLEY, ALVIN MORELL      0.320
 2632  IOWA     R  KYL, JOHN HENRY            0.320
 2633  KENTUCK  R  SILER, EUGENE              0.320
 2634  WISCONS  R  THILL, LEWIS DOMINIC       0.320
 2635  MONTANA  R  REHBERG, DENNIS R.         0.320
 2636  MASSACH  R  HOLMES, PEHR GUSTAF        0.322
 2637  MICHIGA  R  MICHENER, EARL CORY        0.322
 2638  LOUISIA  R  TREEN, DAVID               0.322
 2639  PENNSYL  R  GOODLING, WILLIAM          0.322
 2640  MASSACH  R  GOODWIN, ANGIER LOUIS      0.323
 2641  WYOMING  R  HARRISON, WILLIAM HENRY -  0.323
 2642  WYOMING  R  HORTON, FRANK OGILVIE      0.323
 2643  ILLINOI  R  HOWELL, EVAN               0.323
 2644  OHIO     R  MINSHALL, WILLIAM EDWIN J  0.323
 2645  UTAH     R  WATKINS, ARTHUR VIVIAN     0.323
 2646  CALIFOR  R  YOUNGER, JESSE ARTHUR      0.323
 2647  CALIFOR  R  LEWIS, JERRY               0.323
 2648  ALASKA   R  MURKOWSKI, FRANK H.        0.323
 2649  ILLINOI  R  ARENDS, LESLIE CORNELIUS   0.324
 2650  VIRGINI  R  POFF, RICHARD HARDING      0.324
 2651  ILLINOI  R  SHEEHAN, TIMOTHY PATRICK   0.324
 2652  MAINE    R  WHITE, WALLACE HUMPHREY,   0.324
 2653  KANSAS   R  DOLE, BOB                  0.324
 2654  COLORAD  R  DOMINICK, PETER H.         0.324
 2655  FLORIDA  R  BAFALIS, L. A. (SKIP)      0.324
 2656  MINNESO  R  RAMSTAD, JIM               0.324
 2657  OHIO     R  PRYCE, DEBORAH             0.324
 2658  MISSOUR  R  EMERSON, JO ANN            0.324
 2659  PENNSYL  R  CAMPBELL, HOWARD EDMOND    0.326
 2660  KANSAS   R  GUYER, ULYSSES SAMUEL      0.326
 2661  MISSOUR  R  MILLER, LOUIS EBENEZER     0.326
 2662  NEW YOR  R  LEBOUTILLIER, JOHN         0.326
 2663  CALIFOR  R  LOWERY, BILL               0.326
 2664  FLORIDA  R  FOWLER, TILLIE             0.326
 2665  TENNESS  R  FRIST, BILL                0.326
 2666  NEBRASK  R  HAGEL, CHUCK               0.326
 2667  NEW YOR  R  BECKER, FRANK JOHN         0.327
 2668  PENNSYL  R  SARBACHER, GEORGE WILLIAM  0.327
 2669  FLORIDA  R  JAMES, CRAIG T.            0.327
 2670  MICHIGA  R  CEDERBERG, ELFORD ALFRED   0.329
 2671  VIRGINI  D  SATTERFIELD, DAVE E.       0.329
 2672  GEORGIA  R  MATTINGLY, MACK            0.329
 2673  ILLINOI  R  FAWELL, HARRIS W.          0.329
 2674  PENNSYL  R  SANTORUM, RICK             0.329
 2675  NEW YOR  R  BUTLER, JOHN CORNELIUS     0.330
 2676  NEW YOR  R  DOUGLAS, FRED JAMES        0.330
 2677  NEW YOR  R  FULLER, HADWEN CARLTON     0.330
 2678  COLORAD  R  ROCKWELL, ROBERT FAY       0.330
 2679  KANSAS   R  WHITTAKER, ROBERT          0.330
 2680  NEW YOR  R  CARMAN, GREGORY W.         0.330
 2681  ARIZONA  R  KOLBE, JIM                 0.330
 2682  NEW YOR  R  LEVY, DAVID A.             0.330
 2683  OHIO     R  HOKE, MARTIN R.            0.330
 2684  IOWA     R  HOEVEN, CHARLES BERNARD    0.331
 2685  COLORAD  R  MILLIKIN, EUGENE DONALD    0.331
 2686  NEW YOR  R  LEE, GARY A.               0.331
 2687  MARYLAN  R  EHRLICH, ROBERT L.Jr.      0.331
 2688  NEW YOR  R  DEROUNIAN, STEVEN BOGHOS   0.333
 2689  IDAHO    R  THOMAS, JOHN               0.333
 2690  SOUTH D  R  BOTTUM, JOE H.             0.333
 2691  MINNESO  R  STANGELAND, ARLAN          0.333
 2692  MISSISS  R  HINSON, JON C.             0.333
 2693  ILLINOI  R  CHURCH, MARGUERITE STITT   0.334
 2694  CALIFOR  R  JACKSON, DONALD LESTER     0.334
 2695  NEW YOR  R  TERRY, JOHN                0.334
 2696  MINNESO  R  ANDERSEN, HERMAN CARL      0.336
 2697  CALIFOR  R  WIGGINS, CHARLES E.        0.336
 2698  WEST VI  R  STATON, MICK               0.336
 2699  LOUISIA  R  MCCRERY, JIM               0.336
 2700  ILLINOI  R  SHIMKUS, JOHN              0.336
 2701  INDIANA  R  BEAMER, JOHN VALENTINE     0.337
 2702  NEW YOR  R  BUCK, ELLSWORTH BREWER     0.337
 2703  ILLINOI  R  HOFFMAN, RICHARD WILLIAM   0.337
 2704  IOWA     R  WILSON, GEORGE ALLISON     0.337
 2705  SOUTH C  R  SPENCE, FLOYD              0.337
 2706  VIRGINI  R  BUTLER, M. CALDWELL        0.337
 2707  CALIFOR  R  ISSA, DARRELL E.           0.337
 2708  LOUISIA  R  COOKSEY, JOHN              0.337
 2709  MISSOUR  R  HILLELSON, JEFFREY PAUL    0.339
 2710  OHIO     R  MARSHALL, LYCURGUS LUTHER  0.339
 2711  IOWA     R  MARTIN, THOMAS ELLSWORTH   0.339
 2712  OHIO     R  ROUTZOHN, HARRY NELSON     0.339
 2713  ILLINOI  R  WELLER, GERALD C. "JERRY"  0.339
 2714  TEXAS    R  GRANGER, KAY               0.339
 2715  TEXAS    R  HUTCHISON, KAY BAILEY      0.339
 2716  OHIO     R  HESS, WILLIAM EMIL         0.340
 2717  CONNECT  R  MCWILLIAMS, JOHN DACHER    0.340
 2718  WASHING  R  STINSON, BILL              0.340
 2719  TENNESS  R  BEARD, ROBIN               0.340
 2720  LOUISIA  R  TAUZIN, WILBERT            0.340
 2721  NEW YOR  R  BOSCH, ALBERT HENRY        0.341
 2722  NEW YOR  R  COLE, WILLIAM STERLING     0.341
 2723  OHIO     R  SECCOMBE, JAMES            0.341
 2724  ILLINOI  R  SIMPSON, SIDNEY ELMER %SI  0.341
 2725  ILLINOI  R  MCLOSKEY, ROBERT           0.341
 2726  LOUISIA  R  LIVINGSTON, ROBERT L.      0.341
 2727  SOUTH C  D  THURMOND, JAMES STROM      0.341
 2728  NORTH C  R  JONAS, CHARLES RAPER       0.343
 2729  NEW YOR  R  PIERCE, WALLACE EDGAR      0.343
 2730  WEST VI  R  REVERCOMB, WILLIAM CHAPMA  0.343
 2731  INDIANA  R  ROUDEBUSH, RICHARD L.      0.343
 2732  TEXAS    D  GRAMM, WILLIAM PHILIP      0.343
 2733  LOUISIA  R  HAYES, JIMMY               0.343
 2734  CALIFOR  R  CALVERT, KEN               0.344
 2735  WYOMING  R  BARRETT, FRANK A.          0.346
 2736  ILLINOI  R  DERWINSKI, EDWARD JOSEPH   0.346
 2737  PENNSYL  R  GRAHAM, LOUIS EDWARD       0.346
 2738  NEW YOR  R  MILLARD, CHARLES DUNSMORE  0.346
 2739  TENNESS  R  BROCK, WILLIAM E., III     0.346
 2740  NEBRASK  R  DENNEY, ROBERT V.          0.346
 2741  TEXAS    R  PRICE, ROBERT              0.346
 2742  NORTH C  R  MARTIN, JAMES              0.346
 2743  NEW YOR  R  HANCOCK, CLARENCE EUGENE   0.347
 2744  NEW YOR  R  PILLION, JOHN RAYMOND      0.347
 2745  NEW YOR  R  KING, CARLETON J.          0.347
 2746  SOUTH C  R  YOUNG, EDWARD              0.347
 2747  MISSOUR  R  EMERSON, BILL              0.347
 2748  NEW JER  R  PAPPAS, MICHAEL            0.347
 2749  OREGON   R  WALDEN, GREG               0.347
 2750  ALABAMA  R  SHELBY, RICHARD CRAIG      0.347
 2751  KENTUCK  R  HOPKINS, LARRY JONES       0.348
 2752  TENNESS  R  THOMPSON, FRED             0.348
 2753  NEW HAM  R  COTTON, NORRIS             0.350
 2754  OHIO     R  WHITE, DUDLEY ALLEN        0.350
 2755  IDAHO    R  JORDAN, LEN B.             0.350
 2756  NORTH C  R  GARDNER, JAMES C.          0.350
 2757  WYOMING  R  WOLD, JOHN                 0.350
 2758  SOUTH C  R  BROWN, HENRY E. JR.        0.350
 2759  WASHING  R  WHITE, RICK                0.350
 2760  PENNSYL  R  PETERSON, JOHN E.          0.350
 2761  CALIFOR  R  MARTINEZ, MATTHEW G.       0.350
 2762  KANSAS   R  MEYER, HERBERT ALTON       0.351
 2763  NEW YOR  R  WILLIAMS, WILLIAM ROBERT   0.351
 2764  FLORIDA  R  GURNEY, EDWARD J.          0.351
 2765  ILLINOI  R  REID, CHARLOTTE T.         0.351
 2766  WASHING  R  CUNNINGHAM, JOHN E.        0.351
 2767  WISCONS  R  ROTH, TOBIAS A.            0.351
 2768  WISCONS  R  PETRI, THOMAS              0.351
 2769  FLORIDA  R  BILIRAKIS, MICHAEL         0.351
 2770  MICHIGA  R  CAMP, DAVE                 0.351
 2771  MAINE    R  FELLOWS, FRANK             0.353
 2772  WEST VI  R  LOVE, FRANCIS JOHNSON      0.353
 2773  OHIO     R  WEICHEL, ALVIN F.          0.353
 2774  CALIFOR  R  THOMAS, WILLIAM MARSHALL   0.353
 2775  KENTUCK  R  MCCONNELL JR., MITCH       0.353
 2776  CALIFOR  R  LIPSCOMB, GLENARD PAUL     0.354
 2777  FLORIDA  R  CRENSHAW, ANDER            0.354
 2778  WASHING  R  CAIN, HARRY PULLIAM        0.356
 2779  NEBRASK  R  MARTIN, DAVID T.           0.356
 2780  MONTANA  R  BURNS, CONRAD              0.356
 2781  PENNSYL  R  HART, MELISSA A.           0.356
 2782  MONTANA  R  FJARE, ORVIN BENONIE       0.357
 2783  MASSACH  R  GIFFORD, CHARLES LACEILLE  0.357
 2784  OHIO     R  ROWE, EDMUND               0.357
 2785  OHIO     R  POWELL, WALTER             0.357
 2786  OHIO     R  KASICH, JOHN R.            0.357
 2787  CALIFOR  R  KONNYU, ERNEST L           0.357
 2788  MICHIGA  R  ROGERS, MIKE               0.357
 2789  ILLINOI  R  EWING, THOMAS W.           0.357
 2790  NEBRASK  R  BARRETT, BILL              0.357
 2791  ILLINOI  R  CHIPERFIELD, ROBERT BRUCE  0.358
 2792  CALIFOR  R  GOLDWATER, BARRY, JR.      0.358
 2793  CALIFOR  R  GALLEGLY, ELTON            0.358
 2794  ARKANSA  R  BOOZMAN, JOHN              0.358
 2795  IDAHO    R  SIMPSON, MIKE K.           0.358
 2796  NEW YOR  R  ST. GEORGE, KATHARINE PRI  0.360
 2797  INDIANA  R  COATS, DANIEL              0.360
 2798  IOWA     R  LATHAM, TOM                0.360
 2799  ARKANSA  R  HUTCHINSON, ASA            0.360
 2800  DELAWAR  R  TOWNSEND, JOHN GILLIS, JR  0.361
 2801  MICHIGA  R  STOCKMAN, DAVID            0.361
 2802  FLORIDA  R  CANADY, CHARLES, T.        0.361
 2803  MINNESO  R  ANDRESEN, AUGUST HERMAN    0.363
 2804  PENNSYL  R  HOFFMAN, CARL HENRY        0.363
 2805  WASHING  R  NORMAN, FRED BARTHOLD      0.363
 2806  VIRGINI  R  DANIEL, ROBERT W.          0.363
 2807  WASHING  R  SMITH, LINDA               0.363
 2808  UTAH     R  COOK, MERRILL              0.363
 2809  MISSOUR  R  BENNETT, MARION TINSLEY    0.364
 2810  SOUTH D  R  BERRY, ELLIS YARNAL        0.364
 2811  OHIO     R  LATTA, DELBERT LEROY       0.364
 2812  PENNSYL  R  MALONEY, FRANKLIN JOHN     0.364
 2813  NEW JER  R  MCLEAN, DONALD HOLMAN      0.364
 2814  CALIFOR  R  LAGOMARSINO, ROBERT        0.364
 2815  CALIFOR  R  HAYAKAWA, S. I.            0.364
 2816  NEBRASK  R  DAUB, HAL                  0.364
 2817  MICHIGA  R  KNOLLENBERG, JOE           0.364
 2818  WASHING  R  NETHERCUTT, GEORGE R.      0.364
 2819  WEST VI  R  NEAL, WILLIAM ELMER        0.365
 2820  CALIFOR  R  KETCHUM, WILLIAM M.        0.365
 2821  TENNESS  R  SUNDQUIST, DONALD K.       0.365
 2822  NORTH C  R  HAYES, ROBIN               0.365
 2823  WYOMING  R  CRIPPA, EDWARD DAVID       0.367
 2824  PENNSYL  R  MCGARVEY, ROBERT NEILL     0.367
 2825  KANSAS   R  MCVEY, WALTER L.           0.367
 2826  MISSOUR  R  TAYLOR, ROY                0.367
 2827  VIRGINI  R  BLILEY, THOMAS J.          0.367
 2828  ILLINOI  R  DAVIS, JACK                0.367
 2829  ILLINOI  R  COLLIER, HAROLD REGINALD   0.368
 2830  IOWA     R  GOODWIN, ROBERT KINGMAN    0.368
 2831  NORTH D  R  KRUEGER, OTTO              0.368
 2832  WISCONS  R  SCHADEBERG, HENRY C.       0.368
 2833  OHIO     R  LUKENS, DONALD E.          0.368
 2834  OHIO     R  OXLEY, MICHAEL             0.368
 2835  VIRGINI  R  SLAUGHTER, D. FRENCH       0.368
 2836  WASHING  R  DUNN, JENNIFER             0.368
 2837  MARYLAN  R  BUTLER, JOHN MARSHALL      0.370
 2838  WISCONS  R  BYRNES, JOHN WILLIAM       0.370
 2839  NEW YOR  R  CLUETT, ERNEST HAROLD      0.370
 2840  NORTH D  R  SHORT, DON LEVINGSTON      0.370
 2841  FLORIDA  R  MCCOLLUM, BILL             0.370
 2842  MINNESO  R  WEBER, VIN                 0.370
 2843  PENNSYL  R  SHUSTER, BILL              0.370
 2844  OHIO     R  PORTMAN, ROB               0.370
 2845  GEORGIA  R  COVERDELL, PAUL            0.370
 2846  PENNSYL  R  GALLAGHER, JAMES A.        0.371
 2847  WYOMING  R  ROBERTSON, EDWARD VIVIAN   0.371
 2848  PENNSYL  R  RODGERS, ROBERT LEWIS      0.371
 2849  ALABAMA  R  CALLAHAN, HERBERT L.       0.371
 2850  OHIO     R  BETTS, JACKSON EDWARD      0.372
 2851  KANSAS   R  REES, EDWARD HERBERT       0.372
 2852  CALIFOR  R  KIM, JAY C.                0.372
 2853  TENNESS  R  JENKINS, WILLIAM L.        0.372
 2854  MISSISS  R  PARKER, MIKE               0.372
 2855  ILLINOI  R  MICHEL, ROBERT HENRY       0.374
 2856  WISCONS  R  MURRAY, REID FRED          0.374
 2857  MICHIGA  R  WOLCOTT, JESSE PAINE       0.374
 2858  VIRGINI  R  ROBINSON, J.K.             0.374
 2859  OHIO     R  MCEWEN, BOB                0.374
 2860  OHIO     R  CREMEANS, FRANK A.         0.374
 2861  WASHING  R  METCALF, JACK              0.374
 2862  OKLAHOM  R  WATKINS, WES               0.374
 2863  PENNSYL  R  DITTER, JOHN WILLIAM       0.375
 2864  OHIO     R  JENKINS, THOMAS ALBERT     0.375
 2865  GEORGIA  R  BLACKBURN, BEN             0.375
 2866  NORTH C  R  HENDON, WILLIAM M.         0.375
 2867  FLORIDA  R  LEWIS, THOMAS F.           0.375
 2868  TEXAS    R  SWEENEY, DAVID MCCANN      0.375
 2869  VIRGINI  R  SCHROCK, EDWARD L.         0.375
 2870  GEORGIA  R  CHAMBLISS, SAXBY           0.375
 2871  OHIO     R  CARSON, HENDERSON HAVERFI  0.377
 2872  INDIANA  R  LANDIS, GERALD WAYNE       0.377
 2873  MARYLAN  R  HOLT, MARJORIE             0.377
 2874  IOWA     R  LIGHTFOOT, JAMES R.        0.377
 2875  OHIO     R  HENDERSON, JOHN EARL       0.378
 2876  OREGON   R  SMITH, ROBERT F.           0.378
 2877  ALABAMA  R  BACHUS, SPENCER            0.378
 2878  NEW HAM  R  BRIDGES, HENRY STYLES      0.380
 2879  IOWA     R  HICKENLOOPER, BOURKE BLAK  0.380
 2880  ALABAMA  R  DICKINSON, WILLIAM L.      0.380
 2881  CALIFOR  R  CHAPPIE, EUGENE A          0.381
 2882  KANSAS   R  NICHOLS, DICK              0.381
 2883  CALIFOR  R  BONO, SONNY                0.381
 2884  NEVADA   R  ENSIGN, JOHN E.            0.381
 2885  NEW YOR  R  FOSSELLA, VITO             0.381
 2886  OHIO     R  ELSTON, CHARLES HENRY      0.382
 2887  PENNSYL  R  MILLER, THOMAS BYRON       0.382
 2888  UTAH     R  STRINGFELLOW, DOUGLAS R.   0.382
 2889  UTAH     R  HATCH, ORRIN               0.382
 2890  TEXAS    R  SMITH, LAMAR               0.382
 2891  ARKANSA  R  DICKEY, JAY                0.382
 2892  INDIANA  R  JOHNSON, NOBLE JACOB       0.384
 2893  GEORGIA  R  GINGRICH, NEWTON LEROY     0.384
 2894  VIRGINI  R  ALLEN, GEORGE F.           0.384
 2895  INDIANA  R  CAPEHART, HOMER EARL       0.385
 2896  MICHIGA  R  DONDERO, GEORGE ANTHONY    0.385
 2897  IOWA     R  GWYNNE, JOHN WILLIAMS      0.385
 2898  CALIFOR  R  JOHNSON, WILLIAM WARD      0.385
 2899  WISCONS  R  MCCARTHY, JOSEPH RAYMOND   0.385
 2900  OHIO     R  MILLER, CLARENCE E.        0.385
 2901  MISSOUR  R  GRAVES, SAM                0.385
 2902  ILLINOI  R  VELDE, HAROLD HIMMEL       0.387
 2903  INDIANA  R  WILSON, EARL               0.387
 2904  PENNSYL  R  GEKAS, GEORGE W.           0.387
 2905  INDIANA  R  BUYER, STEVE               0.387
 2906  INDIANA  R  PEASE, EDWARD A.           0.387
 2907  TEXAS    R  BONILLA, HENRY             0.387
 2908  OHIO     R  BREHM, WALTER ELLSWORTH    0.388
 2909  PENNSYL  R  BRUMBAUGH, DAVID EMMERT    0.388
 2910  KANSAS   R  REED, CLYDE MARTIN         0.388
 2911  MISSISS  R  PICKERING, CHARLES W. (CH  0.388
 2912  OKLAHOM  R  EDWARDS, MICKEY            0.389
 2913  MICHIGA  R  SILJANDER, MARK            0.389
 2914  UTAH     R  WALDHOLTZ, ENID GREENE     0.389
 2915  MISSISS  R  LOTT, TRENT                0.391
 2916  MONTANA  R  MARLENEE, RON              0.391
 2917  KANSAS   R  ROBERTS, PAT               0.391
 2918  SOUTH C  R  GRAHAM, LINDSEY O.         0.391
 2919  ILLINOI  R  KEENEY, RUSSELL WATSON     0.392
 2920  NEW HAM  R  GREGG, JUDD                0.392
 2921  ILLINOI  R  GROTBERG, JOHN E.          0.392
 2922  IOWA     R  NUSSLE, JIM                0.392
 2923  NORTH C  R  BURR, RICHARD M.           0.392
 2924  MISSOUR  R  HULSHOF, KENNY C.          0.392
 2925  OHIO     R  BOLTON, CHESTER CASTLE     0.394
 2926  CALIFOR  R  GRISHAM, WAYNE RICHARD     0.394
 2927  MISSISS  R  WICKER, ROGER              0.394
 2928  USA      R  FORD, GERALD               0.394
 2929  PENNSYL  R  GILLETTE, WILSON DARWIN    0.395
 2930  PENNSYL  R  KING, KARL CLARENCE        0.395
 2931  ARIZONA  R  RHODES, JOHN J             0.395
 2932  USA      R  NIXON, RICHARD M.          0.395
 2933  OHIO     R  BROWN, CLARENCE J          0.396
 2934  LOUISIA  R  BAKER, RICHARD             0.396
 2935  CALIFOR  R  CUNNINGHAM, RANDY "DUKE"   0.396
 2936  NEW YOR  R  LORD, BERT                 0.398
 2937  KENTUCK  R  ROBSION, JOHN MARSHALL     0.398
 2938  IOWA     R  SCHERLE, WILLIAM J.        0.398
 2939  FLORIDA  R  GOSS, PORTER J.            0.398
 2940  CALIFOR  R  MCKEON, HOWARD P. "BUCK"   0.398
 2941  FLORIDA  R  IRELAND, ANDREW            0.399
 2942  COLORAD  R  MCINNIS, SCOTT             0.399
 2943  OKLAHOM  R  LUCAS, FRANK D.            0.399
 2944  NEBRASK  R  MILLER, ARTHUR LEWIS       0.401
 2945  MASSACH  R  NICHOLSON, DONALD WILLIAM  0.401
 2946  PENNSYL  R  SIMPSON, RICHARD MURRAY    0.401
 2947  TEXAS    R  FOREMAN, ED                0.401
 2948  FLORIDA  R  PUTNAM, ADAM H.            0.401
 2949  UTAH     R  BENNETT, WALLACE FOSTER    0.402
 2950  ILLINOI  R  BROOKS, CHARLES WAYLAND    0.402
 2951  MISSOUR  R  CURTIS, THOMAS BRADFORD    0.402
 2952  VIRGINI  R  FORBES, RANDY              0.402
 2953  LOUISIA  R  VITTER, DAVID              0.402
 2954  NEW YOR  R  KILBURN, CLARENCE EVANS    0.404
 2955  MISSOUR  R  PLOESER, WALTER CHRISTIAN  0.404
 2956  OKLAHOM  R  CAMP, JOHN N. HAPPY        0.404
 2957  OHIO     R  TIBERI, PATRICK J.         0.404
 2958  TENNESS  R  WAMP, ZACH                 0.404
 2959  ILLINOI  R  WHEAT, WILLIAM HOWARD      0.405
 2960  OKLAHOM  R  WATTS, J. C. JR.           0.405
 2961  OHIO     R  BOW, FRANK TOWNSEND        0.406
 2962  NEBRASK  R  COPELAND, OREN STURMAN     0.406
 2963  NEW YOR  R  WHARTON, JAMES ERNEST      0.406
 2964  NEW HAM  R  ZELIFF, BILL               0.406
 2965  ARKANSA  R  HUTCHINSON, TIM            0.406
 2966  MISSOUR  R  TALENT, JAMES M.           0.406
 2967  NEBRASK  R  TERRY, LEE                 0.406
 2968  OHIO     R  CLANCY, DONALD D.          0.408
 2969  COLORAD  R  KRAMER, KENNETH BENTLEY    0.408
 2970  INDIANA  R  HILER, JOHN R.             0.408
 2971  USA      R  BUSH, GEORGE W.            0.408
 2972  INDIANA  R  GRANT, ROBERT ALLEN        0.409
 2973  ILLINOI  R  MCVEY, WILLIAM ESTUS       0.409
 2974  ALABAMA  R  ADERHOLT, ROBERT B.        0.409
 2975  ILLINOI  R  REED, CHAUNCEY WILLIAM     0.411
 2976  OKLAHOM  R  RIZLEY, ROSS               0.411
 2977  NEBRASK  R  SWEET, JOHN HYDE           0.411
 2978  NEW YOR  R  ECKERT, FRED J.            0.411
 2979  WISCONS  R  DAVIS, GLENN ROBERT        0.412
 2980  MASSACH  R  WEEKS, SINCLAIR            0.412
 2981  NEVADA   R  MALONE, GEORGE WILSON      0.413
 2982  PENNSYL  R  RUTHERFORD, ALBERT GREIG   0.413
 2983  INDIANA  R  WILLIS, RAYMOND EUGENE     0.413
 2984  PENNSYL  R  GOODLING, GEORGE A.        0.413
 2985  GEORGIA  R  CALLAWAY, HOWARD H.        0.413
 2986  DELAWAR  R  BUCK, CLAYTON DOUGLASS     0.415
 2987  SOUTH C  R  THURMOND, JAMES STROM      0.415
 2988  ILLINOI  R  ALLEN, LEO ELWOOD          0.416
 2989  PENNSYL  R  JARRETT, BENJAMIN          0.416
 2990  IOWA     R  JENSEN, BENTON FRANKLIN    0.416
 2991  MICHIGA  R  JONKMAN, BARTEL JOHN       0.416
 2992  CALIFOR  R  PACKARD, RONALD C.         0.416
 2993  ILLINOI  R  HASTERT, DENNIS J          0.416
 2994  FLORIDA  R  MICA, JOHN L.              0.416
 2995  OREGON   R  COON, SAMUEL HARRISON      0.418
 2996  OHIO     R  MCGREGOR, J. HARRY         0.418
 2997  SOUTH D  R  ROBERTS, CLINT             0.418
 2998  KANSAS   R  MORAN, JERRY               0.418
 2999  WISCONS  R  GRISWOLD, HARRY WILBUR     0.419
 3000  MINNESO  R  O'HARA, JOSEPH P.          0.419
 3001  PENNSYL  R  WOLFENDEN, JAMES           0.419
 3002  OHIO     R  KINDNESS, THOMAS           0.419
 3003  FLORIDA  R  MACK, CONNIE               0.419
 3004  FLORIDA  R  MILLER, DAN                0.419
 3005  WISCONS  R  BOLLES, STEPHEN            0.420
 3006  KENTUCK  R  CARRIER, CHESTER OTTO      0.420
 3007  NEBRASK  R  HARRISON, ROBERT DINSMORE  0.420
 3008  KANSAS   R  SCHOEPPEL, ANDREW FRANK    0.420
 3009  WISCONS  R  VAN PELT, WILLIAM K.       0.420
 3010  OKLAHOM  R  BARTLETT, DEWEY            0.420
 3011  NEW YOR  R  RAY, JOHN HENRY            0.422
 3012  IDAHO    R  SANBORN, JOHN CARFIELD     0.422
 3013  PENNSYL  R  SHUSTER, E.G.              0.422
 3014  NEVADA   R  VUCANOVICH, BARBARA F.     0.422
 3015  WISCONS  R  GREEN, MARK                0.422
 3016  GEORGIA  R  DEAL, NATHAN               0.422
 3017  OHIO     R  TAFT, ROBERT ALPHONSO      0.423
 3018  TEXAS    R  LOEFFLER, THOMAS GILBERT   0.423
 3019  NEBRASK  R  CHASE, JACKSON BURTON      0.425
 3020  INDIANA  R  GILLIE, GEORGE W.          0.425
 3021  KENTUCK  R  LEWIS, RON                 0.425
 3022  VIRGINI  R  DAVIS, JO ANN              0.428
 3023  IDAHO    R  CRAPO, MICHAEL D.          0.429
 3024  PENNSYL  R  DARROW, GEORGE POTTER      0.430
 3025  NEW YOR  R  MACY, WILLIAM KINGSLAND    0.430
 3026  MISSOUR  R  BLUNT, ROY                 0.430
 3027  PENNSYL  R  GROSS, CHESTER HEILMAN     0.432
 3028  KANSAS   R  BROWNBACK, SAM             0.432
 3029  TENNESS  R  BRYANT, ED                 0.432
 3030  NEW JER  R  HAWKES, ALBERT WAHL        0.433
 3031  WASHING  R  HASTINGS, RICHARD "DOC"    0.433
 3032  IDAHO    R  KEMPTHORNE, DIRK           0.433
 3033  NORTH C  R  BALLENGER, CASS            0.435
 3034  WYOMING  R  THOMAS, CRAIG              0.435
 3035  FLORIDA  R  KELLER, RIC                0.435
 3036  ALABAMA  R  EVERETT, TERRY             0.435
 3037  CALIFOR  R  SMITH, H. ALLEN            0.436
 3038  OKLAHOM  R  SULLIVAN, JOHN             0.436
 3039  ALABAMA  R  RILEY, BOB                 0.436
 3040  NORTH C  R  COBEY, WILLIAM W.          0.437
 3041  MICHIGA  R  CHRYSLER, DICK             0.437
 3042  IDAHO    R  DWORSHAK, HENRY CLARENCE   0.440
 3043  VIRGINI  R  GOODLATTE, ROBERT W.       0.440
 3044  PENNSYL  R  KINZER, JOHN ROLAND        0.442
 3045  KANSAS   R  WINTER, THOMAS DANIEL      0.442
 3046  MICHIGA  R  HUTCHINSON, EDWARD         0.442
 3047  MISSOUR  R  BAILEY, WENDELL            0.442
 3048  COLORAD  R  STRANG, MICHAEL L.         0.442
 3049  GEORGIA  R  LINDER, JOHN               0.442
 3050  WASHING  R  TATE, RANDY                0.442
 3051  MISSOUR  R  COLE, WILLIAM CLAY         0.443
 3052  MONTANA  R  ECTON, ZALES MELSON        0.443
 3053  MICHIGA  R  YOUNGBLOOD, HAROLD FRANCI  0.443
 3054  MINNESO  R  KENNEDY, MARK R.           0.443
 3055  CALIFOR  R  CLAWSON, DEL               0.445
 3056  MICHIGA  R  HUBER, ROBERT              0.445
 3057  ILLINOI  R  CHURCH, RALPH EDWIN        0.446
 3058  NEVADA   R  GIBBONS, JIM               0.446
 3059  INDIANA  R  QUAYLE, J. DANFORTH        0.447
 3060  TEXAS    R  BRADY, KEVIN               0.447
 3061  INDIANA  R  SPRINGER, RAYMOND SMILEY   0.449
 3062  ILLINOI  R  VAIL, RICHARD BERNARD      0.449
 3063  ARIZONA  R  STEIGER, SAM               0.449
 3064  CALIFOR  R  MOORHEAD, CARLOS           0.449
 3065  OHIO     R  BOEHNER, JOHN A.           0.449
 3066  GEORGIA  R  KINGSTON, JACK             0.450
 3067  CALIFOR  R  ROGAN, JAMES E.            0.450
 3068  NEBRASK  R  HRUSKA, ROMAN LEE          0.452
 3069  PENNSYL  R  MARTIN, EDWARD             0.452
 3070  WISCONS  R  HAWKS, CHARLES JR.         0.453
 3071  FLORIDA  R  WELDON, DAVE               0.453
 3072  MONTANA  R  HILL, RICK                 0.453
 3073  WISCONS  R  LAIRD, MELVIN ROBERT       0.454
 3074  CALIFOR  R  MCCANDLESS, ALFRED A.      0.454
 3075  MICHIGA  R  SMITH, NICK                0.454
 3076  WISCONS  R  RYAN, PAUL                 0.454
 3077  INDIANA  R  BRUCE, DONALD C.           0.456
 3078  NEW YOR  R  PAXON, L. WILLIAM          0.456
 3079  SOUTH C  R  WILSON, JOE                0.456
 3080  ILLINOI  R  TWYMAN, ROBERT JOSEPH      0.457
 3081  TEXAS    R  BARTLETT, STEVE            0.457
 3082  KANSAS   R  FRAHM, SHEILA              0.457
 3083  NEW YOR  R  CROWTHER, FRANK            0.459
 3084  ILLINOI  R  VURSELL, CHARLES WESLEY    0.459
 3085  TEXAS    R  TOWER, JOHN G.             0.459
 3086  CALIFOR  R  HUNTER, DUNCAN L.          0.459
 3087  CALIFOR  R  HIESTAND, EDGAR WILLARD    0.460
 3088  NEVADA   R  HECHT, JACOB (CHIC)        0.460
 3089  CALIFOR  R  RADANOVICH, GEORGE P.      0.460
 3090  NEW YOR  R  GWINN, RALPH WALDO         0.461
 3091  MINNESO  R  GRAMS, ROD                 0.461
 3092  SOUTH D  R  BUSHFIELD, HARLAN JOHN     0.463
 3093  WISCONS  R  JOHNS, JOSHUA LEROY        0.463
 3094  NEW YOR  C  BUCKLEY, JAMES             0.463
 3095  ALABAMA  R  SMITH, ALBERT LEE, JR.     0.463
 3096  ALABAMA  R  SESSIONS, JEFF             0.463
 3097  TEXAS    R  LAUGHLIN, GREG H.          0.463
 3098  OKLAHOM  R  ISTOOK, ERNEST JIM         0.464
 3099  VIRGINI  R  SCOTT, WILLIAM L.          0.466
 3100  ALABAMA  R  DENTON, JEREMIAH           0.466
 3101  TEXAS    R  BOULTER, E. BEAU           0.466
 3102  NORTH C  R  TAYLOR, CHARLES H.         0.466
 3103  GEORGIA  R  NORWOOD, CHARLIE           0.466
 3104  KANSAS   R  SCRIVNER, ERRETT POWER     0.467
 3105  ARIZONA  R  RUDD, ELDON                0.467
 3106  NEW HAM  R  SUNUNU, JOHN E.            0.467
 3107  OHIO     R  GRIFFITHS, PERCY WILFRED   0.469
 3108  CALIFOR  R  JOHNSON, HIRAM WARREN      0.469
 3109  NEW YOR  R  SOLOMON, GERALD B.         0.469
 3110  COLORAD  R  SCHAEFER, DANIEL           0.469
 3111  TEXAS    R  COMBEST, LARRY E.          0.469
 3112  MISSISS  R  SMITH, LARKIN              0.469
 3113  MICHIGA  R  THOMPSON, RUTH             0.470
 3114  NEW MEX  R  MECHEM, EDWIN L.           0.470
 3115  INDIANA  R  DENNIS, DAVID W.           0.471
 3116  NEVADA   R  LAXALT, PAUL               0.471
 3117  ARIZONA  D  STUMP, BOB                 0.471
 3118  MISSOUR  R  ARNOLD, SAMUEL WASHINGTON  0.473
 3119  LOUISIA  R  HOLLOWAY, CLYDE            0.474
 3120  NEW HAM  R  DOUGLAS, CHUCK             0.474
 3121  UTAH     R  HANSEN, JAMES V.           0.476
 3122  TEXAS    R  THORNBERRY, WILLIAM M."MA  0.477
 3123  CALIFOR  R  MILLER, GARY G.            0.477
 3124  NEBRASK  R  CURTIS, CARL THOMAS        0.478
 3125  CALIFOR  R  DORNAN, ROBERT             0.478
 3126  INDIANA  R  SOUDER, MARK E.            0.478
 3127  SOUTH C  R  INGLIS, BOB                0.478
 3128  MASSACH  R  LUCE, ROBERT               0.480
 3129  CALIFOR  R  PHILLIPS, JOHN -CALIFORNI  0.480
 3130  IDAHO    R  MCCLURE, JAMES A.          0.480
 3131  MARYLAN  R  BAUMAN, ROBERT             0.480
 3132  INDIANA  R  HARNESS, FOREST ARTHUR     0.481
 3133  GEORGIA  R  SWINDALL, PATRICK L.       0.481
 3134  WYOMING  R  ENZI, MICHAEL B.           0.481
 3135  IDAHO    R  WELKER, HERMAN             0.483
 3136  OHIO     R  MCCOWEN, EDWARD OSCAR      0.484
 3137  ILLINOI  R  DAY, STEPHEN ALBION        0.485
 3138  MISSOUR  R  SHORT, DEWEY               0.485
 3139  TENNESS  R  DUNCAN, JOHN J. JR.        0.485
 3140  OHIO     R  ABELE, HOMER E.            0.487
 3141  IDAHO    R  CRAIG, LARRY               0.487
 3142  PENNSYL  R  PITTS, JOSEPH R.           0.487
 3143  KENTUCK  R  BUNNING, JIM               0.488
 3144  NEBRASK  R  CHRISTENSEN, JON           0.488
 3145  ILLINOI  R  OWENS, THOMAS LEONARD      0.490
 3146  UTAH     R  GARN, JAKE                 0.490
 3147  OKLAHOM  R  NICKLES, DON               0.490
 3148  ILLINOI  R  BUSBEY, FRED ERNST         0.491
 3149  MICHIGA  R  SHAFER, PAUL WERNTZ        0.491
 3150  CALIFOR  R  SEASTRAND, ANDREA H.       0.491
 3151  NORTH C  R  MYRICK, SUE                0.491
 3152  KANSAS   R  SNOWBARGER, VINCE          0.491
 3153  ARIZONA  R  FANNIN, PAUL J.            0.493
 3154  WYOMING  R  CUBIN, BARBARA             0.493
 3155  ILLINOI  R  JENISON, EDWARD HALSEY     0.494
 3156  CALIFOR  R  UTT, JAMES BOYD            0.494
 3157  CALIFOR  R  DREIER, DAVID              0.494
 3158  NORTH C  R  COBLE, HOWARD              0.494
 3159  ILLINOI  R  MANZULLO, DONALD           0.494
 3160  WISCONS  R  SMITH, LAWRENCE HANRY      0.495
 3161  COLORAD  R  BROWN, HANK                0.495
 3162  VIRGINI  R  CANTOR, ERIC               0.495
 3163  MICHIGA  R  BRADLEY, FREDERICK VAN NE  0.497
 3164  WYOMING  R  HANSEN, CLIFFORD P.        0.497
 3165  MICHIGA  R  HOEKSTRA, PETER            0.497
 3166  ILLINOI  R  PADDOCK, GEORGE ARTHUR     0.498
 3167  UTAH     R  NIELSON, HOWARD C.         0.498
 3168  MINNESO  R  GUTKNECHT, GIL             0.500
 3169  ILLINOI  R  HOFFMAN, ELMER JOSEPH      0.502
 3170  MISSOUR  R  SCHWABE, MAX               0.502
 3171  IDAHO    R  BUDGE, HAMER HAROLD        0.504
 3172  MICHIGA  R  CRAWFORD, FRED LEWIS       0.507
 3173  SOUTH C  R  HARTNETT, THOMAS F.        0.507
 3174  GEORGIA  R  COLLINS, MAC               0.507
 3175  NEW YOR  R  ROCKEFELLER, LEWIS KIRBY   0.508
 3176  MARYLAN  R  BARTLETT, ROSCOE G.        0.508
 3177  MISSOUR  R  ASHCROFT, JOHN             0.508
 3178  FLORIDA  R  KELLY, RICHARD             0.509
 3179  CALIFOR  R  COX, C. CHRISTOPHER        0.511
 3180  CALIFOR  R  BAKER, BILL                0.511
 3181  OHIO     R  DEVINE, SAMUEL LEEPER      0.512
 3182  MISSOUR  R  KEM, JAMES PRESTON         0.512
 3183  INDIANA  R  MCINTOSH, DAVID M.         0.512
 3184  COLORAD  R  ARMSTRONG, WILLIAM         0.514
 3185  ARIZONA  R  HAYWORTH, J.D.             0.514
 3186  TENNESS  R  HILLEARY, VAN              0.514
 3187  ILLINOI  R  SUMNER, JESSIE             0.515
 3188  ILLINOI  R  JOHNSON, CALVIN DEAN       0.517
 3189  WYOMING  R  CHENEY, RICHARD BRUCE      0.517
 3190  CALIFOR  R  LUNGREN, DANIEL EDWARD     0.517
 3191  FLORIDA  R  STEARNS, CLIFF             0.518
 3192  NORTH C  R  FUNDERBURK, DAVID          0.518
 3193  NEBRASK  R  BUTLER, HUGH ALFRED        0.519
 3194  MICHIGA  P  WOODRUFF, ROY ORCHARD      0.519
 3195  ARIZONA  R  CONLAN, JOHN B.            0.519
 3196  TEXAS    R  FIELDS, JACK               0.521
 3197  MISSOUR  R  BENNETT, PHILIP ALLEN      0.524
 3198  TEXAS    R  ARCHER, W.R.               0.525
 3199  KANSAS   R  TIAHRT, TODD               0.525
 3200  UTAH     R  CANNON, CHRISTOPHER        0.525
 3201  OHIO     R  SCHERER, GORDON HARRY      0.526
 3202  LOUISIA  D  RARICK, JOHN R.            0.526
 3203  CALIFOR  R  HERGER, WALLY              0.526
 3204  MISSOUR  R  BANTA, PARKE MONROE        0.528
 3205  DELAWAR  R  WILLIAMS, GEORGE SHORT     0.528
 3206  OKLAHOM  R  INHOFE, JAMES M            0.528
 3207  TEXAS    R  BARTON, JOE L.             0.531
 3208  ARIZONA  R  KYL, JON                   0.531
 3209  ILLINOI  R  JOHNSON, ANTON JOSEPH      0.532
 3210  ALABAMA  R  MARTIN, JAMES D.           0.532
 3211  USA      R  BUSH, GEORGE H.W.          0.532
 3212  ILLINOI  R  CLIPPINGER, ROY            0.533
 3213  FLORIDA  R  MILLER, JEFF               0.533
 3214  WISCONS  R  NEUMANN, MARK W.           0.533
 3215  NEW YOR  R  WADSWORTH, JAMES WOLCOTT,  0.535
 3216  CALIFOR  R  BADHAM, ROBERT             0.536
 3217  KANSAS   R  RYUN, JIM                  0.536
 3218  IDAHO    R  OTTER, C. L. (BUTCH)       0.538
 3219  COLORAD  R  ALLARD, WAYNE              0.538
 3220  VIRGINI  I  GOODE, VIRGIL H., JR.      0.538
 3221  TEXAS    R  GRAMM, WILLIAM PHILIP      0.539
 3222  UTAH     R  MONSON, DAVID S.           0.539
 3223  NORTH C  R  JONES, WALTER B. JR.       0.541
 3224  NEBRASK  R  BEERMAN, RALPH F.          0.542
 3225  PENNSYL  R  WALKER, ROBERT             0.542
 3226  OHIO     R  BRICKER, JOHN WILLIAM      0.543
 3227  OHIO     R  CHABOT, STEVE              0.545
 3228  KANSAS   R  LAMBERTSON, WILLIAM PURNE  0.546
 3229  TEXAS    R  SESSIONS, PETE             0.548
 3230  KANSAS   R  SMITH, WINT                0.550
 3231  NEW YOR  R  SNELL, BERTRAND HOLLIS     0.550
 3232  ILLINOI  R  BISHOP, CECIL WILLIAM %RU  0.552
 3233  IDAHO    R  WOOD, JOHN TRAVERS         0.552
 3234  CALIFOR  R  POMBO, RICHARD W.          0.552
 3235  WEST VI  R  ELLIS, HUBERT SUMMERS      0.553
 3236  OKLAHOM  R  SCHWABE, GEORGE BLAINE     0.555
 3237  WISCONS  R  SENSENBRENNER, FRANK JAME  0.555
 3238  OKLAHOM  R  LARGENT, STEVE             0.555
 3239  IDAHO    R  HANSEN, GEORGE V.          0.556
 3240  INDIANA  R  BURTON, DANNY L.           0.556
 3241  DELAWAR  R  WILLIAMS, JOHN JAMES       0.559
 3242  WYOMING  R  SIMPSON, MILWARD           0.559
 3243  SOUTH C  R  DEMINT, JIM                0.559
 3244  USA      R  REAGAN, RONALD W.          0.559
 3245  NEW YOR  R  TABER, JOHN                0.560
 3246  CALIFOR  R  DOOLITTLE, JOHN T.         0.562
 3247  WYOMING  R  WALLOP, MALCOLM            0.567
 3248  TEXAS    R  CULBERSON, JOHN ABNEY      0.567
 3249  GEORGIA  R  BARR, BOB                  0.569
 3250  TEXAS    R  JOHNSON, SAM               0.573
 3251  MINNESO  R  KNUTSON, HAROLD            0.574
 3252  NEBRASK  R  REYNOLDS, SAMUEL WILLIAMS  0.574
 3253  INDIANA  R  PENCE, MIKE                0.576
 3254  MISSISS  R  WALKER, PRENTISS           0.583
 3255  CALIFOR  R  SHUMWAY, NORMAN DAVID      0.583
 3256  COLORAD  R  HEFLEY, JOEL               0.583
 3257  NEBRASK  R  HEINKE, GEORGE HENRY       0.586
 3258  TEXAS    R  DELAY, THOMAS D.           0.586
 3259  NORTH C  R  EAST, JOHN P.              0.587
 3260  MISSOUR  R  AKIN, W. TODD              0.587
 3261  NEBRASK  R  WHERRY, KENNETH SPICER     0.589
 3262  MICHIGA  R  CLARDY, KIT FRANCIS        0.591
 3263  TEXAS    R  ARMEY, RICHARD K.          0.591
 3264  NEW YOR  R  REED, DANIEL ALDEN         0.593
 3265  CALIFOR  R  WERDEL, THOMAS HAROLD      0.593
 3266  FLORIDA  R  SCARBOROUGH, JOE           0.593
 3267  CALIFOR  R  ROUSSELOT, JOHN H.         0.597
 3268  KANSAS   R  JEFFRIES, JAMES EDMUND     0.597
 3269  OREGON   R  SMITH, DENNY               0.597
 3270  ARIZONA  R  SALMON, MATT               0.597
 3271  ARIZONA  R  GOLDWATER, BARRY MORRIS    0.600
 3272  OHIO     R  CLEVENGER, CLIFF           0.601
 3273  OKLAHOM  R  MOORE, EDWARD HALL         0.601
 3274  CALIFOR  R  ROHRABACHER, DANA          0.601
 3275  PENNSYL  R  TOOMEY, PATRICK J.         0.603
 3276  NEW HAM  R  HUMPHREY, GORDON J.        0.604
 3277  TEXAS    R  COLLINS, JAMES M.          0.617
 3278  TEXAS    R  ALGER, BRUCE REYNOLDS      0.618
 3279  MICHIGA  R  JOHANSEN, AUGUST EDGAR     0.620
 3280  OHIO     R  ASHBROOK, JOHN M.          0.622
 3281  NEBRASK  R  BUFFETT, HOWARD HOMAN      0.624
 3282  ILLINOI  R  MASON, NOAH MORGAN         0.627
 3283  NEW HAM  R  SMITH, ROBERT C.           0.628
 3284  NORTH C  R  FAIRCLOTH, D.M. "LAUCH"    0.631
 3285  SOUTH C  R  SANFORD, MARSHALL "MARK"   0.635
 3286  IOWA     R  GROSS, HAROLD ROYCE        0.642
 3287  MASSACH  R  TINKHAM, GEORGE HOLDEN     0.646
 3288  ARIZONA  R  SHADEGG, JOHN B.           0.648
 3289  INDIANA  R  HOSTETTLER, JOHN N.        0.648
 3290  INDIANA  R  JENNER, WILLIAM EZRA       0.649
 3291  OHIO     R  JONES, ROBERT FRANKLIN     0.654
 3292  INDIANA  R  KERNS, BRIAN D.            0.654
 3293  CALIFOR  R  ROYCE, ED                  0.656
 3294  NORTH C  R  HELMS, JESSE               0.658
 3295  ILLINOI  R  HEIDINGER, JAMES VANDAVEE  0.668
 3296  CALIFOR  R  DANNEMEYER, WILLIAM EDWAR  0.669
 3297  OHIO     R  ASHBROOK, JEAN             0.669
 3298  ARIZONA  R  STUMP, BOB                 0.672
 3299  MISSOUR  R  HALL, DURWARD G.           0.678
 3300  IDAHO    R  SYMMS, STEVEN              0.680
 3301  COLORAD  R  TANCREDO, THOMAS G.        0.682
 3302  PENNSYL  R  RICH, ROBERT FLEMING       0.687
 3303  MICHIGA  R  HOFFMAN, CLARE EUGENE      0.689
 3304  IDAHO    R  CHENOWETH, HELEN           0.693
 3305  INDIANA  R  LANDGREBE, EARL F.         0.704
 3306  ILLINOI  R  CRANE, PHILIP M.           0.706
 3307  ILLINOI  R  CRANE, DANIEL BEVER        0.717
 3308  MISSOUR  R  HANCOCK, MELTON D.         0.721
 3309  NORTH C  R  JOHNSTON, EUGENE           0.730
 3310  OKLAHOM  R  COBURN, TOM A.             0.744
 3311  OREGON   R  COOLEY, WES                0.748
 3312  VIRGINI  R  GOODE, VIRGIL H., JR.      0.751
 3313  COLORAD  R  SCHAFFER, ROBERT           0.757
 3314  MISSOUR  R  ELMER, WILLIAM PRICE       0.767
 3315  OHIO     R  SMITH, FREDERICK CLEVELAN  0.791
 3316  TEXAS    R  STOCKMAN, STEVE            0.802
 3317  ARIZONA  R  FLAKE, JEFF                0.820
 3318  CALIFOR  R  SCHMITZ, JOHN G.           0.832
 3319  GEORGIA  D  MCDONALD, LARRY            0.851
 3320  TEXAS    R  PAUL, RON                  0.882

---

VOTEVIEW Blog

NOMINATE Data, Roll Call Data, and Software

Course Web Pages: University of Georgia (2010 - )


Course Web Pages: UC San Diego (2004 - 2010)


University of San Diego Law School (2005)


Course Web Pages: University of Houston (2000 - 2005)


Course Web Pages: Carnegie-Mellon University (1997 - 2000)


Analyzing Spatial Models of Choice and Judgment with R

Spatial Models of Parliamentary Voting

Recent Working Papers

Analyses of Recent Politics

About This Website

K7MOA Log Books: 1960 - 2017

Bio of Keith T. Poole

Related Links
---