LEGACY CONTENT
.
If you are looking for Voteview.com, PLEASE CLICK HERE
This site is an archived version of Voteview.com archived from University of Georgia on
May 23, 2017
. This point-in-time capture includes all files publicly linked on Voteview.com at that time. We provide access to this content as a service to ensure that past users of Voteview.com have access to historical files. This content will remain online until at least
January 1st, 2018
. UCLA provides no warranty or guarantee of access to these files.
K7MOA log books
Keith T. Poole, K7MOA, Athens, GA

Grid Locator EM84ga
Latitude 34o 0' 18" N, Longitude 83o 26' 28" W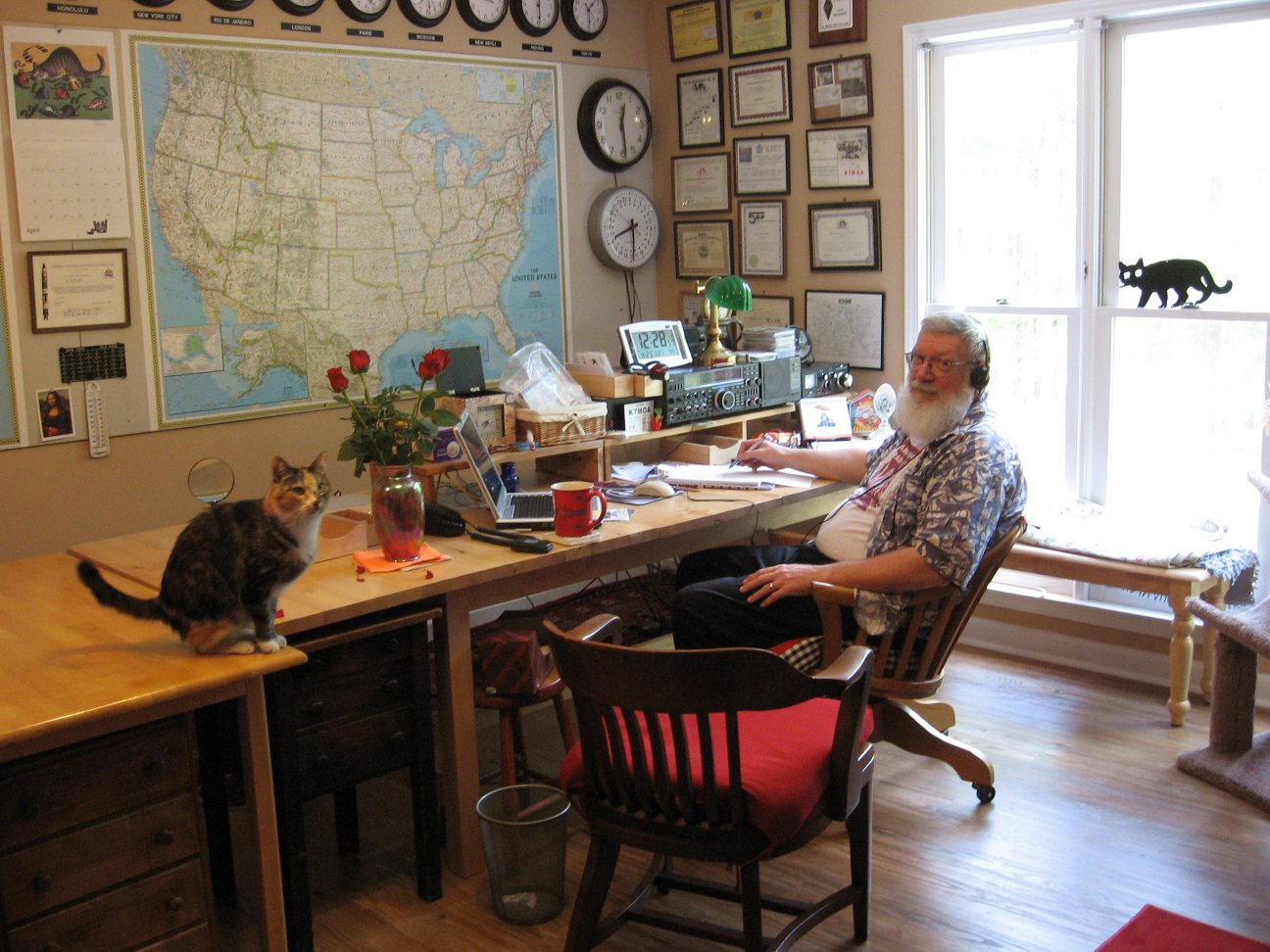 ---
Life Member, W6UE, California Institute of Technology Amateur Radio Club
Life Member, ARRL
Life Member, 10-10 International Net, Inc. 10X 55675
Life Member, QCWA, No. 22707
Life Member, INDEXA, No. 2577
Life Member, QRP Amateur Radio Club, No. 7935
Member, FISTS, No. 2456, CC No. 813
---
Log Books 1960 - 2017

Symbols:
* = Operation from 33872 Vista Lane, St. Helens, OR (1990-99)
* = Operation from 58164 Fisher Lane, St. Helens, OR (1999-2007 )
& = Operation from W6UE, Pasadena, CA
# = Operation from K7MOA/6, Pasadena, CA
@ = Operation from W1AW, Hartford, CT
% = Operation from Palo Alto, CA
+ = Received QSL card

All operations are CW unless otherwise indicated.


KN7MOA, Novice Class License, Ontario, Oregon, June 1960 to May 1961

K7MOA, Conditional Class License, Ontario, Oregon, May 1961 to August 1961

Conditional Class License, St. Helens, Oregon, September 1961 to March 1962

Conditional Class License, Columbia City, Oregon, March 1962 to September 1969

Extra Class License, Columbia City, Oregon, September 1969 to May 1970

Forest Grove, Oregon, September 1970 to April 1972

Portland, Oregon, April 1972 to May 1972

Rochester, New York, September 1972 to December 1977

Eugene, Oregon, January 1978 to August 1981

Pittsburgh, PA, 1982 to 1988

Pittsburgh, PA, 1989

Pittsburgh, PA, 1990

Pittsburgh, PA, 1991

Pittsburgh, PA, 1992

Pittsburgh, PA, 1993

Pittsburgh, PA, 1994

Pittsburgh, PA, 1995

Pittsburgh, PA, 1996

Pittsburgh, PA, 1997

Pittsburgh, PA, 1998

Jeannette, PA, 1998

Jeannette, PA, 1999

Jeannette, PA, 2000

Houston, TX, 2000

Houston, TX, 2001

Houston, TX, 2002

Houston, TX, 2003

Houston, TX, 2004

Houston, TX, 2005

Carlsbad, CA, 2005

Carlsbad, CA, 2006

Carlsbad, CA, 2007

Carlsbad, CA, 2008

Carlsbad, CA, 2009

Carlsbad, CA, 2010

Athens, GA, 2010

Athens, GA, 2011

Athens, GA, 2012

Athens, GA, 2013

Athens, GA, 2014

Athens, GA, 2015

Athens, GA, 2016

Athens, GA, 2017
---

VOTEVIEW Blog

NOMINATE Data, Roll Call Data, and Software

Course Web Pages: University of Georgia (2010 - )


Course Web Pages: UC San Diego (2004 - 2010)


University of San Diego Law School (2005)


Course Web Pages: University of Houston (2000 - 2005)


Course Web Pages: Carnegie-Mellon University (1997 - 2000)


Analyzing Spatial Models of Choice and Judgment with R

Spatial Models of Parliamentary Voting

Recent Working Papers

Analyses of Recent Politics

About This Website

K7MOA Log Books: 1960 - 2017

Bio of Keith T. Poole

Related Links
---