LEGACY CONTENT

.

If you are looking for Voteview.com, PLEASE CLICK HERE

This site is an archived version of Voteview.com archived from University of Georgia on

May 23, 2017

. This point-in-time capture includes all files publicly linked on Voteview.com at that time. We provide access to this content as a service to ensure that past users of Voteview.com have access to historical files. This content will remain online until at least

January 1st, 2018

. UCLA provides no warranty or guarantee of access to these files.

Paul Wellstone (1944 - 2002) RIP

Senator Paul Wellstone (D-MN) was killed in an airplane crash yesterday in Minnesota. Senator Wellstone was a man of integrity. Unlike so many other politicians now in the Senate and House, he did not demonize those he opposed. He was out-of-place in the current poisonous atmosphere of intense polarization in Congress. He was more akin to Senators such as Hubert Humphrey of 40 years ago who could passionately pursue what they felt what was right for the country without accusing their opponents of being members of the forces of darkness.

Senator Wellstone was the most liberal member of the current Senate and one of the most liberal members of Congress since the end of the Second World War. Below are four animations showing the locations of Senator Wellstone and former Vice President Walter Mondale (the flashing circles). The member coordinates used in the animations were produced by my Optimal Classification algorithm described in "Non-Parametric Unfolding of Binary Choice Data." Political Analysis, 8:211-237, 2000. The scaling was done on all members of the House and Senate since the end of the Second World War (Congresses 80 to 107). There were 150 legislators (counting the 10 Presidents) who served in both chambers. These 150 members acted as "glue" to allow the scaling of all members in the same space (the data is part of a revision of my paper Changing Minds? Not in Congress and can be found on the Optimal Classification Page -- the Optimal Classification Program can be found on the OC Scaling Program Page). The first animation shows all unique members of Congress and the second animation shows only the unique members of the Senate. The third and Fourth animations are the same as the first and second, respectively, with the addition of Former Vice-President Walter Mondale also shown in the animations. The "R" tokens represent Republicans, the "S" tokens represent Southern Democrats (the 11 states of the Confederacy plus Kentucky and Oklahoma), and the "D" tokens represent non-Southern Democrats.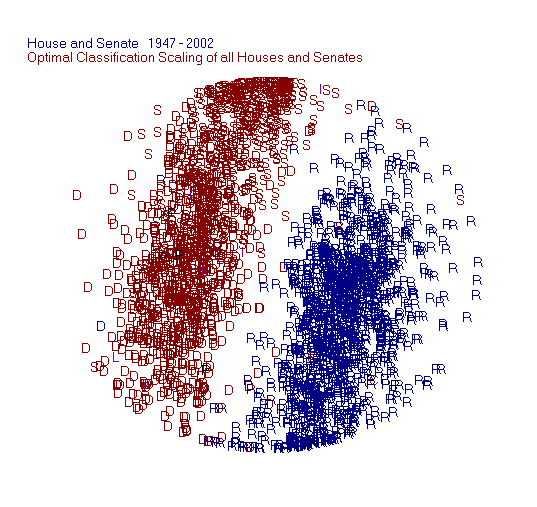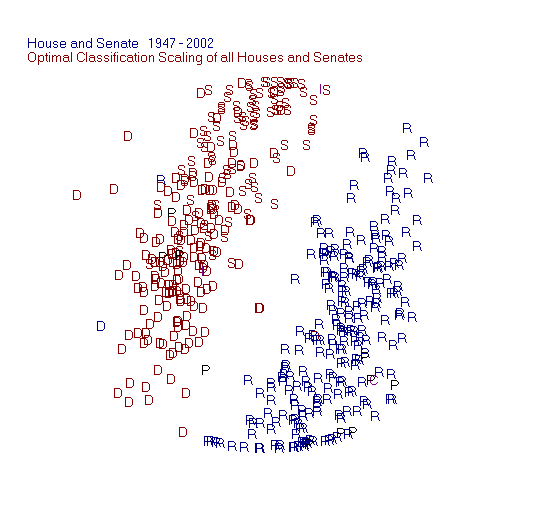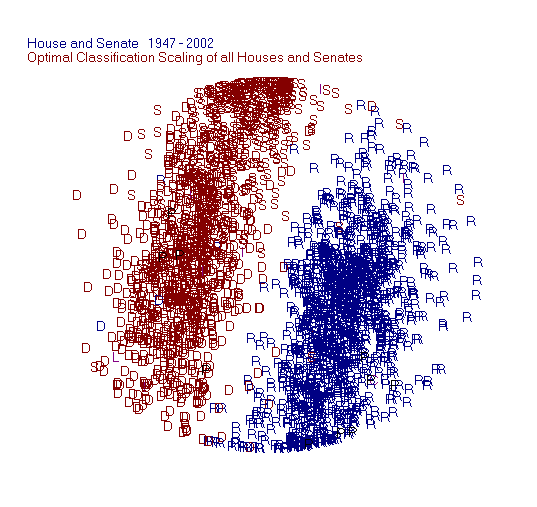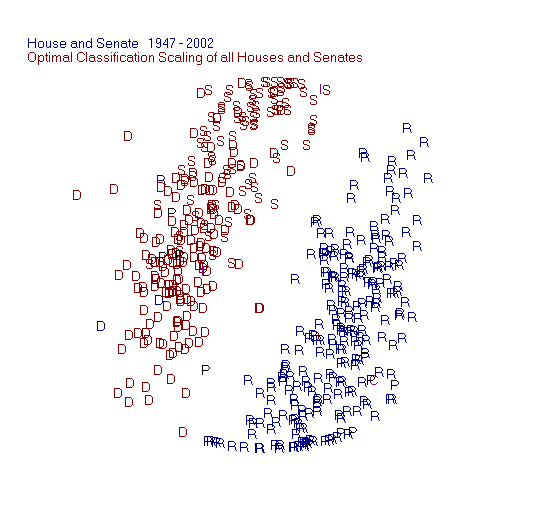 ---
---

VOTEVIEW Blog

NOMINATE Data, Roll Call Data, and Software

Course Web Pages: University of Georgia (2010 - )


Course Web Pages: UC San Diego (2004 - 2010)


University of San Diego Law School (2005)


Course Web Pages: University of Houston (2000 - 2005)


Course Web Pages: Carnegie-Mellon University (1997 - 2000)


Analyzing Spatial Models of Choice and Judgment with R

Spatial Models of Parliamentary Voting

Recent Working Papers

Analyses of Recent Politics

About This Website

K7MOA Log Books: 1960 - 2017

Bio of Keith T. Poole

Related Links
---
---