LEGACY CONTENT
.
If you are looking for Voteview.com, PLEASE CLICK HERE
This site is an archived version of Voteview.com archived from University of Georgia on
May 23, 2017
. This point-in-time capture includes all files publicly linked on Voteview.com at that time. We provide access to this content as a service to ensure that past users of Voteview.com have access to historical files. This content will remain online until at least
January 1st, 2018
. UCLA provides no warranty or guarantee of access to these files.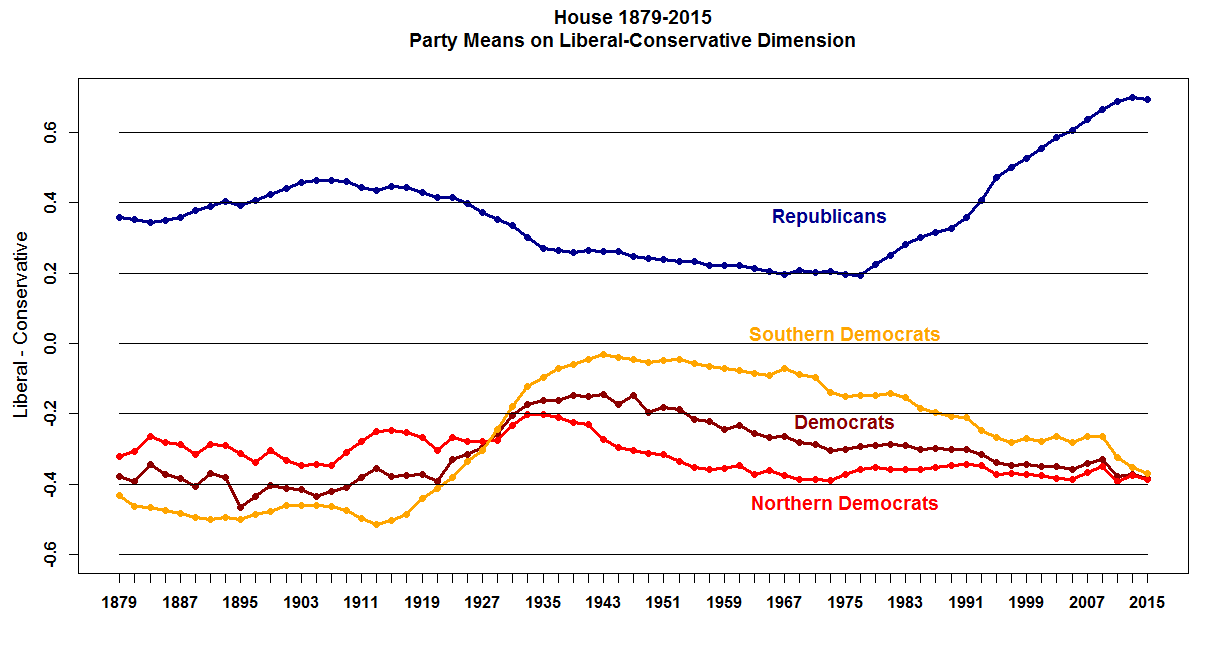 POLS 4615: THE POLARIZATION OF AMERICAN POLITICS
Fall Semester AY2016-2017
Department of Political Science
University of Georgia
Athens, GA, 30602-1615
Classroom: 309 Sanford Hall
Time: 2:30 - 3:20PM Monday, Wednesday, Friday

Instructor: Keith T. Poole
Office: Room 304D Baldwin Hall
E-Mail: ktpoole@uga.edu
WebSite: Voteview Home Page

Office Hours: By Appointment

The following texts will be used in this course:


Daniel Hopkins and John Sides. 2015. Political Polarization in American Politics
James A. Thurber and Antoine Yoshinaka (eds.). 2015. American Gridlock: The Sources, Character, and Impact of Political Polarization.

Nolan M. McCarty, Keith T. Poole, and Howard Rosenthal. 2016. Polarized America (2nd ed.)


Requirements

Grades will be determined by three examinations -- two mid-semester exams and a final exam. The exams will consist of short answer essay questions. The midterms will be worth ¼ each and the final 1/2 of the course grade.

The first exam is scheduled for Friday, 23 September 2016, 2:30 - 3:20PM.
The second exam is scheduled for Friday, 21 October 2016, 2:30 - 3:20PM.
The final is scheduled for Wednesday, 7 December 2016, 3:30 - 5:30PM.


---
Course Outline
Introduction: What is Political Polarization and Why Does it Matter?

Assignment:



Chapter 1, Polarized America

Chapter 1, Political Polarization in American Politics





How do We Measure Congressional Polarization?

Assignment:




Party Polarization of the Voters

Assignment:


First Exam Study Questions


Polarization in National Institutions

Assignment:



Chapter 5, Polarized America

Chapters 6 to 11, American Gridlock


Second Exam Study Questions



Polarization in the News Media

Assignment:



Chapters 12 to 15, American Gridlock

Chapters 10 to 17, Political Polarization in American Politics

The Public Policy Consequences of Political Polarization

Assignment:



Chapter 6 and 7, Polarized America

Chapter 16, American Gridlock

Chapters 21 to 26, Political Polarization in American Politics


Final Exam Study Questions


---

VOTEVIEW Blog

NOMINATE Data, Roll Call Data, and Software

Course Web Pages: University of Georgia (2010 - )


Course Web Pages: UC San Diego (2004 - 2010)


University of San Diego Law School (2005)


Course Web Pages: University of Houston (2000 - 2005)


Course Web Pages: Carnegie-Mellon University (1997 - 2000)


Analyzing Spatial Models of Choice and Judgment with R

Spatial Models of Parliamentary Voting

Recent Working Papers

Analyses of Recent Politics

About This Website

K7MOA Log Books: 1960 - 2017

Bio of Keith T. Poole

Related Links
---