LEGACY CONTENT
.
If you are looking for Voteview.com, PLEASE CLICK HERE
This site is an archived version of Voteview.com archived from University of Georgia on
May 23, 2017
. This point-in-time capture includes all files publicly linked on Voteview.com at that time. We provide access to this content as a service to ensure that past users of Voteview.com have access to historical files. This content will remain online until at least
January 1st, 2018
. UCLA provides no warranty or guarantee of access to these files.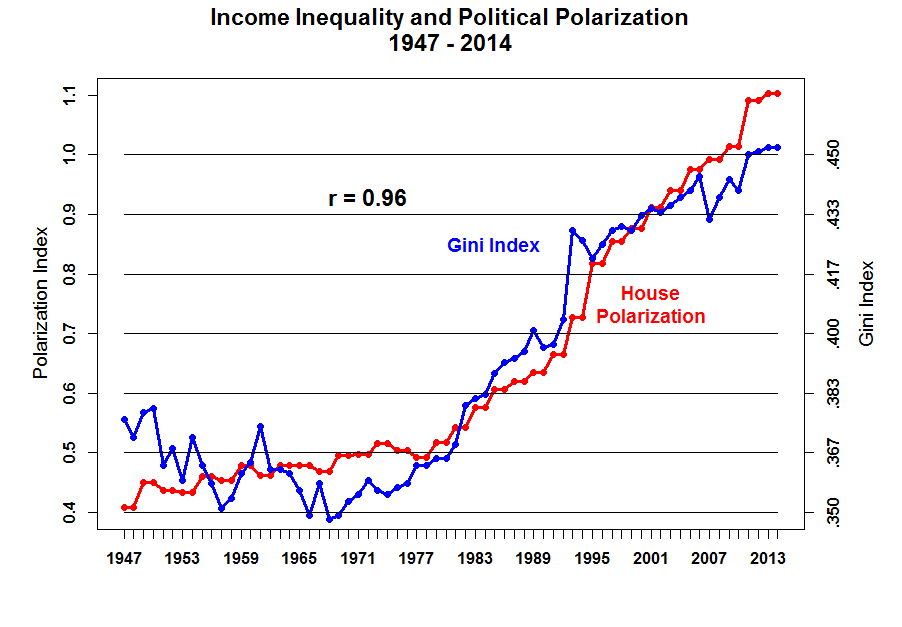 POLS 4635 THE POLITICS OF INCOME INEQUALITY
Fall Semester AY2016-2017
Department of Political Science
University of Georgia
Athens, GA, 30602-1615
Classroom: Room 309, Sanford Hall
Time: 3:35 - 4:25PM Monday, Wednesday, Friday

Instructor: Keith T. Poole
Office: Room 304D Baldwin Hall
E-Mail: ktpoole@uga.edu
WebSite: Voteview Home Page

Office Hours: By Appointment

The following texts will be used in this course:


Joseph E. Stiglitz. 2013. The Price of Inequality: How Today's Divided Society Endangers Our Future (2nd Edition)

Timothy Noah. 2012. The Great Divergence

Nolan McCarty, Keith T. Poole, and Howard Rosenthal. 2013. Political Bubbles: Financial Crises and the Failure of American Democracy

Requirements

Grades will be determined by three examinations -- two mid-semester exams and a final exam. The exams will consist of short answer essay questions. The midterms will be worth ¼ each and the final 1/2 of the course grade.

The first exam is scheduled for Friday, 23 September 2016, 3:35 - 4:25PM.
The second exam is scheduled for Friday, 21 October 2016, 3:35 - 4:25PM.
The final is scheduled for Monday 12 December 2016, 3:30 - 5:30PM.


---
Course Outline
Congressional Polarization

Assignment:




The Basics of Income Inequality in the US since the end of World War II

Assignment:



The Price of Inequality, pages ix - lxiv

The Great Divergence, Introduction and Chapters 1, 2 and 3

JEP, "The Top 1 Percent in International and Historical Prespective"

JEP, "Defending the 1 Percent"


Civil Rights and the Realignment of the South (PowerPoint)
Noah Chapters 1-3 and Stiglitz Introduction (PowerPoint)
JEP Papers 1 and 2 (PowerPoint)

First Exam Study Questions


SOURCES:

Federal Reserve Bulletin: "Changes in U.S. Family Finances from 2010 to 2013: Evidence from the Survey of Consumer Finances."
Rutgers: John J. Heldrich Center for Workforce Development: "Unfulfilled Expectations: Recent College Graduates Struggle in a Troubled Economy."
Institute for Women's Policy Research: "The Gender Wage Gap by Occupation 2013 and by Race and Ethnicity."
"The American High School Graduation Rate: Trends and Levels." James J. Heckman and Paul A. LaFontaine, Discussion Paper 3216, December 2007, Institute for the Study of Labor, Bonn, Germany
"Skill Gaps, Skill Shortages and Skill Mismatches: Evidence for the U.S.", Peter Cappelli, NBER WP20382, August 2014
"Polanyi's Paradox and the Shape of Employment Growth." David H. Autor, MIT.
"Trends in Educational Assortative Marriage From 1940 to 2003." Christine R. Schwartz and Robert D. Mare, California Center for Population Research, UCLA
"The End of Men and Rise of Women in the High Skilled Labor Market." Guido Cortes, Nir Jaimovich, and Henry Sin, September 2016.
"Consumer Bankruptcy Filings: Trends and Indicators." Charles J. Tabb, Illinois Law and Economics WP Series No. LE06-023, University of Illinois College of Law.
"Deaths of Despair and Support for Trump in the 2016 Presidential Election." Shannon M. Monnat, Department of Agricultural Economics, Sociology, and Education, Pennsylvania State University, 2016.
"Wealth Inequality Among Asian Americans Greater Than Among Whites." Christian E. Weller and Jeffrey Thompson. Center for American Progress.
"Our Miserable 21st Century", Nicholas Eberstadt, Commentary Magazine, March 2017.
"Men Without Work: America's Invisible Crisis." By Christopher Caldwell. 2016.



The Financial Crisis of 2007-08 and the Great Recession

Assignment:


Second Exam Study Questions


Is Immigration to Blame?

Assignment:



The Great Divergence, Chapter 4



Education, Job Skills, and Globalization

Assignment:



The Great Divergence, Chapters 5 and 6

JEP, "It's the Market: The Broad-Based Rise in the Return to Top Talent."

JEP, "The Pay of Corporate Executives and Financial Professionals as Evidence of Rents in Top 1 Percent Incomes."

JEP, "Income Inequality, Equality of Opportunity, and Intergenerational Mobility."

The Evolving Structure of the American Economy and the Employment Challenge, Michael Spence and Sandile Hlatshwayo, 2011, Council on Foreign Relations



Money, Organized Interests, and American Politics

Assignment:



The Price of Inequality, Chapters 5, and 7

The Great Divergence, Chapters 7 and 8

JEP, "Why Hasn't Democracy Slowed Rising Inequality?"



Final Exam Study Questions


Citizen Affluence and Public Policy

Assignment:


The Public Policy Consequences of Polarization and Inequality

Assignment:


---

VOTEVIEW Blog

NOMINATE Data, Roll Call Data, and Software

Course Web Pages: University of Georgia (2010 - )


Course Web Pages: UC San Diego (2004 - 2010)


University of San Diego Law School (2005)


Course Web Pages: University of Houston (2000 - 2005)


Course Web Pages: Carnegie-Mellon University (1997 - 2000)


Analyzing Spatial Models of Choice and Judgment with R

Spatial Models of Parliamentary Voting

Recent Working Papers

Analyses of Recent Politics

About This Website

K7MOA Log Books: 1960 - 2017

Bio of Keith T. Poole

Related Links
---